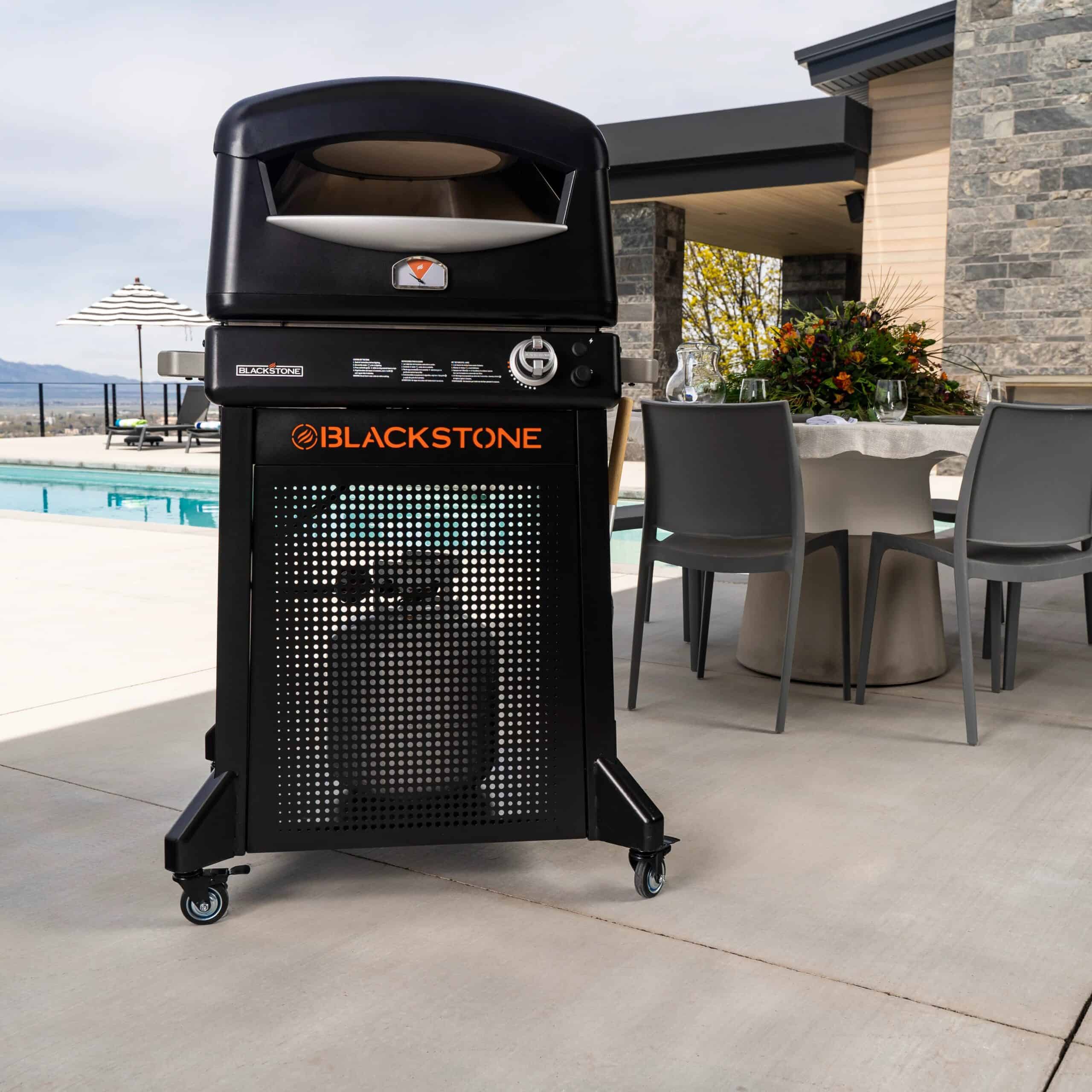 The Blackstone Pizza Oven with Cart is a new release from Blackstone. Blackstone is probably best known for their flat-top grills. I'm sure you have probably seen a Blackstone Griddle before. They make some of the best on the market. I have two myself!
Now they are expanding more into the outdoor pizza oven market.
A Blackstone Outdoor Pizza Oven? Yep!
They already have a pizza oven conversion kit that you can use right on your existing Blackstone griddle but now they are expanding into their own stand-alone pizza oven.
This seems like a logical fit for this great company and we are excited to try the new Blackstone Pizza Oven.
In this blog post, we take a closer look at the new Blackstone Pizza Oven and provide our full review of this new product.
So, does Blackstone make as good of a pizza oven as they do flat-top grills? Can they keep up with other great pizza oven makers like Ooni and Bertello?
Read on to find out!
We are reader supported and as such, may make a small commission at no expense to you if you purchase thru our links! Thank you for that!
What is The Blackstone Pizza Oven with Cart?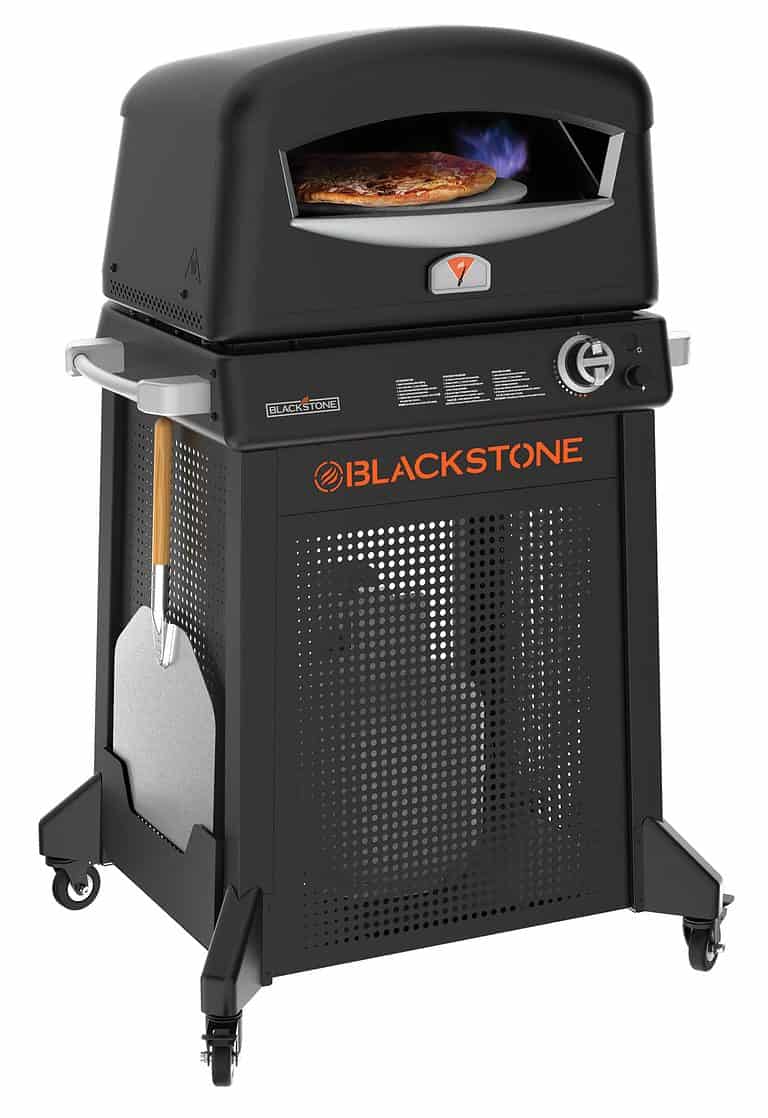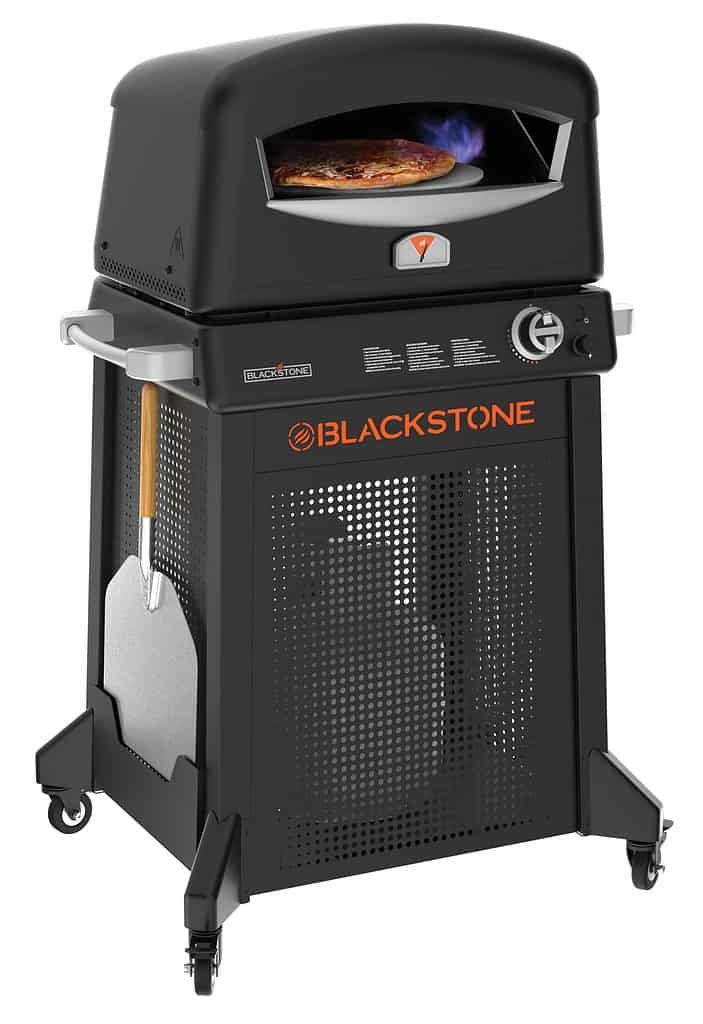 The Blackstone Pizza Oven with Cart comes with a host of features that make it one of the most efficient and user-friendly pizza ovens on the market. It has a large cooking surface area that can fit a 16″ pizza, and it also comes with an adjustable temperature control knob that allows you to cook your pizza just right. With the pizza oven on the cart, it is easy to move around and the cart also provides plenty of storage for your tools and accessories.
Looks
Overall, the Blackstone Pizza Oven has the traditional classy Blackstone look where you immediately recognize the brand name and logo. Blackstone does a nice job of keeping it clean and simple, yet not missing out on any of the necessary features.
The Blackstone Pizza Oven itself stands 52 inches high. We felt this was a great height and made it very easy to use. You don't have to bend down to put pizzas in and out and the pizza is easily viewable at that height. It is 26 3/4 inches wide and 32 3/4 inches deep so it doesn't take up a ton of space which is nice.
It comes with four locking swivel coasters to roll around the oven which helps with the 140-pound weight.
This fully functioning pizza oven comes with a pizza peel and it has built-in storage on the side for the pizza peel. We liked this as it makes it easy to use and store since you are constantly putting pizzas in and out of the oven with the pizza peel. The cart provides plenty of storage space as well for your tools and accessories.
The controls are pretty straightforward with a heat level knob, a starter push button, and a button to turn on and off the rotating pizza stone. There is also a thermometer-type temperature indicator on the front.
Performance
Looks are one thing, but how does the Blackstone Pizza oven perform?
When it comes to performance, this pizza oven does a great job of cooking pizzas. The temperature control knob is easy to use and allows you to get the perfect level of heat for your pizza. The pizza oven can get up to 900 degrees with its high-pressure burner and cook your pizza in just 90 seconds! Don't let that pizza cook long! The large cooking surface area means that you can fit a 16″ pizza easily.
The oven has two pizza stones.
One in on the bottom like usual except this sits on a cast iron tray and rotates with a push of a button. We really like the rotating pizza stone for that evenly cooked pizza. It is a nice touch and you can turn it on and off easily if you don't want to use it. It runs on D batteries or you can plug it in.
The second pizza stone is on the roof inside the oven. This one heats up nicely and helps to push that heat down to cook that pizza perfectly.
The stainless steel cooking chamber has heating provided by propane using Blackstone's Tri Heat Technology; Convective, Conductive, and Radiant. The oven has double wall insulation that helps keep the oven nice and warm and holds a consistent temperature as it cooks pizza.
You can not only cook great fresh pizza in this oven, but you can also cook steaks, fish, vegetables, quesadillas, even nachos! It really is a great pizza oven. And you would hope it would be with the $800 price tag!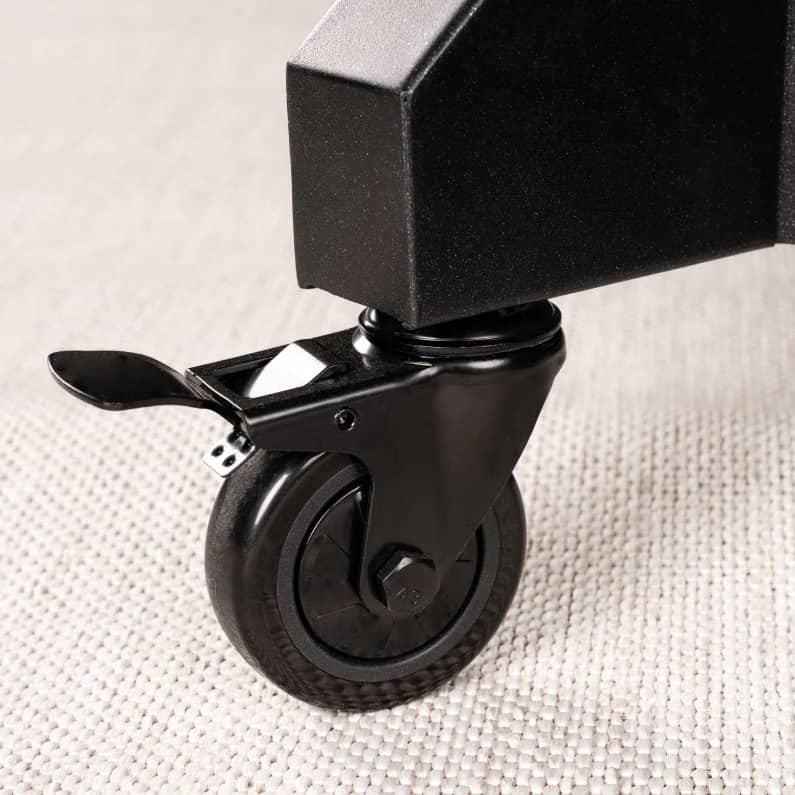 What Do We Think of the Blackstone Pizza Oven With Cart?
Overall, we are very impressed with the Blackstone Pizza Oven with Cart. It is well-built, has plenty of features, and is easy to use. Pizzas cook quickly and efficiently, and its large cooking area allows you to cook a variety of dishes. We highly recommend the Blackstone Pizza oven as it is one of the best on the market right now. Blackstone continues to strive to produce products that make outdoor cooking easier and more enjoyable for all.
The pizza oven looks great and performs even better. If you are looking for a high-end pizza oven that can do it all then this is definitely the one for you!
What Else Do We Suggest You Get with Your New Oven?
We mentioned that the Blackstone Pizza Oven comes with a Pizza Peel. That is nice because you will definitely need it. But what other outdoor pizza oven add-ons should you get?
For sure get the cover unless you have your pizza oven covered under something else. You spent all this money on the oven you might as well protect it!
We also think adding the pizza rocker (cutter) is a no-brainer. Easily cut your pizzas and look like a pro doing it after you take it out of the oven! Make sure that the pizza rests for a couple of minutes before cutting it!
Last, the pizza stone brush is nice to have to make sure you keep your pizza stone clean and clear of leftover crumbs and cheese.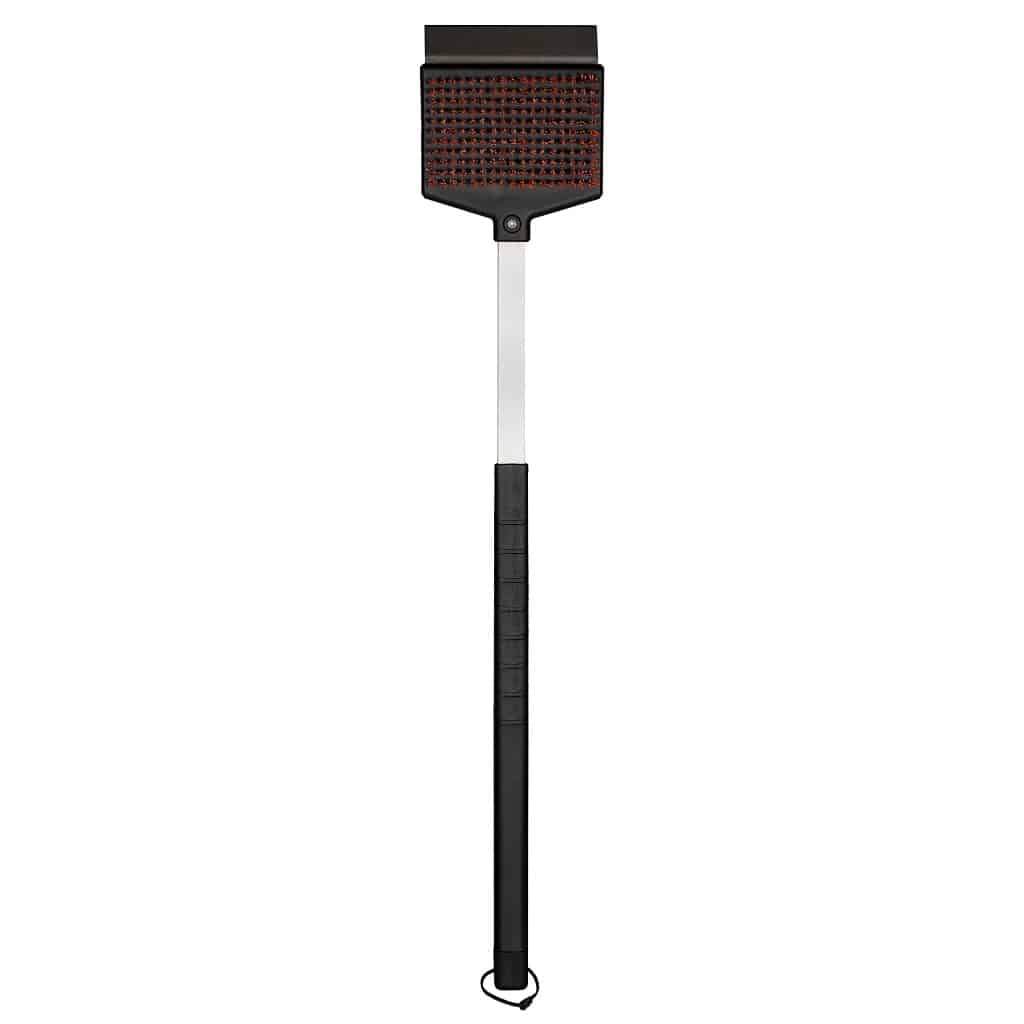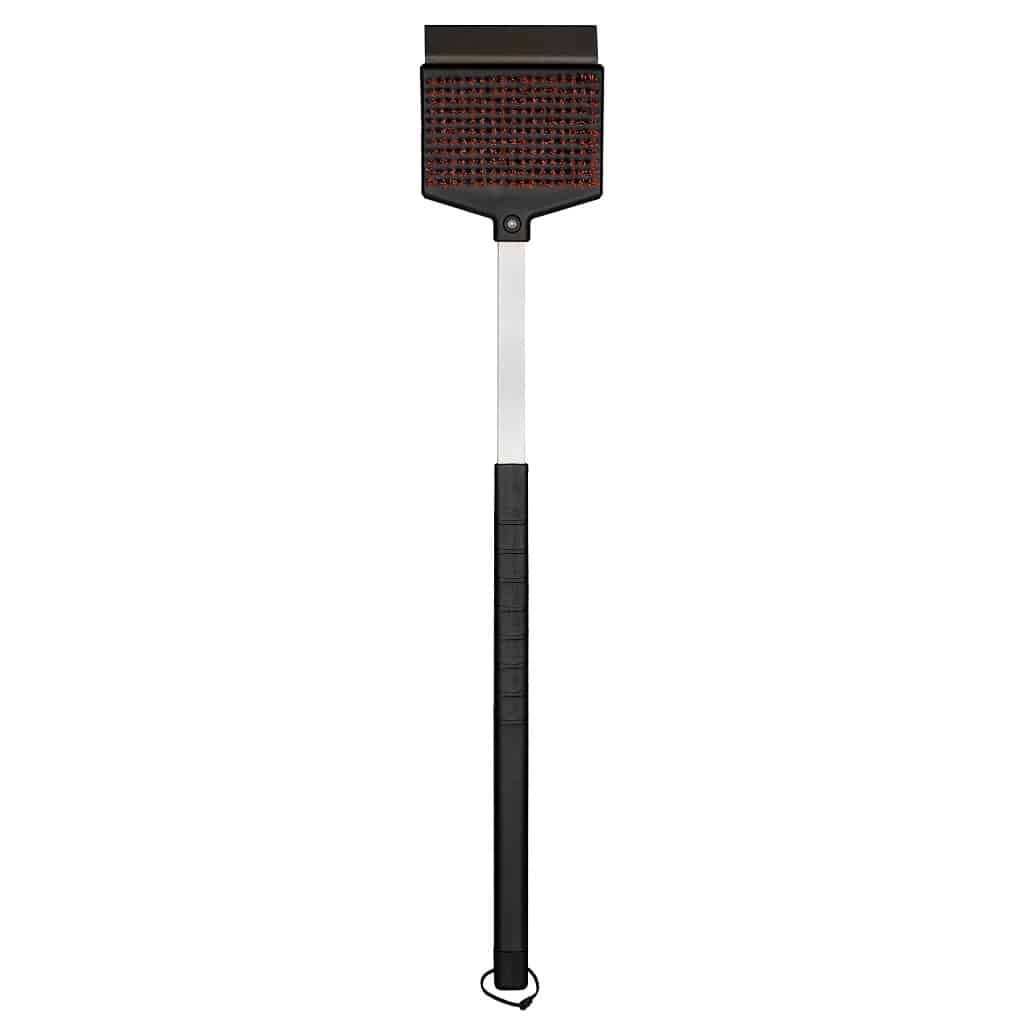 Who is Blackstone?
Blackstone is a company that was founded in 2008. They specialize in outdoor cooking, and their claim to fame is their flat-top grills. They offer a lot of cool accessories to go with it. Blackstone Grills are known for their quality construction, innovative features, and outstanding customer service. Their products are designed to meet the needs of both professional chefs and backyard cooks. They offer a variety of grills, griddles, and pizza ovens. They strive to produce products that make outdoor cooking easier and more enjoyable for all.
What Kind Of Pizza Dough Should I Use?
When it comes to making delicious homemade pizza, using the right type of dough is essential. I mean, this is where it all begins right? It can be intimidating at first to choose the right dough, but once you understand the basics and different types of pizza dough available, it will become much easier.
The two most common types of dough used for pizza are Italian-style thin crust and American-style thick crust. Italian-style thin crust is a light, crisp dough that has a crunchy texture. It's typically made with all-purpose flour, water, yeast, sugar, and salt. American-style thick crust is usually thicker than the Italian-style dough and has a chewy texture. This type of dough is made with bread flour, water, yeast, sugar, and salt.
Whichever type of dough you choose to use in your pizza oven, it's important to remember that the quality of the ingredients will affect the end result. Be sure to purchase high-quality ingredients for the best results. Additionally, many recipes will call for the dough to be proofed, which is the process of allowing it to rise. This will help give your pizza a light and airy texture. Finally, remember that every oven is different, so it's best to read the instructions carefully before beginning. With practice and patience, you can make amazing homemade pizzas at home with any type of dough. Enjoy!
How Do You Clean A Pizza Oven?
Cleaning a pizza oven is an important part of regular maintenance and can help to ensure that your oven continues to perform to its highest potential for years to come. Here are some tips for cleaning your Blackstone Pizza Oven with Cart:
1. Start by unplugging the power source and turning off the gas supply if necessary.
2. Use a soft brush to remove any food particles, grease or other debris that have accumulated on the interior walls of the oven and around the door frame.
3. Wipe down the interior of the oven with a non-abrasive cloth.
4. Remove the pizza stone and clean it with a stiff brush.
5. Use a damp cloth to wipe down the exterior of the oven as well as any cooking accessories such as the pizza peel or fuel tank.
6. Once all surfaces have been cleaned, allow the oven to dry completely before plugging in the power source and turning on the gas.
7. Finally, check for any signs of wear or damage that may need to be repaired by a qualified technician before using the oven again.
Following these steps can help to ensure that your Blackstone Pizza Oven with Cart will remain in good working condition for years to come. Enjoy your delicious pizzas!
What Else Do I Need To Know About Owning A Pizza Oven?
Owning a pizza oven can be a great way to enjoy delicious pizzas and other dishes in your own backyard. It comes with many benefits, but there are also some things you should consider before making the purchase.
First, safety is paramount when operating a pizza oven or any gas appliance. You should always follow the manufacturer's instructions carefully and make sure to keep the area around the pizza oven clear of any flammable materials.
In addition, you should always make sure that your pizza oven is properly ventilated and has an appropriate ventilation system in place. This will help reduce harmful carbon monoxide emissions.
You also want to be aware of fuel consumption when using a gas oven. Make sure to use the right size regulator with your gas line and that you are aware of how long each fuel canister lasts to avoid running out in the middle of baking pizzas!
Always use a long-handled pizza peel to get the pizzas in and out of the oven.
Finally, it is important to remember that a pizza oven needs regular cleaning to ensure optimal performance. Make sure to clean the oven regularly and check for any signs of wear or damage that may need to be repaired.
By following these tips, you can ensure that owning a pizza oven will be an enjoyable and delicious experience! Enjoy your pizzas!
Conclusion
Overall, the Blackstone Pizza Oven with Cart is an excellent choice for outdoor chefs who want both quality and convenience in their cooking experience. With its easy portability and fast-cooking power, this oven will help make that next pizza party easier than ever before! Plus, its durable construction means that it will last through many meals and occasions – making it an investment that's sure to pay off in spades! So grab yours today and get ready for some delicious pizza cooked outdoors!