When you are out shopping for the best western saddle pad, it's hard to figure out which one is the right one for you.
Making sure you get the best western saddle pad is a must when it comes to protecting your horse's back and saddle. I am here to provide you with some of the best western saddle pads out on the market and decide which is the best western saddle pad for you.
There are some aspects to keep in mind when picking out your new saddle pad, such as material, design, and size, so please read below and I hope you find it helpful.
My review is specifically targeting a western style horse across multiple performance disciplines. Anywhere from a long day trail riding, hard-working performance horses, or even to our high-withered horses, the pads I have recommended will get the job done and you can feel confident in the quality of the product. I specifically chose top-quality brands and styles that all offer something for everyone.
Please check my recommendations below and the information provided to find the best saddle pad for you and your horse!
We are reader supported and as such, may make a small commission at no expense to you if you purchase thru our links and we love you for that!
What Is The Best Western Saddle Pad?
Best All Around Western Saddle Pad: Best Ever-The Fleesar with Kush Option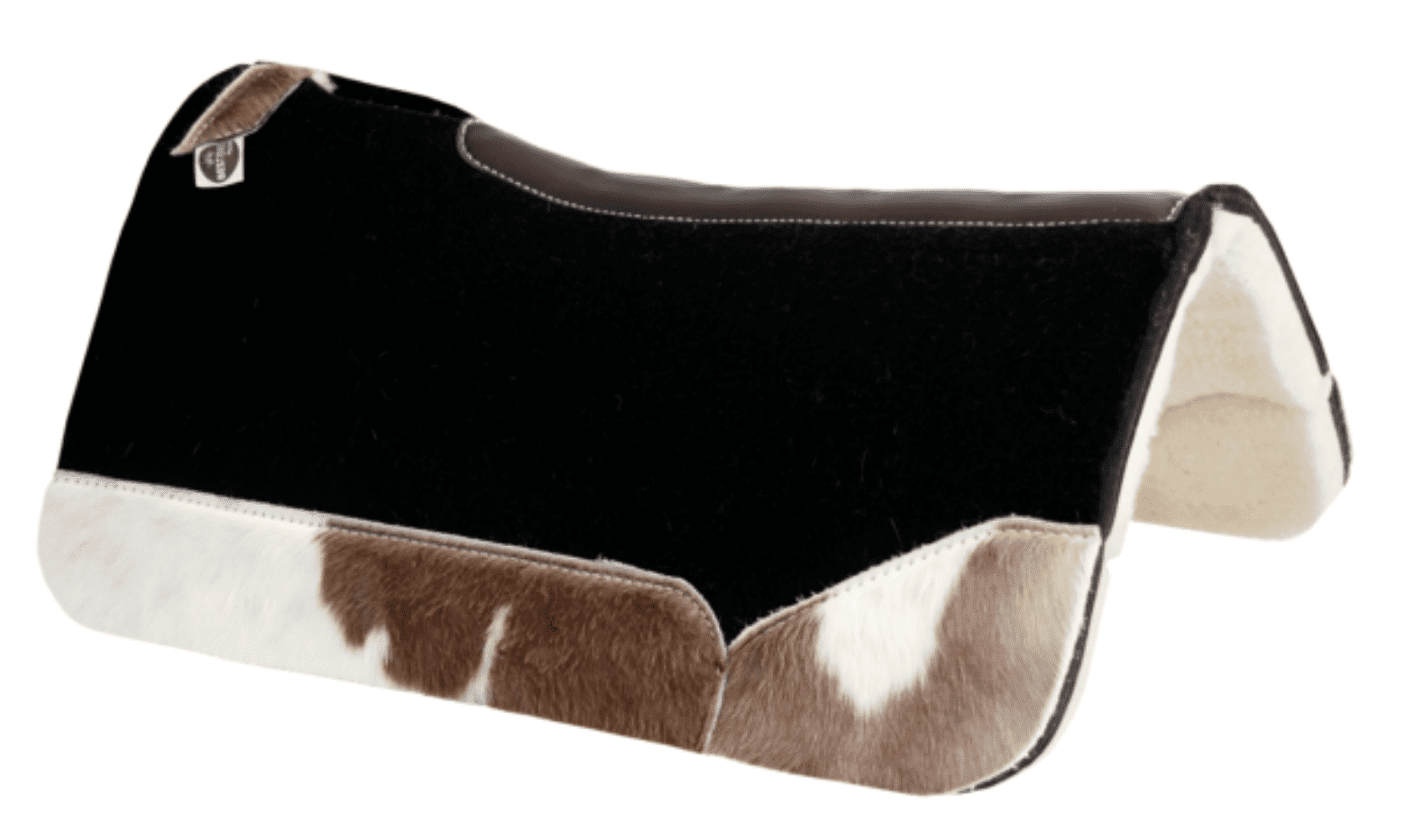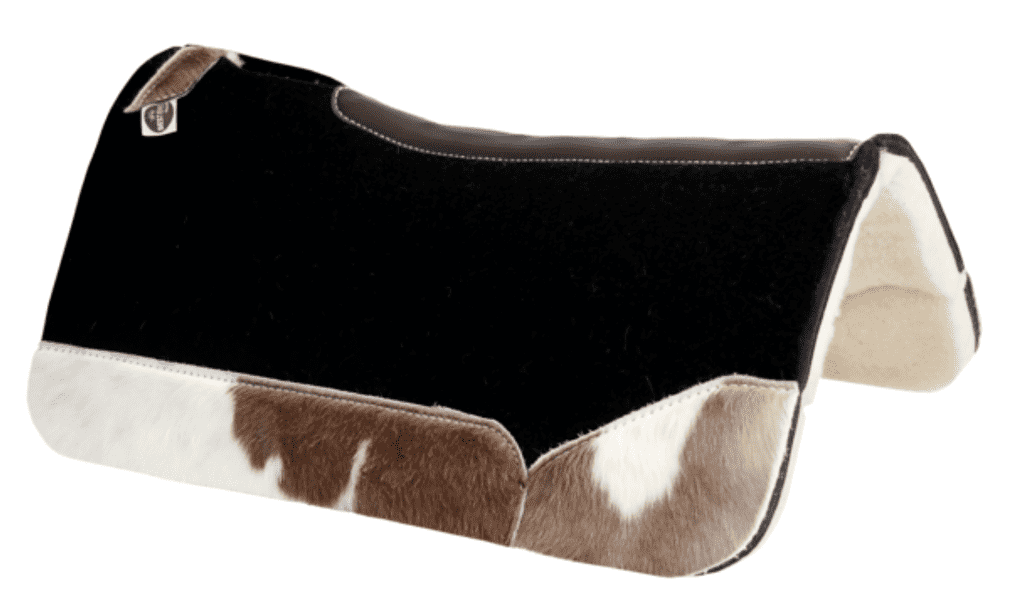 I chose the Best Ever The Fleesar with the "Kush" option, for the best western saddle pad overall. The Fleesar with the Kush, is meant for that every day rider. The rider who is practicing their western discipline regularly, and want themselves and their horses to look and feel their best each and every time.
The "Kush" provides an additional fleece liner underneath to assist in added comfort, shock absorption, and any rubbing of current pads you use. The Fleesar pad is durable for all our hard work and the Kush just gives us that extra support to last all day so we can keep on keeping on.
The Fleesar with Kush saddle pad, along with all Best Ever saddle pads, provide the closest match to your horses confirmation and skin sensitivity, along with every option you could dream of for the fashion forward rider.
Best Ever pad is fully customizable in terms of thickness, size, material, color & design, shape, monogram, or even your company's logo. Basically what that means is, Best Ever Pads can be exactly what you need them to be, regardless of your discipline and regardless of your horses shape.
Best Ever saddle blankets have numerous colors, shapes, material, and sizes to suit you and your horses needs, but don't fret, they also have simple cowboy black and gray if color and design is not your thing.
On top of their awesome saddle pads, Best Ever provides a customer support team to help answer any questions, provide fitting expertise and guidance, along with any sort of additional customization you may desire.
I feel like you can't go wrong with this saddle pad. Your options are endless.
Features
Perfect saddle pad for the everyday rider. All day work from ranch to arena, trail riding to leisure riding.
Available in 3/4", 1"
If you're a Barrel racer or Gymkhana: this saddle pad is meant to perform and it will provide comfort and strength for rigorous arena riding for the everyday trainer.
Team Roping and Ranch Rodeo: The Kush Wool Pad is durable and resistant to take on the tough and rigorous work of a roper and stands up for ranch rodeo events. After all, this saddle pad was made by long-time professional rodeo riders.
Saddle Pad Thickness:
The 3/4" saddle pad is ideal for horses that are more round back.
The 1" saddle pad is perfect for everyday use, trail riding, arena work, and more.
*The website states that horses with broad shoulders should use a 1" pad.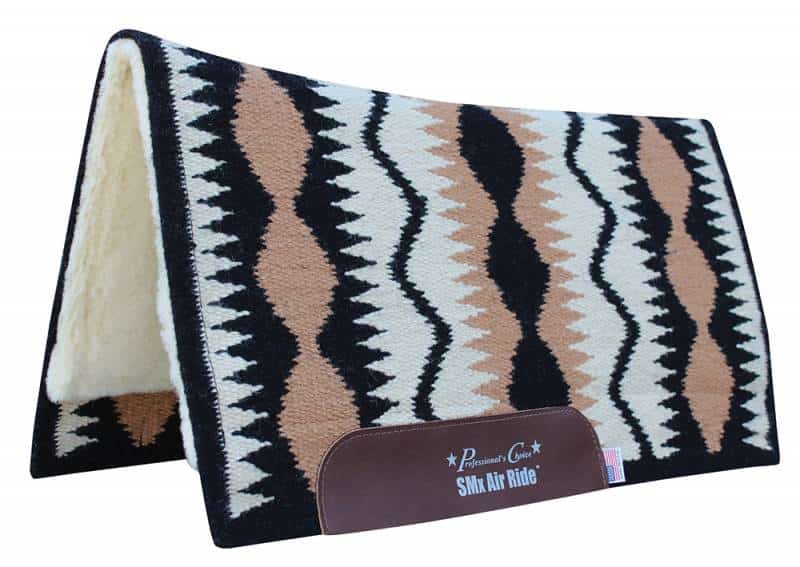 I chose the Comfort-Fit SMx Air Ride as the Best Innovated Technology Saddle Pad.
Professional Choice is no secret to the horse industry in leading products. I personally own(more than I can count) professional choice products of many varieties including this pad.
I think you'll find that the quality, the reputation, and the cost will all align to earn a spot as a top contender for the best western saddle pad and why it has been one of my favorite saddle pads.
Along with another saddle pad further in my review, we use these pads in our training program and are used across multiple age, shape, and size horses and all are tough, durable, comfortable, and long lasting.
The SMx Air Ride Saddle Pad has a ton of innovative technology features that explain why this pad is so special, but I'll let you and your horse decide for yourselves. We know and love Professional's Choice, so there really shouldn't be a reason to say "why not".
Features
The SMx Air Ride are contoured pads to protect your horse's spine and encourage a full range of motion.
There is 12% more energy absorption and 5% more pliability; making this pad absorb more shock while protecting your horse's back
Air Ride technology now allows up to 50% more 3-D airflow through the closed cell beading utilized in the pad, keeping your horse cool. The materials don't absorb water, thus providing resistance to bacterial growth
The technology used is found in human protective gear like helmets, athletic padding, athletic footwear, sports fields, and playgrounds
·This pad has fun designs and colors if you like to make a statement on the trail or in the arena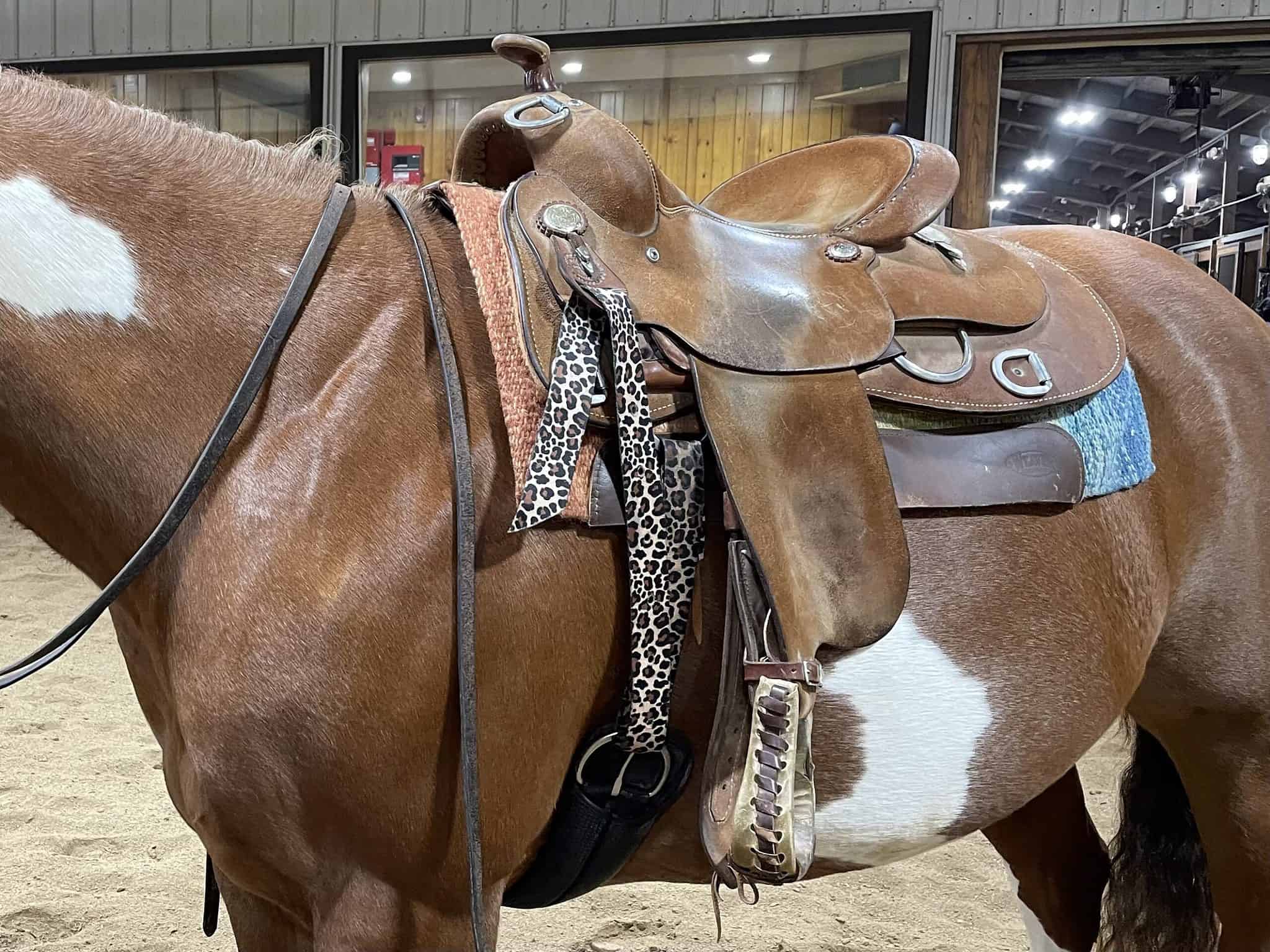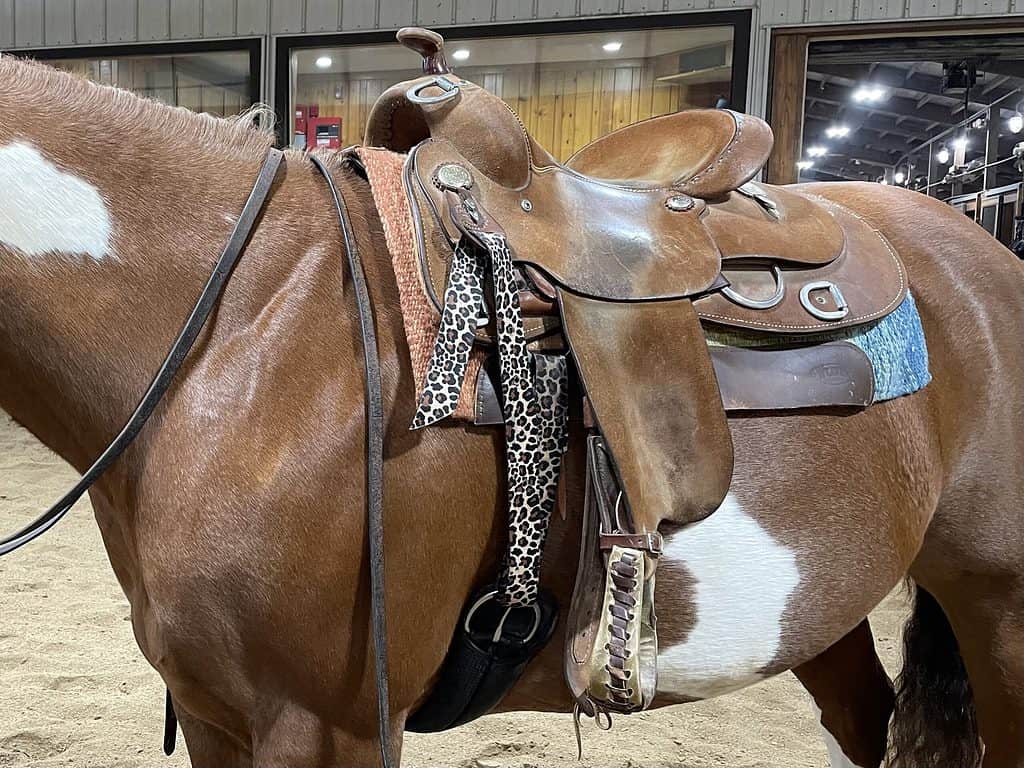 The Synergy Flex Contour Performance Saddle Pad ranks as the Best Contour Saddle Pad. Weaver Synergy Saddle Pads are durable, comfortable, and in my experience, stand the test of time.
The Synergy line up has a few different options for the liner to suit your horses needs and come in several colors suitable for any kind of rider. We have several of these pads used in our training program, across multiple different horses of age and size, and they hold up. Hours of riding, different saddle shapes and sizes, and I can't recall a horse it didn't work well with.
We all know the brand, and I would say this is their high-end line for saddle pads and its worth it. Your horse will be comfortable, you will be comfortable, and you can trust that you can keep this pad for years with proper care and it will always be ready for you and your horse.
The Synergy Saddle Pads: Weaver Leather created a newer line of technology for their pads.
Shock absorbing EVA sport foam that is compression resistant and quickly reshapes and rebounds.
Enhanced airflow, ventilation, & cooler performance.
Wool Liner: naturally moisture wicking and sweat moves away from your horse and helps regulates temperatures.
EVA Sport Foam Technology will not degrade over time
Proven orthopedic value for comfort of the rider and horse.
3 options for the liner: Merino Fleece or Wool Blend Felt, or Orthopedic felt
1" thickness
Leather contoured spine provides anatomically-correct fit for a horse's back and keeps the center of the pad lifted into the saddle gullet for increased airflow
90 day Test Ride Guarantee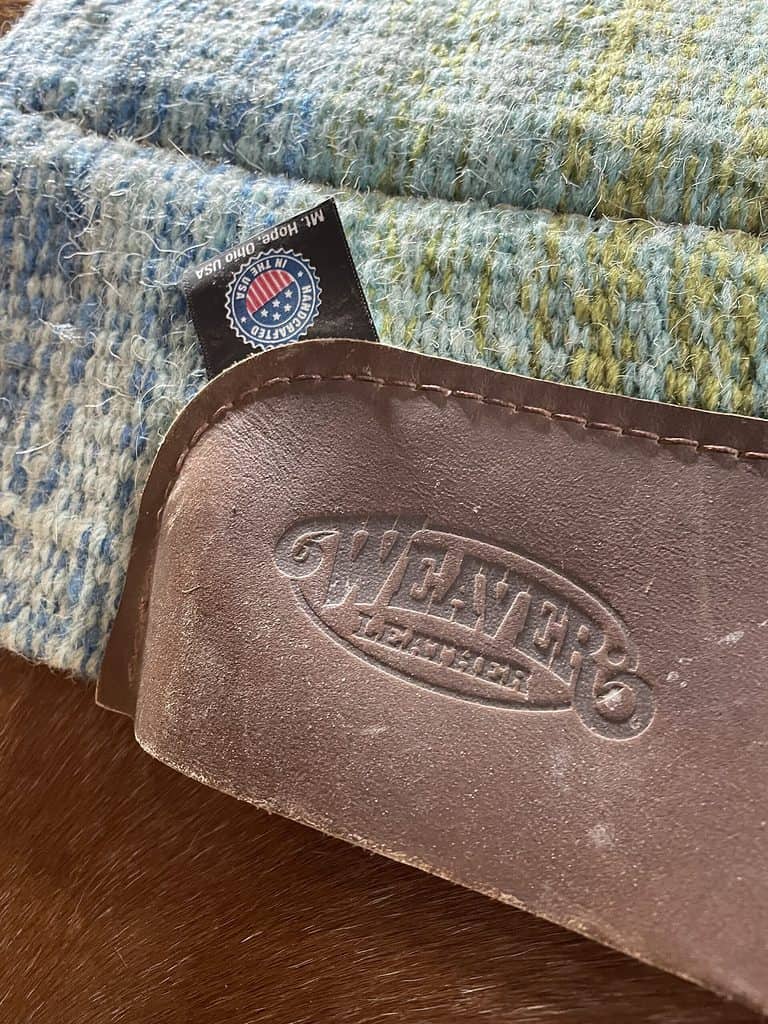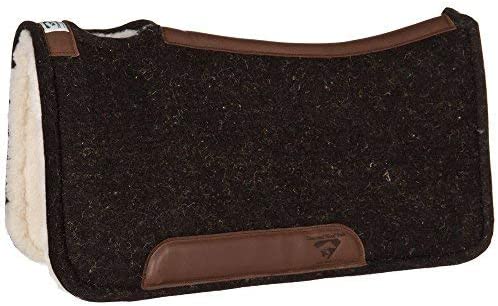 The Best Budget Saddle Pad was a no brainer with Diamond Wool Saddle Pads.
Diamond Wool started their pad business in 1992 and takes pride in their dedicated commitment to providing wool saddle pads using USA materials and craftsmanship.
While I do not personally own this pad, I have certainly added this to my "must buy" list as it has met all the marks for a great quality, crafted, comfortable western saddle pad for the horse and rider.
The wool felt Diamond Wool Pads use a mechanically combined felt which allows for control as well as quality and consistency. This type of wool felt allows more resiliency, more shock absorption, and more moisture absorption insulating against both cold and heat. This mechanical wool felt process also allows your wool felt saddle pad to conform to the shape of your horse's back and prevents the shifting of the wool saddle pad while riding.
Diamond Wool saddle pads have become a well-respected and trusted choice of horse enthusiasts around the world.
Features
Diamond Wool only makes saddle pads, so they are laser-focused on making the best saddle pads.
Have many well-known horse-industry endorsements
All of their products are made in Rhode Island and are "The Natural Choice" when it comes to contoured wool felt pads.
Pad features a wither relief cutout and is reinforced with distressed leather.
Made in the USA, using top quality wool: It breathes, retains its shape, doesn't wrinkle, and slow to dampen
Their wool is also a very strong fiber with high elasticity and resilience, and it "meshes" with your horse's hair to reduce slippage.
Best Orthopedic Saddle Pad: Saddle Right- Western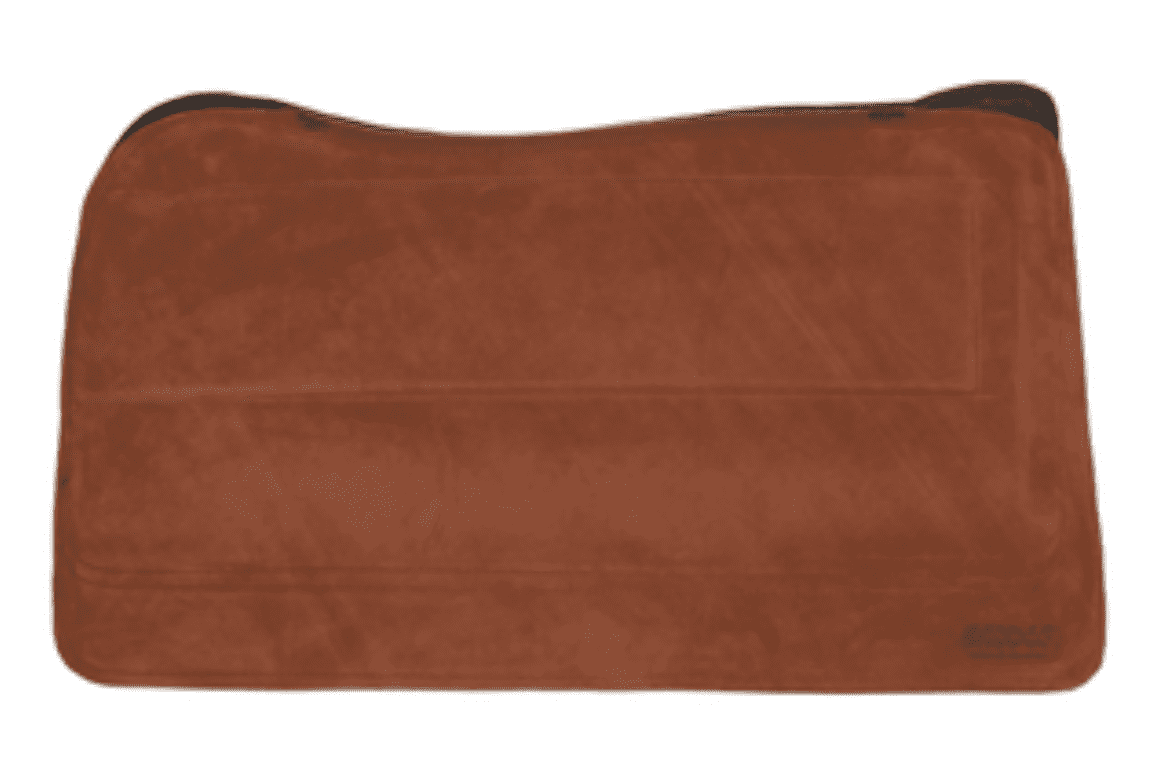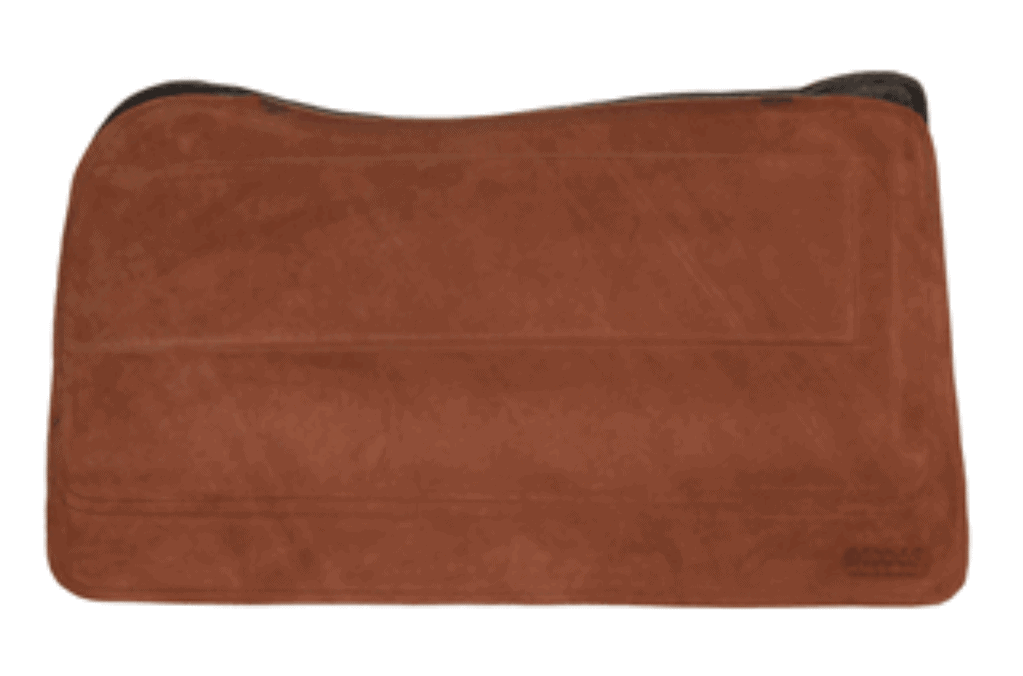 Saddle Right has been in the business of manufacturing and craftsmanship since 1984. With more than 30 years of experience on just saddle pads, you can be confident that Saddle Right knows their stuff!
Saddle Right's consumers have averaged a 4.9 Verified Rating on their pads!
The pad that Dr. Mike and Janette Freeman developed long ago is still the best orthopedic pad available in function, craftsmanship, and style. Saddle Right is so confident that they offer a lifetime warranty against the core compression pad! Saddle Right offers a variety of styles, colors, and options. Every pad is made meticulously for the riders' individual tastes and needs. Western pads come standard with a 5/8" thickness. A ¾" option is also available with the legacy upgrade.
Features
Offer the highest level of protection, comfort, range of motion, and wither relief (without a cutout over the wither).
The Core material allows your horse's muscular system to rebound and rebuild more quickly, while fully protecting the back.
With the Lifetime Warranty, Saddle Right guarantees your pad will not compress or deform in any way. The unique orthopedic material is securely encased in a leather or wool cover
Craftmanship is top-notch, using only real pressed wool felt and top-grain Leather
Unmatched warranty anywhere. They offer 30 days unconditional, one-year workmanship, and the only Trade Back Program in the industry. That means you can get a brand new pad (any style/color) anytime for 50% of the retail price when you turn in your old saddle pad.
What is a Western Horse Saddle Pad?
A western horse saddle pad is an essential piece of tack designed to provide comfort and protection for both the horse and rider. It serves as a buffer between the saddle and the horse's back, reducing friction, shock absorption, and helping to evenly distribute weight.
Saddle pads come in a range of materials, sizes, and shapes to meet the needs of every horse and rider, from synthetic fleece to sheepskin. Western saddle pads typically have a thicker profile than English-style pads and provide more cushioning for the horse's back. They are also often made with wither cutouts, allowing for more freedom of movement, as well as providing extra space between the pad and the horse's withers.
Western Pads often feature decorative trim, piping, tassels, and other features to provide style as well as function. The right saddle pad can make all the difference in providing superior comfort, support, and protection for horse and rider. It is an essential part of any western tack setup.
What Are The Benefits of Using A Western Saddle Pad?
Western saddle pads provide numerous benefits that help both horse and rider. They offer cushioning between the saddle and your horse's back which reduces friction, and shock absorption, and helps to distribute the rider's weight evenly. The materials used in western saddle pads also provide extra comfort, breathability, and moisture-wicking properties to keep your horse cool and dry throughout his ride.
How Do You Care For A Western Saddle Pad?
Caring for your western saddle pad is essential to maintaining its quality and comfort. I'd recommend to brush off any dirt or debris from the pad before you use it because why not…You're brushing your horse anyway!
Depending on how often your saddle pad is used, you may want to wash it once a month with a mild detergent, but honestly I really do this only a couple times a year.
Finally, always store your saddle pad in a dry, well-ventilated area to avoid mold growth and keep it in good condition.
Caring for your western saddle pad ensures its quality, comfort, and longevity. With the proper maintenance and care, your western saddle pad can provide superior protection and comfort for many years to come.
How Often Should You Replace A Western Saddle Pad?
Replacing a western saddle pad depends on the frequency of use, the quality of the material used, and the care taken in maintaining it. Generally speaking, for an average horse ridden multiple times a week, a western saddle pad should be replaced at least every two to three years. If you ride your horse more frequently or are an avid show competitor, you may need to replace your saddle pad more often.
Ultimately, it is best to inspect your saddle pad regularly for signs of wear and tear such as fraying seams, loose stitching, or worn fabrics. If you notice any of these signs, it is time to replace your western saddle pad.
I ride four times a week, and show competitively in the western circuit in season, and I replace every couple years, but I also have a couple pads in rotation as well.
How to Measure For a Saddle Pad?
To get the best saddle pad fit, take two measurements of your saddle:
Length: Measure from front to back at the longest points.
Drop: Measure from one side, across the withers, and down the other side.
There should be 1.5 to 2 inches of visible pad around the perimeter of the saddle. This will allow for the shifting of the saddle when riding.
Summary
Western saddle pads are such an important part of any western tack set-up, providing extra comfort and support for both horse and rider. The materials used in western saddle pads typically provide breathability, moisture-wicking properties, and wither cutouts for added freedom of movement.
To ensure the quality and comfort of your pad, it is important to clean and condition it regularly, as well as brush off any dirt or debris before each ride. Depending on the frequency of use, western saddle pads should be replaced every two to three years.
Additionally, when choosing a new pad for your horse, make sure to measure the saddle and get a proper fit of 1.5 to 2 inches of visible pad around the perimeter. With these tips, you can ensure your horse has superior comfort and protection for every ride!
Looking for other great outdoor activities? Check our our list!