Introduction
The best RV mattresses in the market today aren't solely designed with better sleep in mind. They are specially crafted to match specific sleeping styles, body types, and personal needs. They accomplish all this while remaining comfortable, supportive, lightweight, and durable for years to come. Most RV mattresses that come with the RV are made with poor quality and don't last long. Stock RV mattresses tend to be the area where manufacturers really cheap out.
If you're looking to replace your current RV mattress with a new RV mattress, this post has you covered. We've done the research and highlighted the best RV mattresses for different bed sizes, sleep preferences, budgets, and tastes. We looked at memory foam RV mattresses, all the RV mattress sizes, different mattress toppers, as well as analyzed mattress thickness, all to help our readers find the best RV mattress for their personal needs.
So, let's dive in on our review of the best RV mattresses.
We are reader supported and may receive a small commission at no cost to you by purchasing through our links.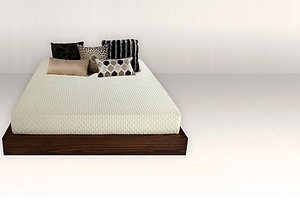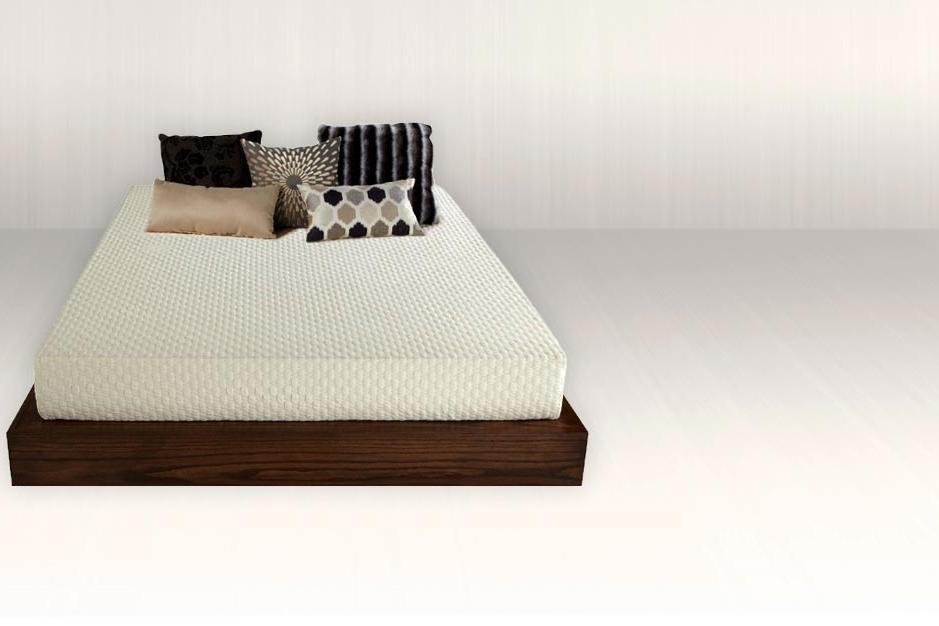 Wake up refreshed with the PlushBeds Deluxe mattress that provides the perfect sleep support. This sleeping solution eases pressure in all the right places, with its extra layer of softness. At the same time, it absorbs the shock of body movement and releases heat, helping you sleep cooler.
The PlushBeds Deluxe RV Mattress offers a generous 8 inches of premium memory foam. That's three times as dense as regular foam. This resilient construction is wrapped in a lavish stretch bamboo cover with a zipper.
With this mattress, you don't have to worry about toxins, off-gassing, or unpleasant odors in your RV since it's CertiPUR certified. This feature makes it suitable for RVers with respiratory issues. If for any reason you are not satisfied within the first 100 nights, you have the option to return the mattress.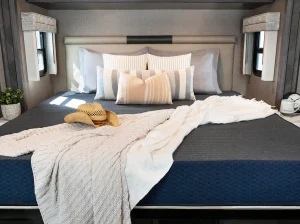 If you're looking for the best RV mattress specifically designed for the mobile lifestyle, check out the Brooklyn Bedding Wanderlust. Entirely made of foam, you can find it in five profiles and a wide array of thicknesses and sizes for an RV king, RV queen, and RV bunk beds. Regardless of your RV's bed frame dimensions, you'll find a perfect fit.
What puts the Brooklyn Bedding Wanderlust as the best RV mattress is how it alleviates pressure and isolates motion, two common issues when trying to sleep in an RV. The mattress does this by incorporating a layer of gel memory foam that cradles your body for better alignment and cooling, along with a high-density base foam that provides support and limits sinkage.
This best RV mattress also comes with a machine-washable bamboo blend cover for easy cleaning. It has multiple layers of foam to provide comfort, support, and pressure point relief.
The plush top layer of gel infused memory foam draws away body heat to promote a cool night's sleep, while the base layer of high-density polyfoam offers support. However, if you're a side sleeper, you'll probably not appreciate the firmness of this mattress.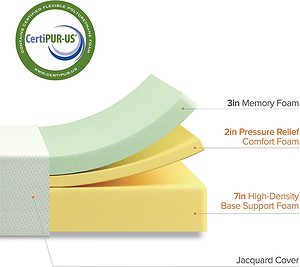 Zinus' green-tea infused RV mattress is an economical option designed to relieve pressure and pains. It offers firm, shapely support no matter your sleep position and works for most body types. Regardless of the thickness you pick, all options are made with the same three different layers of CertiPUR-US Certified foam.
The layers are arranged to provide a supportive feel that cradles your achiest joints, while aligning your spine. Apart from offering you phenomenal support, it also absorbs moisture and combats odors, thanks to antioxidant-rich green tea and ActivCharocal microparticles.
You'll also appreciate its edge support and long-term dependability. Everything is contained in a soft woven jacquard cover. Once you make the purchase, you have 100 days. Moreover, you're covered by a 10-year warranty.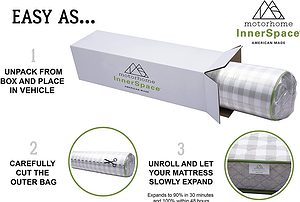 The InnerSpace RV Luxury Deluxe Reversible 8″ will give you the rest you deserve after a long day of driving and exploring.  This RV mattress offers a perfect combination of comfort and support. Throughout the night, it keeps your body in an ergonomic posture.
The mattress does a great job of eliminating motion transfer between bed partners. When there's motion, it adapts to ensure your body is in a stable and natural position. The mattress comes wrapped in a cozy, removable cover made of organic cotton. Inside, it has a 3″ memory foam for cushioning and 5″ high-density polyurethane foam for support.
The InnerSpace mattress is CertiPUR-US certified to be free of heavy metals and chemicals, so you can rest easy knowing you're not taking a gamble with your health. It's also backed by a generous 20-year warranty.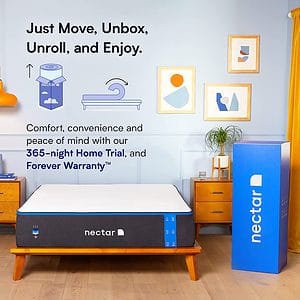 Nectar RV Mattresses are some of the most highly sought-after RV mattresses on the market today. The Nectar Queen 12 Inch size RV mattress not only offers a comfortable haven for a great, healthy night's sleep, but it also offers fantastic pressure relief and cooling.
Nectar is a gel memory foam mattress crafted to accommodate the needs of most kinds of sleepers. On the top, it has a soft and airy quilted mattress cover. The second layer is gel memory foam that evenly distributes your weight and gently floats your body over the memory foam mattress. In the middle is a supportive layer that eliminates the feeling of sinking.
Next up is a base layer to reinforce support, and at the very bottom is a cover that ensures your mattress doesn't slip. One of the best parts of selecting a Nectar Mattress is the unbelievable year-long trial period that starts the day your mattress is delivered to your door. Even more exciting, it's available at a low price point, and comes with a lifetime warranty.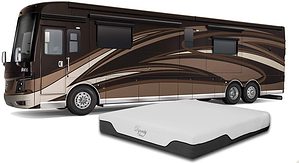 The Dynasty CoolBreeze 10" Mattress is a viable option for RVers looking for a mattress that provides instant comfort and lasting support. This RV mattress is designed with four different foam layers, and it feels and acts like a luxury option. It has low motion transfer, an incredible cooling effect, and a medium-firm comfort level, making it great for side sleepers, back sleepers, and stomach sleepers.
This hypoallergenic RV mattress has a 2-layer construction consisting of 2.5″ gel-infused memory foam and 7.5″ high-density foam for a superior support base. Furthermore, it has infused gel beads that combine with the premium memory foam to offer unmatched comfort, pressure relief, and improved airflow.
Protecting the mattress is a sleek, silk cover that's easy to remove and machine washable. Underneath it is a fire barrier. No matter your RV bed size, you can find a perfect fit as it's available in different size options. The main drawback is that it doesn't offer a trial period, although it does come with a very impressive 30-year warranty.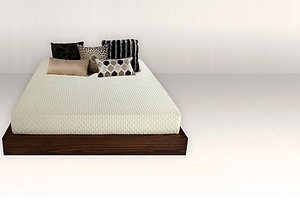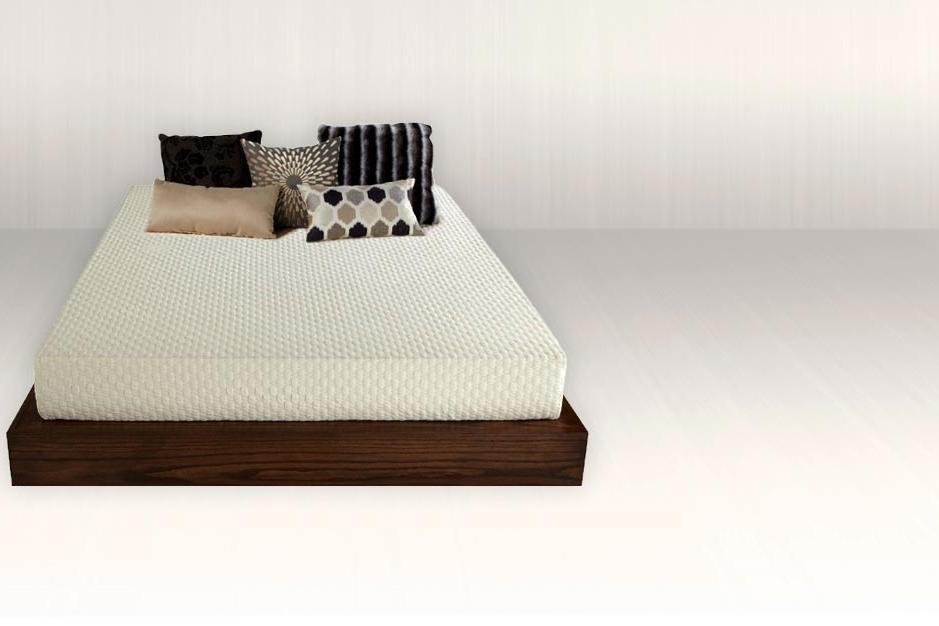 If you're looking to RV responsibly, and want to upgrade to a greener mattress, look no further than Plushbeds. This well-reputed company not only builds RV mattresses that fit in all of the major recreational vehicle brands, but they also create the most environmentally friendly products.
All their mattresses are GreenGuard Gold Certified, which means they meet rigorous testing for chemical emissions standards. Independent laboratory tests are performed to ensure the product is free of pesticides, bleach, chemical fire retardants, heavy metals, and 10,000 other harmful chemicals!. On top of that, it's recommended for sensitive individuals, including kids and the elderly.
One of their standout RV mattresses is the Eco Green 8". It's handcrafted in the USA, with the finest quality 100% natural latex mattresses. Apart from being an earth-friendly option, it offers luxurious comfort, superior support, and deep, rejuvenating sleep. You can try it for free for up to 100 days, and a 20-year warranty backs it.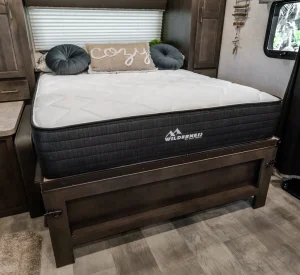 If you are looking for the best RV mattress, then you need to check out the Montana Hybrid. This RV mattress is handcrafted with the highest quality materials available, so you can rest assured that you are getting a great product. The Montana comes in three different comfort levels – Firm, Plush, and Soft pillow top – so you can choose the option that best suits your needs. And because everyone deserves a good night's sleep, they offer a 100-night sleep trial so that you can see for yourself just how comfortable the Montana Hybrid is.
Firmness
The Wilderness comes with three different firmness options; firm, plush (most popular), and soft pillowtop.
The firm mattress is great for back sleepers. It has a 10′ thickness.
The plush is the most universal mattress and is great for all sleep positions. It has a 10′ thickness.
Soft Pillowtop is great for side sleepers. It has an 11′ thickness.
Features
1″ PREMIUM QUILTED TOP WITH COOLING COVER:
The premium quilted top is designed to resist body impressions and provide optimal breathability. Additionally, the new cooling cover helps regulate your body temperature, giving you a much more comfortable sleeping environment. By regulating your body temperature, you will be able to sleep more soundly throughout the night, and wake up feeling refreshed and energized. Furthermore, the cooling cover is machine-washable for easy care.
1″ FAST RESPONSE MEMORY FOAM:
A 1″ layer of patented, hyper – elastic foam features immediate response technology that adjusts to your body each time you move. You'll find that this mattress provides unbeatable comfort and support, whether you're a side sleeper, back sleeper, or stomach sleeper. What's more, the foams used in this mattress are certified by Oeko-Tex, meaning they're free of harmful chemicals and safe for you and your family.
Warranty
The Montana Hybrid comes with a non pro-rated 10 year warranty.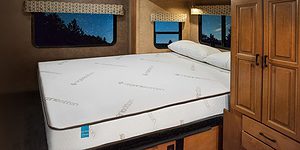 Want a queen-size RV mattress that won't take up all your space? Look no further than the Elation RV Mattress W/ Organic Cotton. This low-profile mattress is just 6 inches thick and comfortably fits in numerous sleeping settings. RVers who have limited headspace or compact interiors will understand why this is one of the best RV mattresses out there.
Despite its thin build, it's specifically developed to give you a premium sleeping experience. Silky-soft organic cotton, heat-wicking gel memory foam, and a supportive foam-cell base are paired to create a cushion firm feel that smoothly contours around any body type.
It's a two-sided mattress that allows you to adjust the firmness. You can opt for the softer, gel foam side or the slightly firmer, high-density foam side. It comes with a 10-year warranty, and you can have it customized to any shape if your bed frame has odd dimensions.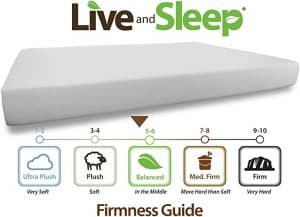 The Live and Sleep designs mattresses are for home beds, as well as for sleeping in RVs. Resort Classic is one of their top creations for short queen beds, and it's a medium-firm mattress made with breathable, plush, and superior quality ingredients.
This 10-inch thick mattress features 2.5 inches of air-infused memory foam on top of an extra thick high-density firm base for added support. It has body-conforming and pressure-relieving features, allowing you to relax and have a good night's slumber. And if your partner tosses and turns, the Resort Classic will suppress the motion. The cover is soft and breathable, keeping you cool on those hot nights.
Even better, the company uses smart packaging to minimize its carbon footprint. They fold, roll-pack, and ship it at one-third of the normal size. This process doesn't impact the RV mattress quality as it expands once you take it out of the box. You'll also love the 20-year warranty and memory foam pillow that accompanies it.
Best Budget RV Mattress: Sedona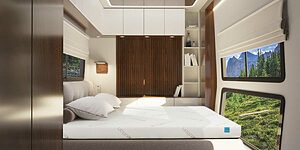 On a budget but not willing to sacrifice the smooth sleep you love and deserve? Go for the Sedona RV Mattress. With prices as low as $200, this is one of the most affordable RV mattresses you can get your hands on.  You can find it in multiple RV sizes, from the RV king, regular RV queen, and short queen short to a twin bed.
Sedona RV mattresses are especially popular with side and back sleepers as they provide ultimate support from their dense foam mattress. Those who prefer a firm mattress will also be impressed. The foam, as well as the organic cotton cover, are both hypoallergenic and dust mite resistant, making it a nice fit for RVers who suffer from allergies.
Although it's an economical option, don't expect it to bottom out. It will keep your body floating on top of your mattress for years to come. This product is backed up by a 10-year warranty, and you can try it for a whopping 365 nights.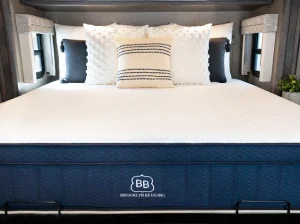 For hot sleepers looking to snuggle down into a super soft bed, the Brooklyn Bedding Aurora Hybrid is one of the best RV mattresses money can buy. This high-end RV mattress has innovative properties, a soft-squishy feel, and multiple layers that help it pack a serious comfort punch.
To appeal to a wider array of sleepers, it's available in different firmness levels: soft, medium, and firm. Sleepers who struggle with shoulder or hip pain will appreciate the soft version.  Those who are back and stomach sleepers will love the firm one.
This mattress can suppress motion transfer thanks to over 1000 individually encased steel coils. It also excels in edge support and temperature regulation. To make it more durable, it has a .75" high-density foam base. Accompanying it is a 10-year warranty and a 120-night trial period.
What are the Different Types of RV Mattresses?
There are a few different types of RV mattresses. The best type of mattress for you depends on your sleep position, body type, and preferences. Some popular types of RV mattresses include memory foam, latex, and coil mattresses.
Memory Foam Mattresses
Memory foam mattresses are popular among RVers because they offer a comfortable and supportive surface. They are made of dense foam that conforms to the contours of your body, providing pressure relief and support for your aching joints. They are also known to reduce motion transfer, meaning you won't feel as much movement from your partner if they get in and out of bed.
Latex Mattresses
Latex mattresses are another popular option for RVers because they offer a firm and supportive surface. They are made of natural latex, which is known for its durability and support. They also have a bouncy feel, which can be beneficial for people who suffer from back pain.
Coil Mattresses
Coil mattresses are a type of mattress that offers a firm and supportive surface. They are made of coils, which are designed to provide support and reduce motion transfer. They are also known for their durability, making them a good option for people who need a long-lasting mattress.
Memory foam mattresses are a popular choice for RVers because they contour to your body and offer excellent pressure relief. Latex mattresses are also a good option for those who want a bouncy, supportive mattress. Coil mattresses are another popular choice for RVers because they offer good support and durability.
Innerspring Mattress
An innerspring mattresses are a type of mattress that are made of coils. These coils are designed to provide support and reduce motion transfer, making them a good option for people who need a durable mattress. Innerspring mattresses are also known to be cooler than other types of mattresses, making them a good choice for people who sleep warm.
What is a Short Queen RV Mattress?
A short queen RV mattress is a type of mattress that is specifically designed to fit in recreational vehicles. It is shorter in length than a traditional queen-sized mattress, making it a good option for people who have limited space in their RV. Short queen RV mattresses are also typically narrower than traditional queen-sized mattresses, making them a good option for people who need a narrower mattress.
Why Replace your RV Mattress?
There are a few reasons why you might want to replace your RV mattress. One reason is if your current mattress is uncomfortable or doesn't offer the support you need. Another reason is if your mattress is old and worn out and isn't providing the comfort or support you need anymore. Replacing your RV mattress can help improve your sleep quality and make your RV more comfortable.
How Often Should you Replace your RV Mattress?
The best answer to this question is: it depends. Some mattresses, such as memory foam mattresses, may last for up to 10 years. Other mattresses, such as coil mattresses, may only last for 3-5 years. Ultimately, it depends on how often you use your RV and how well your mattress is maintained.
What are the best places to buy an RV mattress?
There are a few different places you can buy an RV mattress. One option is to buy direct from a manufacturer. Another option is to buy from an online retailer like Amazon or Overstock. You can also find RV mattresses at some department stores like Walmart or Target. The best option is to buy from the links in our blog!
How much does an RV mattress cost?
The cost of an RV mattress varies depending on the size, type, and brand. A basic memory foam mattress can cost around $200, while a more premium latex mattress can cost around $1,000. Coil mattresses tend to be in the middle, with prices ranging from $500 to $700.
Improve Your Quality of Sleep With a Comfortable RV Mattress
There are plenty of creature comforts that RVers can do without, but a comfortable RV mattress shouldn't be one of them. Upgrading your RV mattress will instantly elevate your camping experience, helping you have restful shut-eye after long drives or strenuous outdoor activities.
And thanks to innovative materials and technologies, you can now find RV mattresses that match your body type, sleeping position, and temperature regulation needs. If you're wondering where to begin your search, any of the RV mattresses above will bring relief to your road-weary body while supporting a full night's rest.
Conclusion
If you're in the market for a new RV mattress, be sure to read our comprehensive guide of the best RV mattresses first. We've ranked and reviewed the best options on the market, so you can find the perfect RV mattress for your needs. Plus, we've provided information on how often you should replace your RV mattress and where to buy them at the best prices. So what are you waiting for? Get shopping for the perfect RV mattress today!
Wanting to upgrade to other luxuries in your RV?  Check out our list of the best keyless RV locks!
Looking for other ideas for your RV or Camper?  Check out our list of RV must haves!
Ready to hit the road?  Check out or Top 10 Trailer Towing Tips!
Peter's passion is the great outdoors. From hiking through the mountains, climbing up tall peaks, skiing down pristine slopes, camping in serene forests, and fishing in tranquil rivers – he's done it all! Nowadays, his mission is to share his passion for the great outdoors with everyone he meets. Click the links to the left to follow him and all our updates on social media!