The best RV mattresses available today are exclusively designed to enhance sleep quality. These RV mattresses are specifically tailored to suit individual sleeping styles, body shapes, and unique requirements while maintaining comfort, support, lightweight, and durability for years to come.
Regrettably, most RV mattresses that come with the RV are of subpar quality and have a short lifespan. To put it bluntly, they're worthless. Manufacturers often skimp on the stock RV mattresses.
If you're considering upgrading your existing RV mattress to one that better caters to your sleep needs while traveling, this article is here to help.
We've conducted extensive research and rank the best RV mattress for various bed sizes, sleep preferences, budgets, and styles.
Our investigation included memory foam RV mattresses, all RV mattress sizes, and different mattress toppers. We also looked at mattress thickness to assist our readers in finding the best RV mattress for their specific needs.
So, without further ado, let's explore our review of the best RV mattresses.
We are reader supported and as such may make a small commission at no expense to you by purchasing thru our links and we greatly appreciate that!
What is the Best RV Mattress?
Here are the best replacement RV mattresses:
GhostBed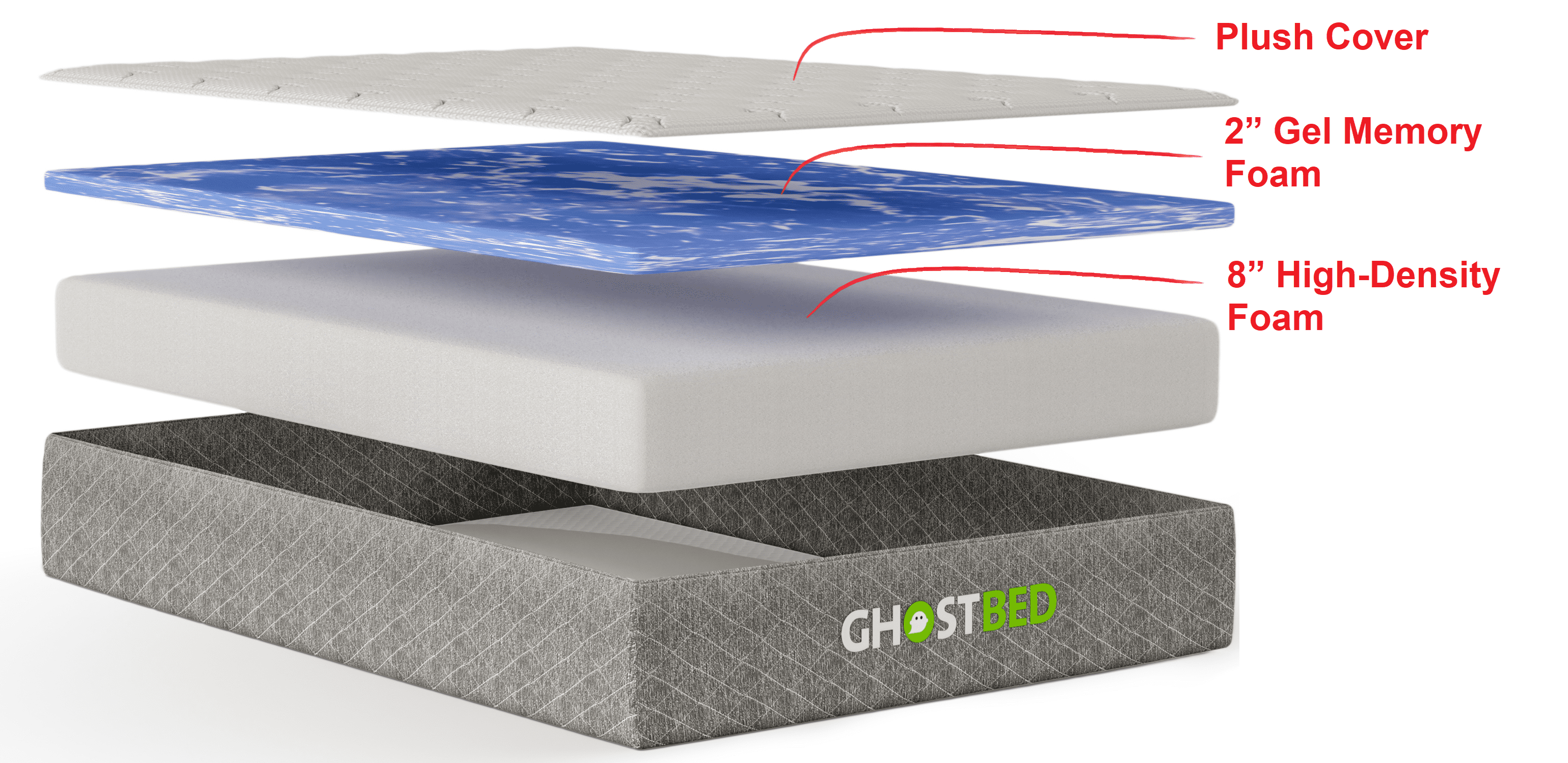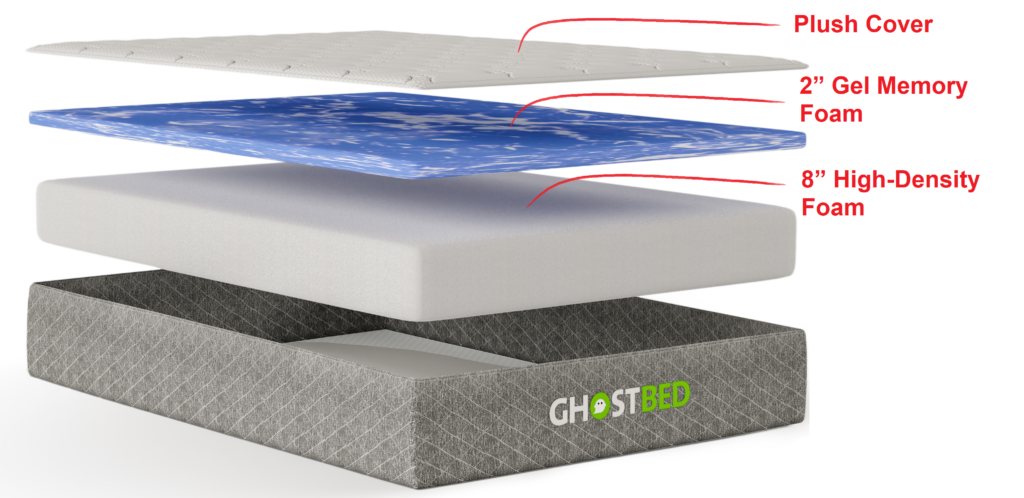 Amazing mattress! 3 layers of support, memory foam, 10 in height and the perfect medium firmness!
PlushBeds Deluxe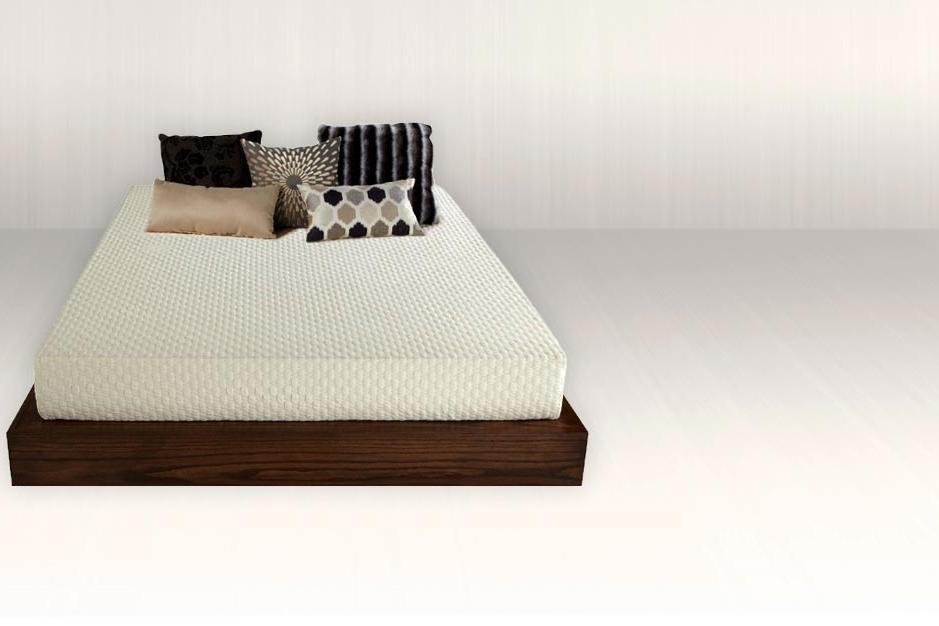 Comfortable mattress that eases pressure while you sleep and absorbs movements.
Dynasty Cool Breeze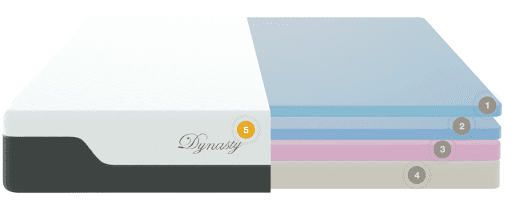 Great cooling effect with low motion transfer. Gel-infused memory foam for comfort and pressure relief.
Nectar Queen 12 in.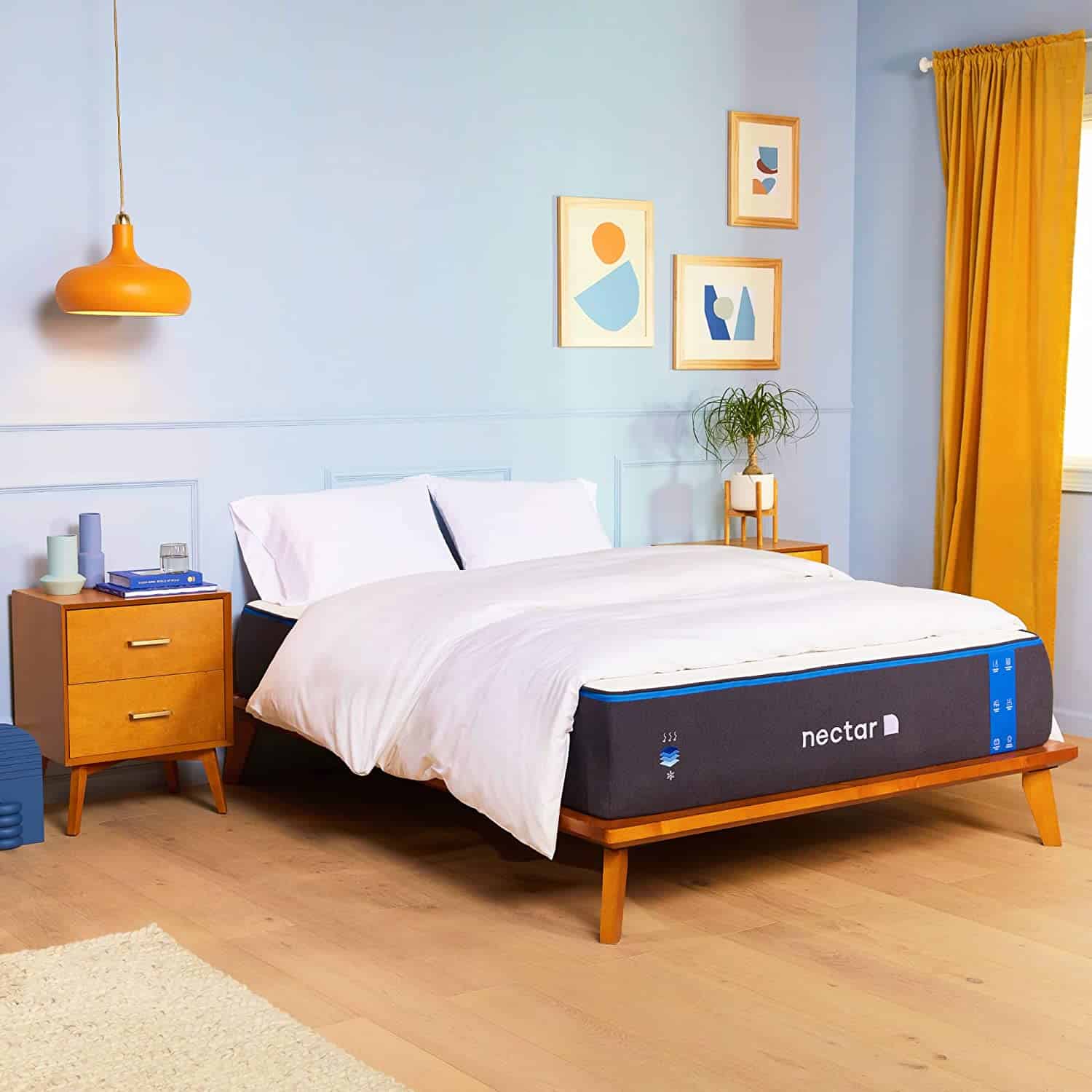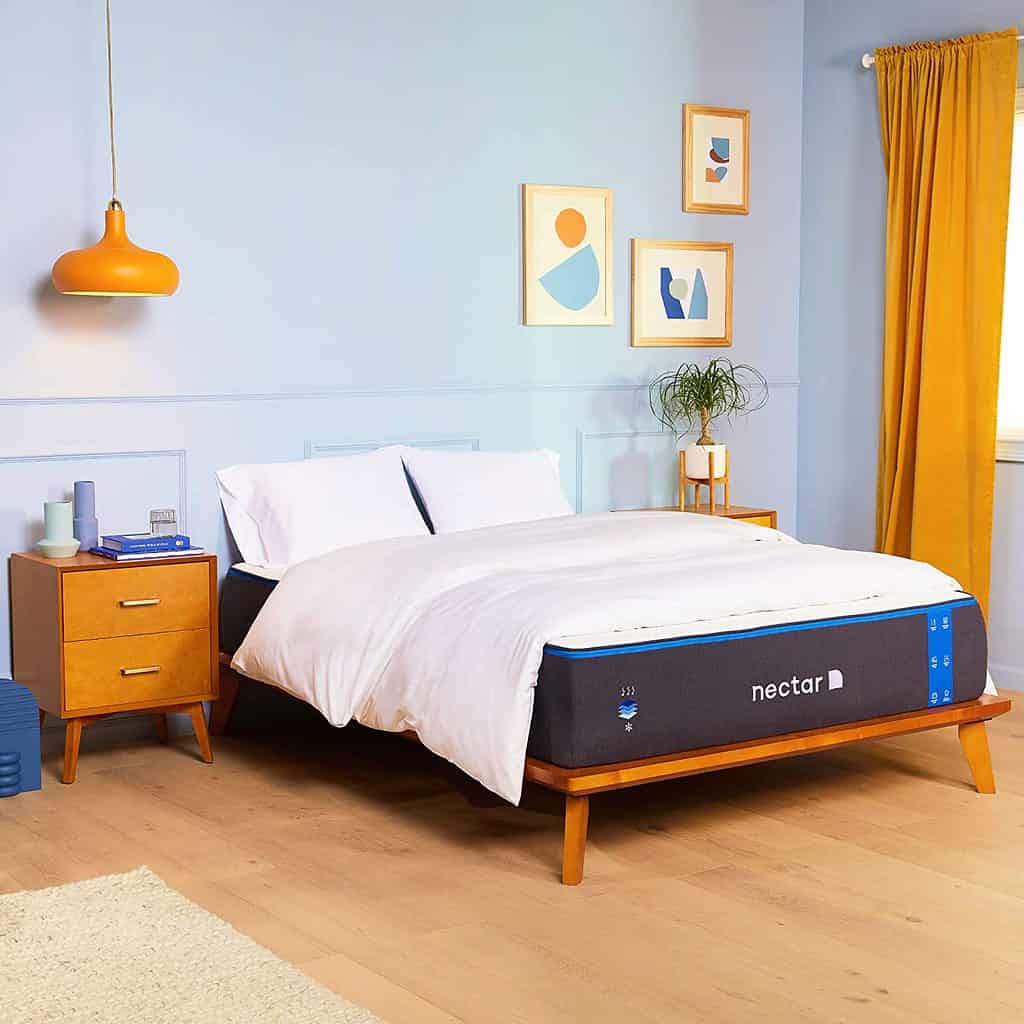 Great comfort, pressure relief and cooling at an affordable price!
Zinus Green Tea Memory Foam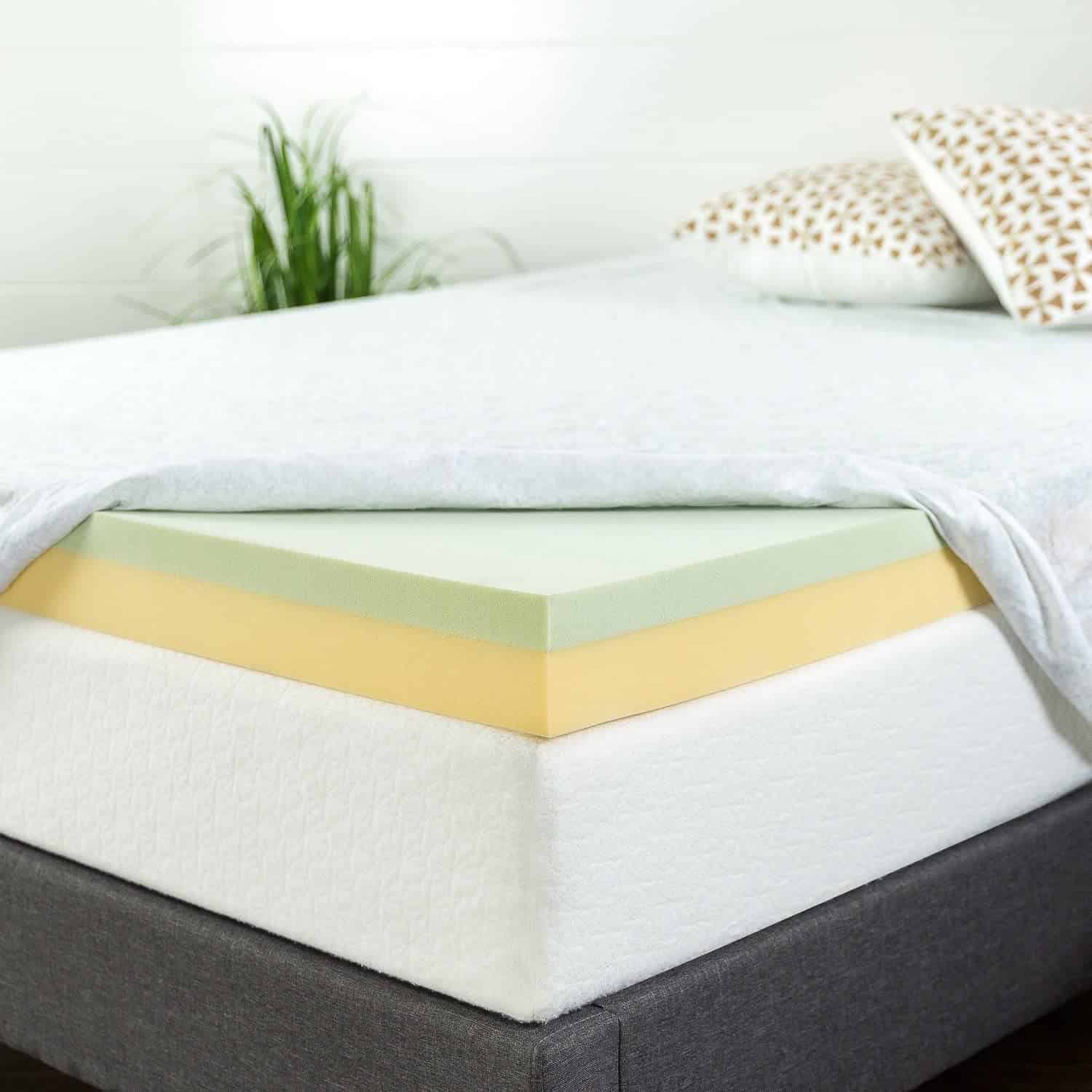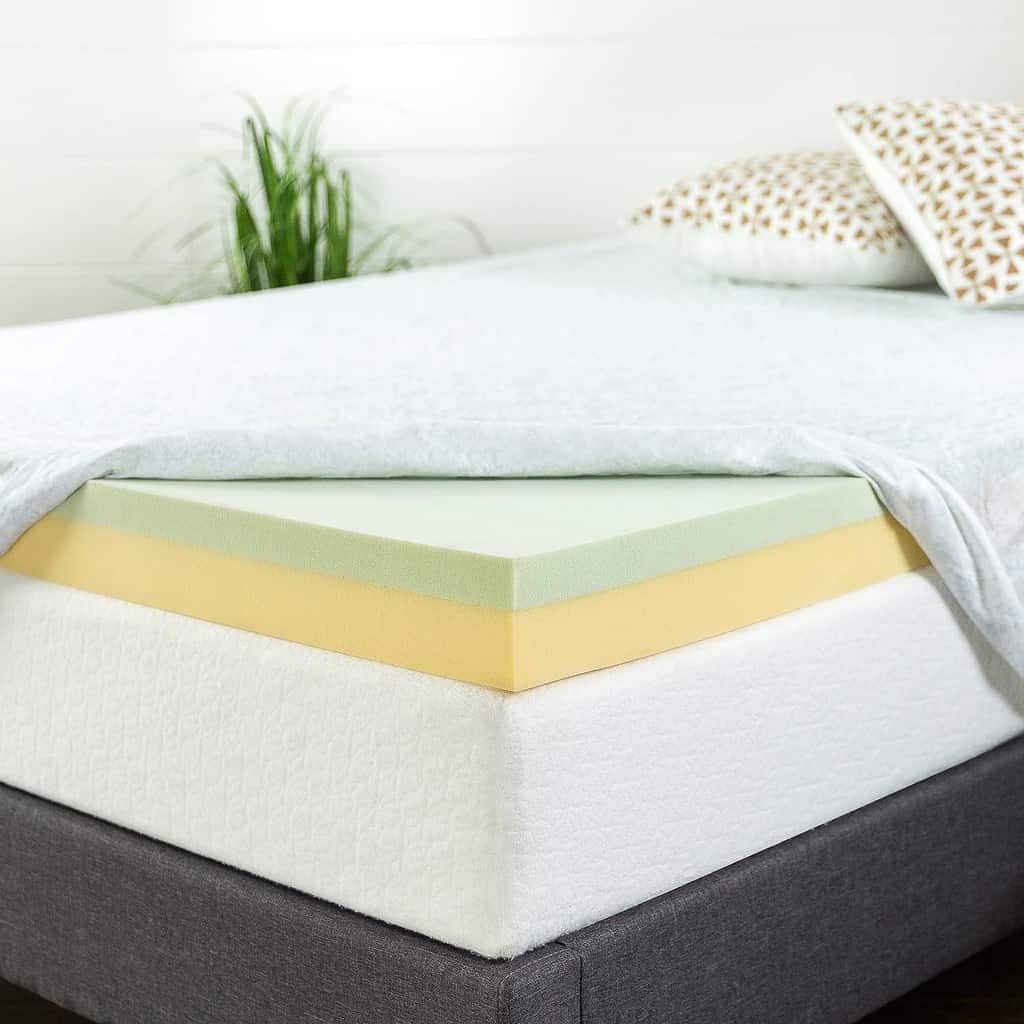 Firm, shapely support that relieves pressure and pain!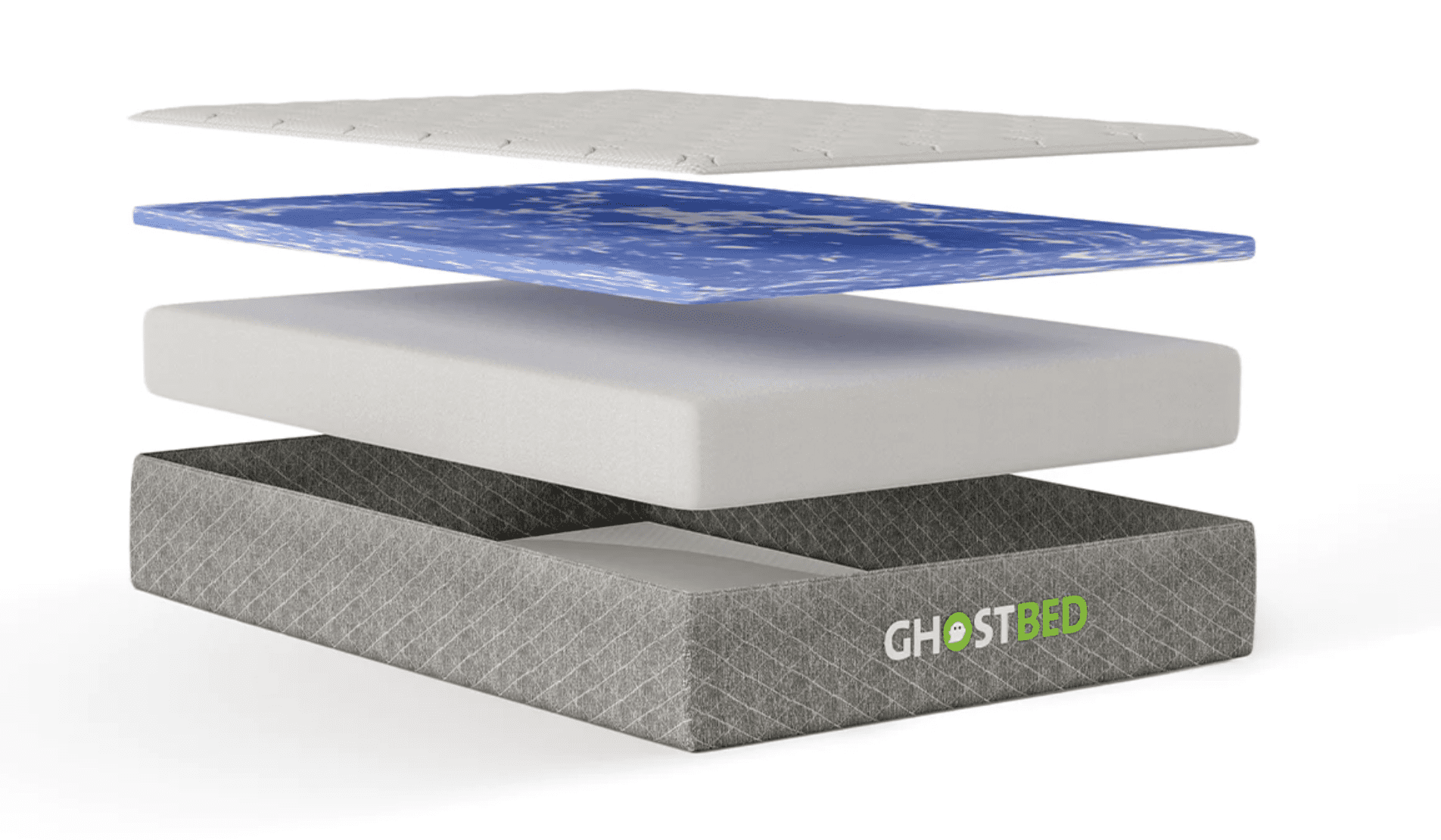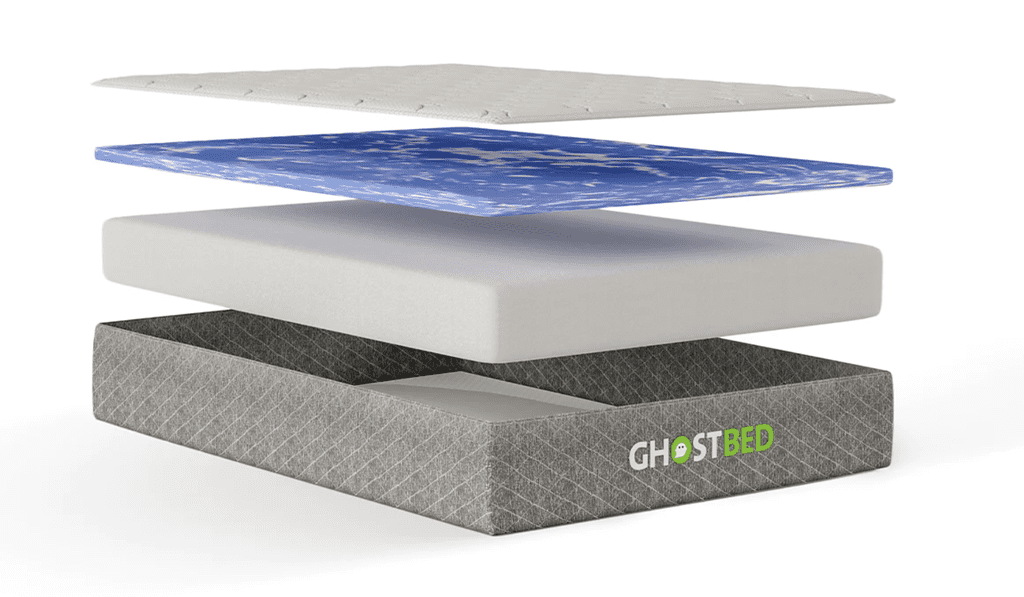 From the moment we tested the GhostBed RV Mattress, we were confident that this would be the best RV mattress.
The GhostBed All Foam RV Mattress has three supportive layers and a 10-inch height, making this memory foam RV mattress a perfect medium-firm option, providing exceptional support and comfort for a restful night's sleep. Say goodbye to those inferior mattress toppers!
GhostBed offers a 101-day trial period for their RV mattresses, which is an excellent feature considering the significant investment you'll be making. You'll want to ensure you've made the right choice!
This mattress is ideal for all sleeping positions, including back, stomach, and side sleepers. In our opinion, its firmness level is just right; however, if you prefer an ultra-soft mattress, this model may not be for you.
GhostBed also offers a hybrid mattress version that combines foam and springs for a slightly softer feel. For more information, check out our comprehensive review of the GhostBed RV Mattress or read some of the available GhostBest RV mattress reviews.
Another noteworthy aspect of the GhostBed RV mattress is that it's specifically designed for RVs. RV mattress sizes differ from standard mattress sizes – for instance, an RV King is shorter than a regular king, and the short queen mattress is usually the most popular.
The mattress arrives in a vacuum-packed box, making it much easier to transport into your camper or RV – we know how cramped those bedrooms can be!
The 2-inch cooling gel memory foam layer adds to the comfort and ensures a cool night's sleep for those who tend to sleep hot. We also appreciate its antimicrobial properties, which help resist mold, bacteria, and dust mites.
With a 20-year warranty, you can trust that your investment is protected for years to come!
In summary, the GhostBed RV mattress is a high-quality option. With 20 years of experience in the mattress industry, GhostBed has applied their expertise to create outstanding RV mattresses.
We genuinely believe you'll love the GhostBed memory foam RV Mattress.
And while you're at it, consider upgrading your sleep experience with Ghost Sheets and a Ghost Pillow!
Best RV Mattress for Comfort: PlushBeds Cool Bliss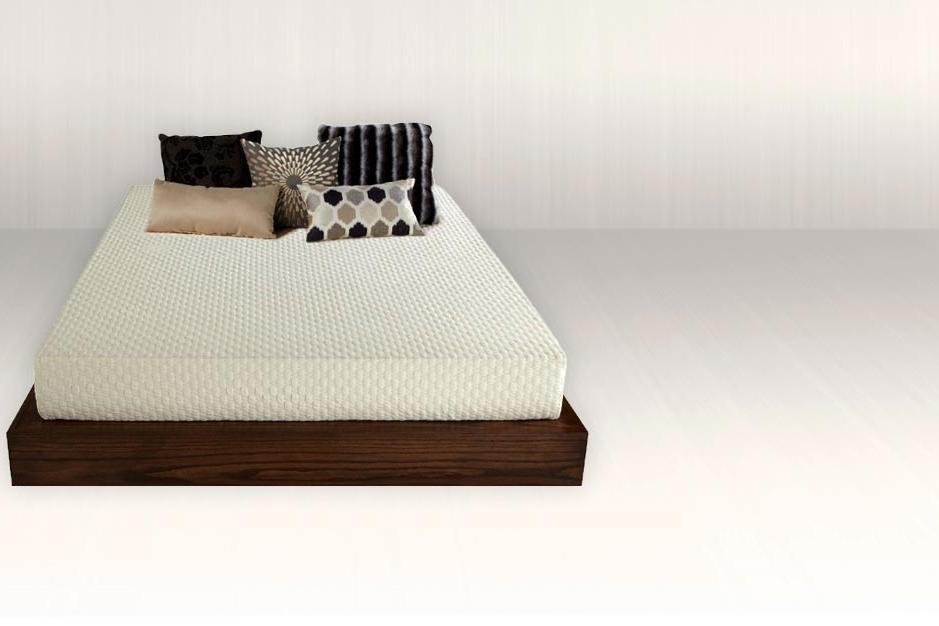 The PlushBeds Cool Bliss RV Mattress earns the top spot for comfort.
The PlushBeds Cool Bliss is crafted to provide exceptional sleep support, ensuring you enjoy a rejuvenating sleep. With its additional layer of softness, this mattress alleviates pressure points while effectively absorbing body movement and dissipating heat for a cooler night's rest.
It has 8 inches of high-quality memory foam that is three times denser than standard foam. This provides a durable and supportive foundation that is encased in a luxurious, zippered stretch bamboo cover.
The CertiPUR certification ensures a cleaner, fresher, and more pleasant environment in your RV, free from toxins, off-gassing, and unpleasant odors. This makes it a suitable choice for individuals with respiratory sensitivities.
Additionally, PlushBeds offers a hassle-free return option within the first 100 nights if you're not completely satisfied.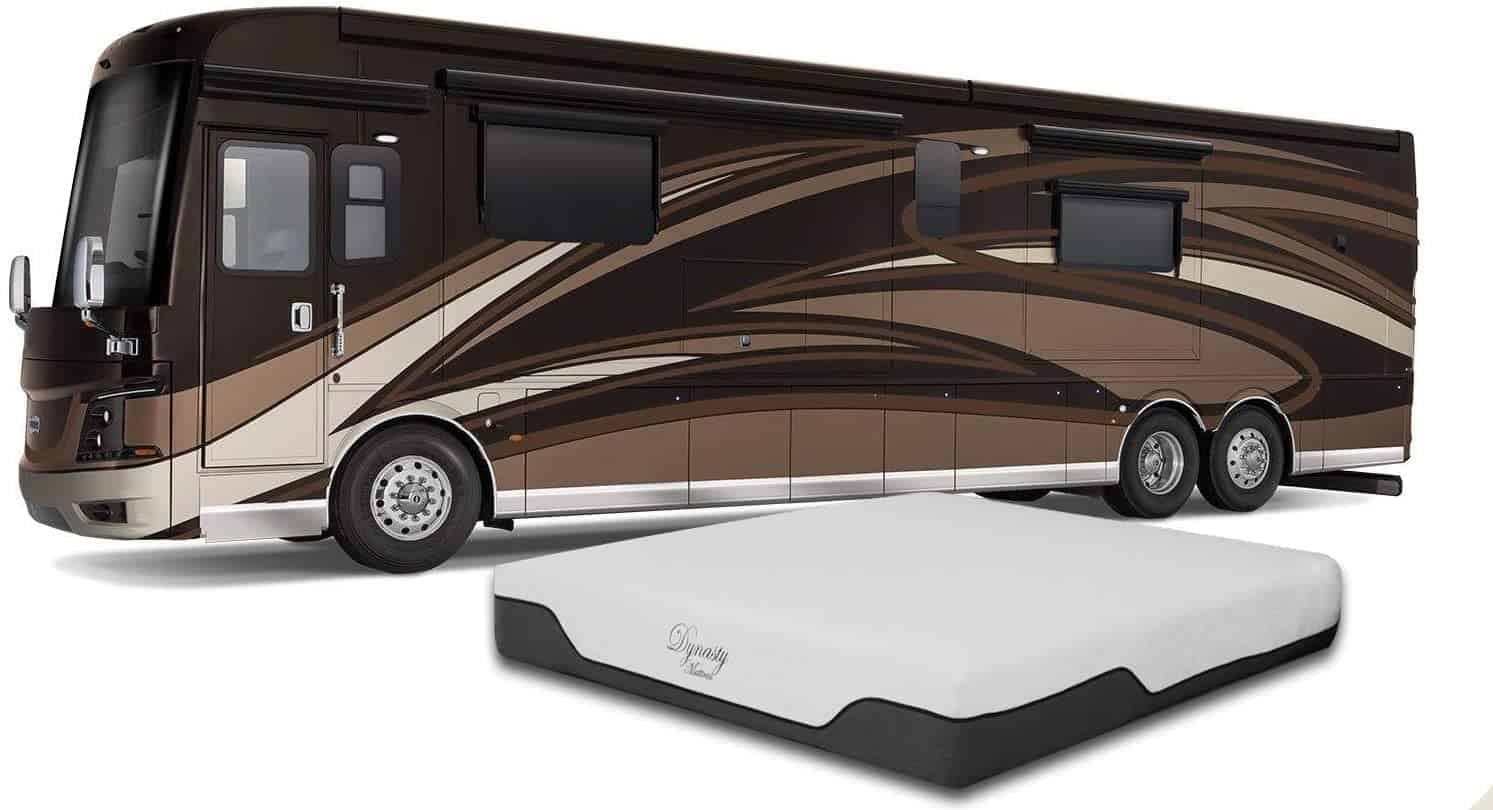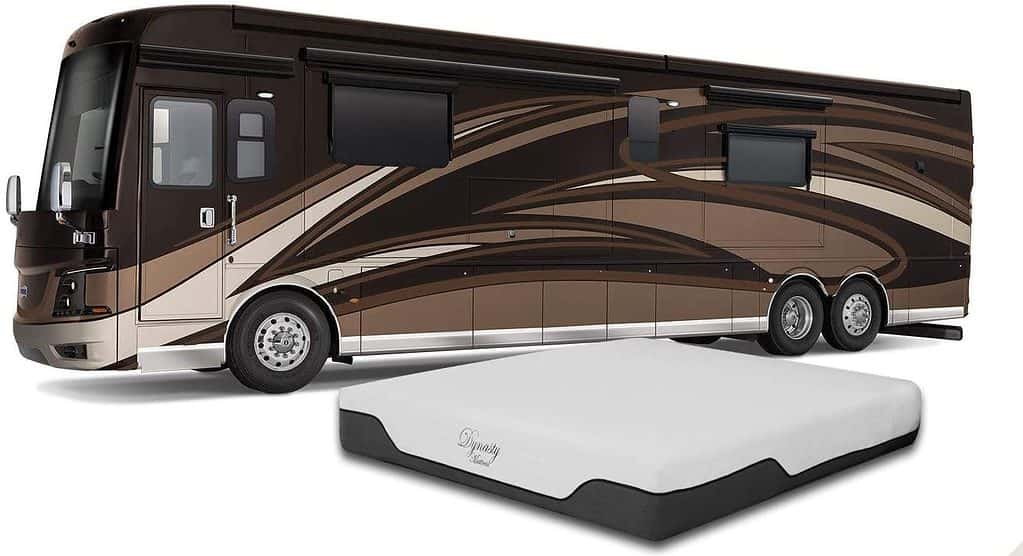 The Dynasty Cool Breeze Mattress ranked as the best RV mattress for hot sleepers.
The CoolBreeze offers RVers an exceptional choice for a mattress that delivers instant comfort and enduring support.
This luxury-like RV mattress features a four-layer foam design and boasts low motion transfer, remarkable cooling properties, and a medium-firm comfort level – making it ideal for side, back, and stomach sleepers alike.
This hypoallergenic RV mattress has a simple 2-layer design, featuring 2.5″ of gel-infused memory foam and 7.5″ of high-density foam for excellent support. The inclusion of gel beads in the memory foam improves comfort, pressure relief, and air circulation.
The mattress comes with a sleek, machine-washable silk cover that's easy to remove and clean, and it has a fire barrier underneath. It is available in different sizes to fit your RV bed. Although there's no trial period, the Dynasty Cool Breeze Mattress provides a notable 30-year warranty. See our full review here.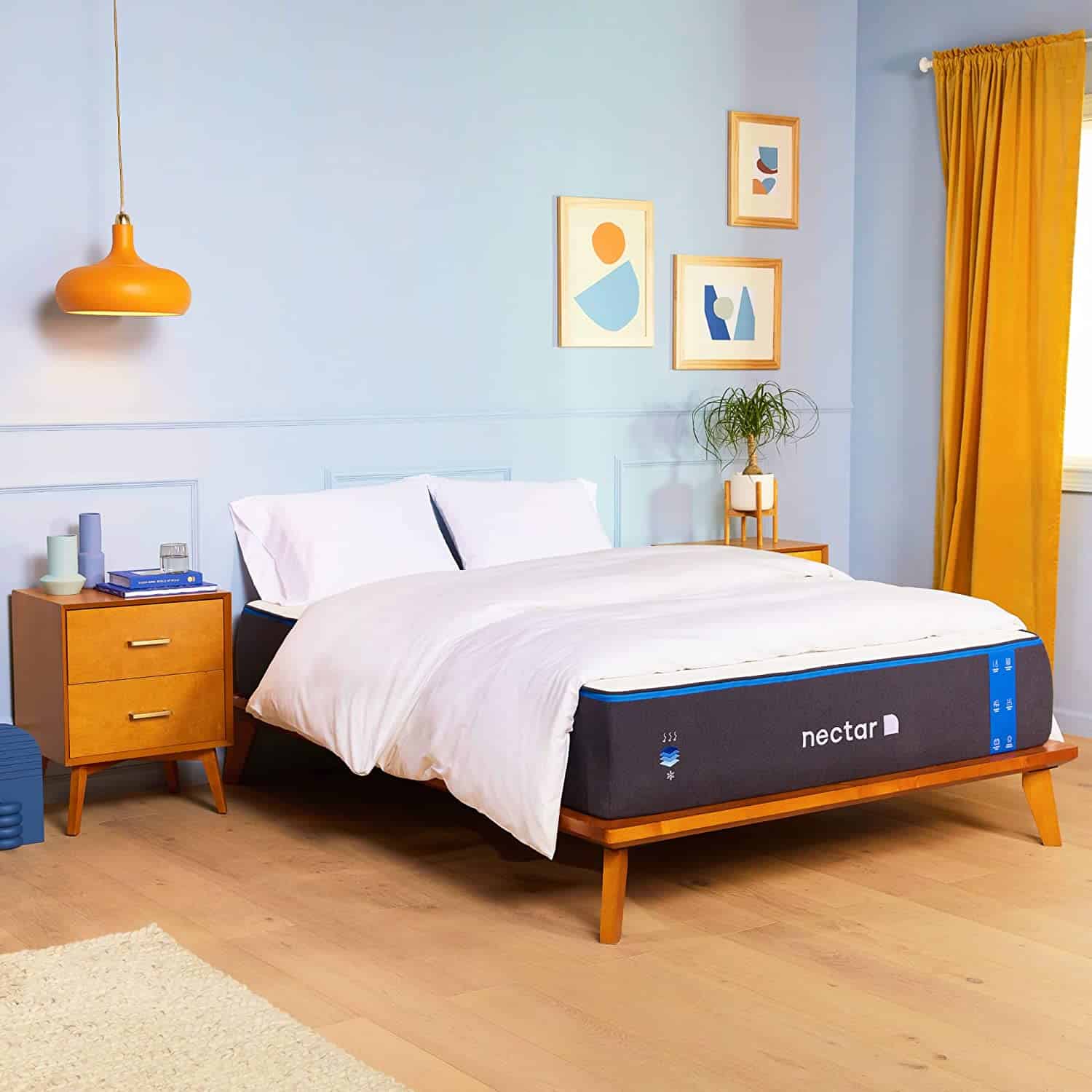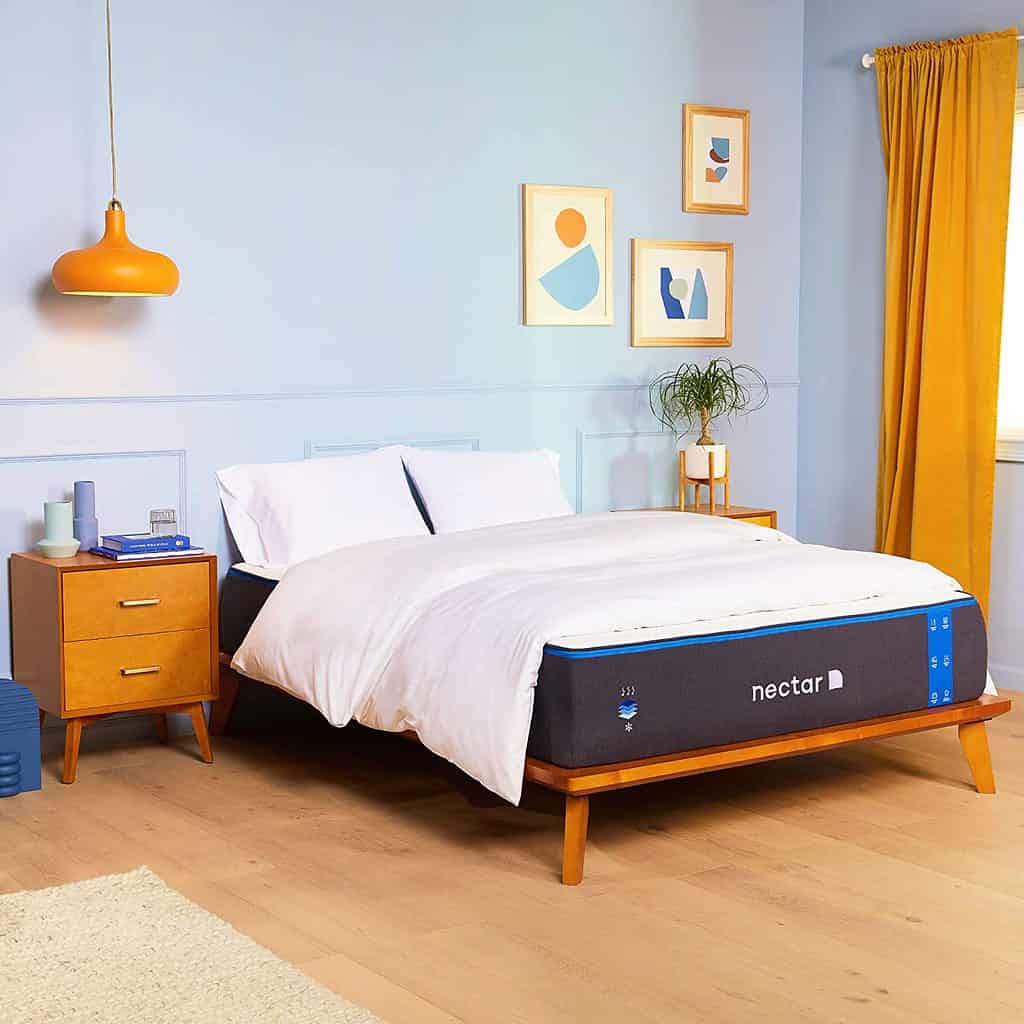 The Nectar RV Mattress ranked as the best value RV mattress on our list.
Nectar RV Mattresses are highly popular in today's market. The Nectar Queen 12 Inch RV mattress provides not only a comfortable sleeping surface but also exceptional pressure relief and cooling features.
Designed to cater to various sleep preferences, the Nectar gel memory foam mattress consists of several layers. It starts with a soft, breathable quilted cover on top, followed by a layer of gel memory foam that evenly distributes your weight and cradles your body. A supportive middle layer prevents the sensation of sinking, while a reinforcing base layer adds further support. Finally, a non-slip cover at the bottom keeps the mattress in place.
One of the standout features of choosing a Nectar Mattress is the incredible year-long trial period that begins upon delivery.
Additionally, this mattress is available at an affordable price and comes with a lifetime warranty! Really hard to go wrong with all of that!
The Zinus Green Tea Infused RV Mattress ranked as the best option for back pain on our list. The Zinus Green Tea Infused RV Mattress is an affordable choice designed to alleviate pressure and discomfort. It provides firm, contoured support for all sleep positions and suits most body types. Regardless of the chosen thickness, each mattress features three layers of CertiPUR-US Certified foam.
These layers are structured to offer a supportive feel that cushions your sore joints while aligning your spine. In addition to exceptional support, the mattress also absorbs moisture and neutralizes odors due to the antioxidant-rich green tea and ActivCharcoal microparticles.
The mattress has edge support and long-lasting reliability, all encased in a soft woven jacquard cover. Once purchased, you have a 100-day trial period to determine if it's the right fit for you, and it comes with a 10-year warranty for added peace of mind.
The PlushBeds Deluxe 8 Inch Eco Green 8″ mattress ranked as the best eco-friendly RV mattress. For those seeking a more environmentally conscious RV mattress, the PlushBeds Eco Green is an ideal choice. This reputable company not only produces mattresses compatible with major RV brands, but they also prioritize eco-friendliness.
All their mattresses are GreenGuard Gold Certified, meeting strict chemical emissions standards through rigorous testing.
Independent lab tests ensure that the product is free from pesticides, bleach, chemical fire retardants, heavy metals, and 10,000 other harmful substances, making it suitable for sensitive individuals, including children and the elderly.
The Eco Green 8″ mattress is one of their standout products. Handcrafted in the USA using 100% natural latex, this earth-friendly option delivers luxurious comfort, exceptional support, and restorative sleep.
With a 100-day risk-free trial and a 20-year warranty, you can confidently invest in this eco-friendly RV mattress.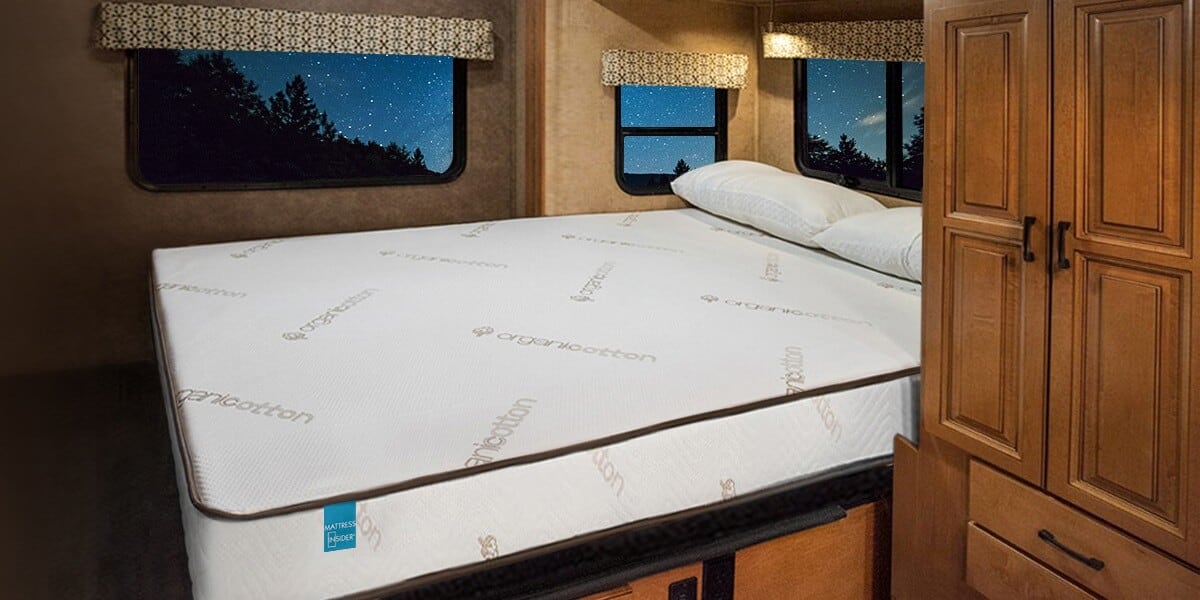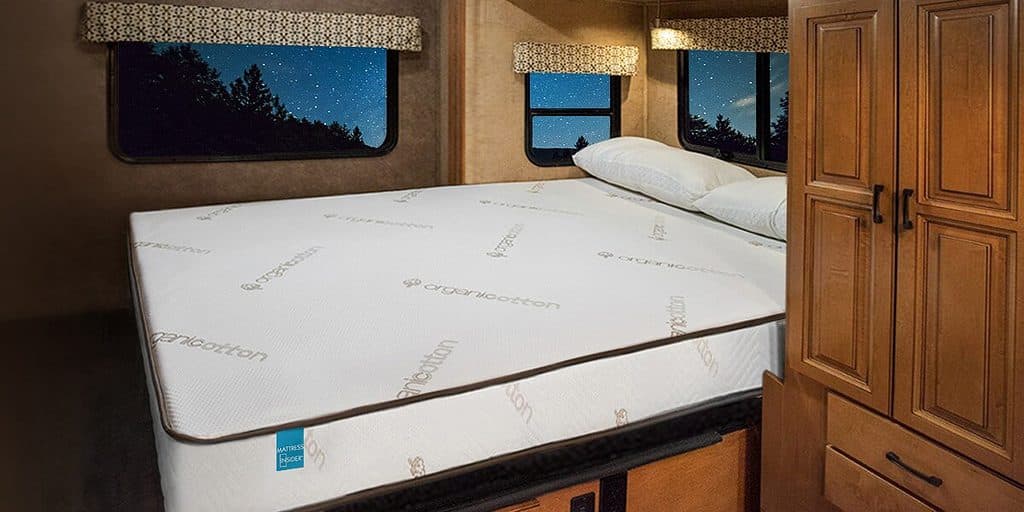 The Elation RV Mattress ranked as the best low-profile mattress on our list. The Elation RV Mattress with Organic Cotton is a 6-inch thick, low-profile mattress that fits comfortably in various sleeping spaces. This mattress is perfect for RVers with limited headroom or compact interiors.
Despite its slim design, it's engineered to provide a high-quality sleep experience. The mattress combines silky-soft organic cotton, heat-dissipating gel memory foam, and a supportive foam-cell base to create a cushion firm feel that adapts to any body type.
This two-sided mattress allows you to choose between firmness levels – the softer gel foam side or the slightly firmer high-density foam side. It comes with a 10-year warranty, and you can customize it to fit any bed frame with unusual dimensions.
Best Budget RV Mattress: Sedona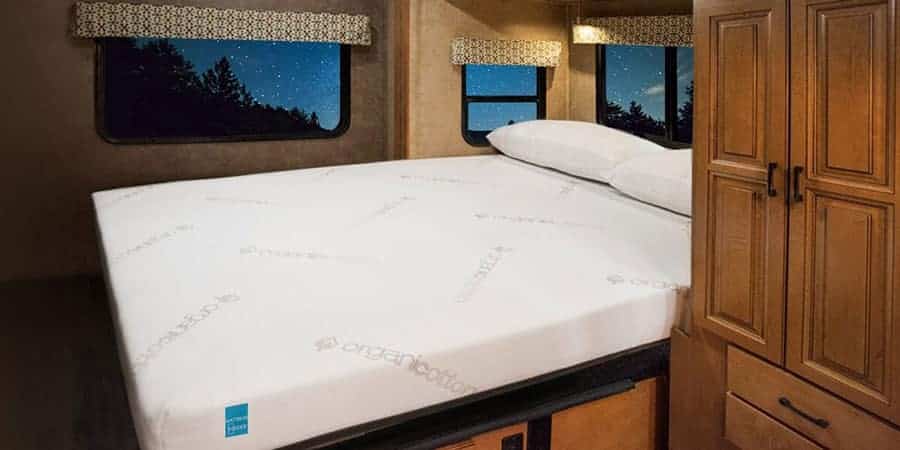 The Sedona RV Mattress is the best budget RV mattress. If you're on a budget but don't want to compromise on quality sleep, consider the Sedona RV Mattress.
With prices starting as low as $200, it's one of the most wallet-friendly options available. The mattress comes in various RV sizes, including king, regular queen, short queen, and twin.
The Sedona RV mattress is particularly popular among side and back sleepers, thanks to its dense foam construction that provides excellent support. Those who prefer a firm mattress will also appreciate it. Both the foam and the organic cotton cover are hypoallergenic and dust mite resistant, making this mattress suitable for allergy sufferers.
Despite its affordability, the Sedona RV mattress doesn't skimp on durability, ensuring long-lasting comfort. It comes with a 10-year warranty and an impressive 365-night trial period.
Best Luxury RV Mattress: Brooklyn Bedding Aurora Hybrid


The Brooklyn Bedding Aurora Hybrid mattress ranked as the best luxury option on our list. The Brooklyn Bedding Aurora Hybrid is an ideal choice for hot sleepers seeking a luxuriously soft bed. This premium RV mattress boasts innovative features, a plush feel, and multiple layers to ensure exceptional comfort.
To cater to various sleep preferences, it's available in three firmness levels: soft, medium, and firm. The soft version is perfect for those with shoulder or hip pain, while back and stomach sleepers will appreciate the firm option.
With over 1000 individually encased steel coils, this mattress effectively minimizes motion transfer. It also provides excellent edge support and temperature regulation. A .75-inch high-density foam base enhances its durability, and the mattress comes with a 10-year warranty and a 120-night trial period.
Best RV Mattress for Active Sleepers: Bear Trek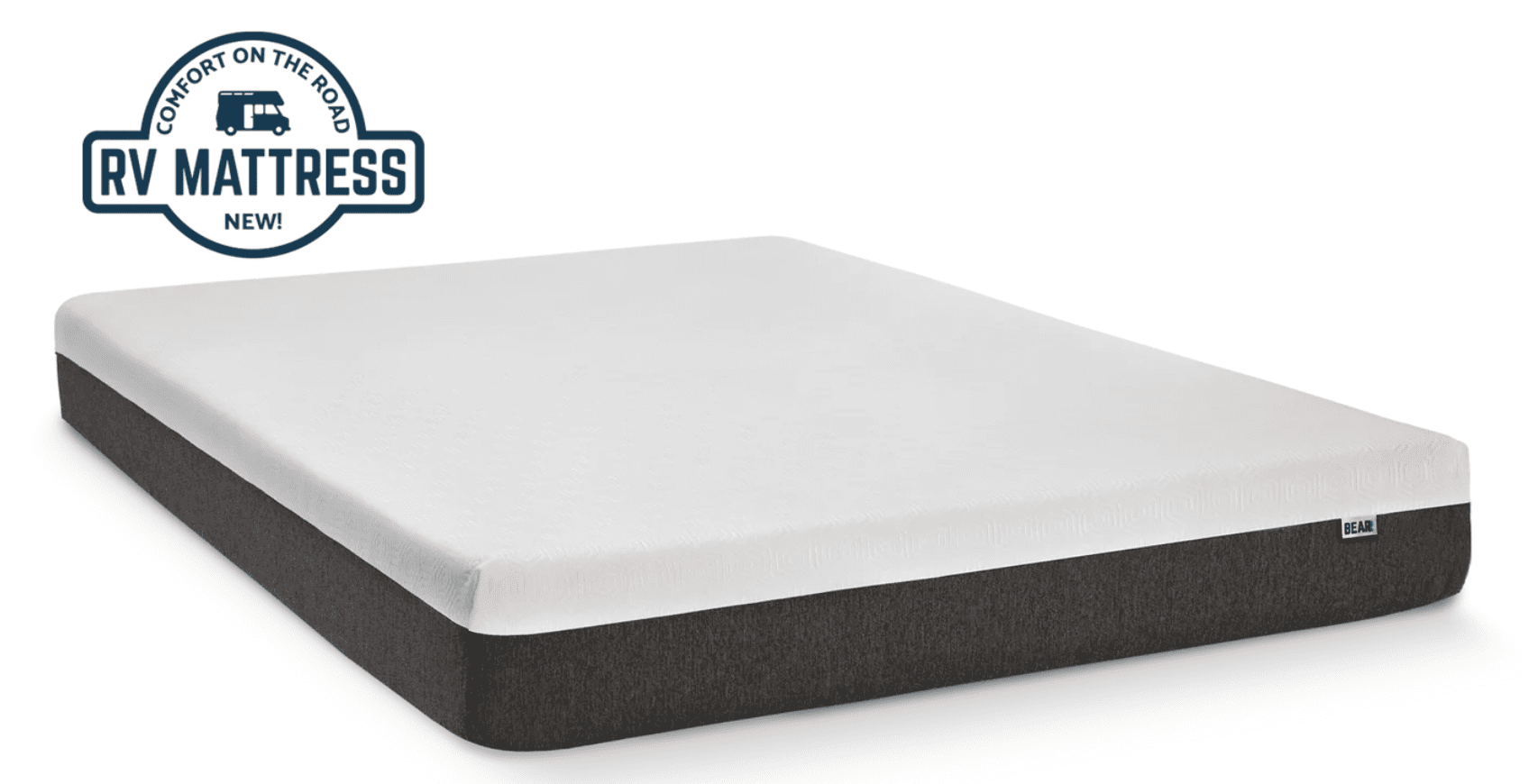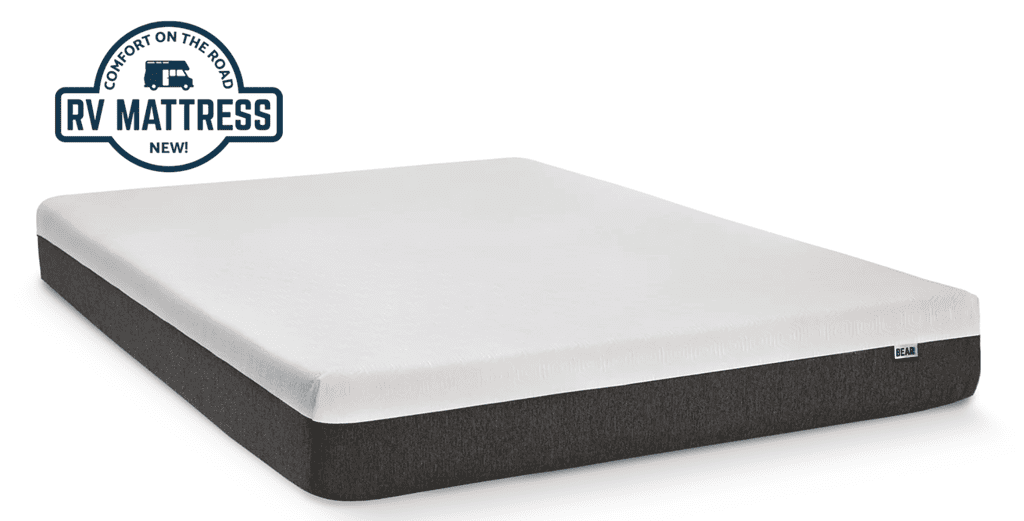 The Bear Trek Mattress ranked as the best RV mattress for active sleepers. For highly active RVers seeking relief after a day of rock climbing, hiking, or paddling, the Bear Trek RV mattress is an excellent choice.
Designed with athletes in mind, this well-crafted mattress promotes better sleep and aids in recovery after workouts, competitions, or strenuous activities.
As a medium-firm mattress, it's particularly suitable for back and stomach sleepers due to its ability to keep you elevated on the surface without sinking. Additionally, it features cooling capabilities for added comfort.
The Bear Trek RV mattress comprises three distinct foam layers, each serving a specific purpose – from cooling and contouring to motion isolation, pressure relief, and core support. It's available in RV bunk, queen, and king sizes to accommodate various rigs. Each purchase includes a 120-night sleep trial and a lifetime warranty covering structural defects.
Runner Up Best Overall RV Mattress: Wilderness RV Mattress Montana Hybrid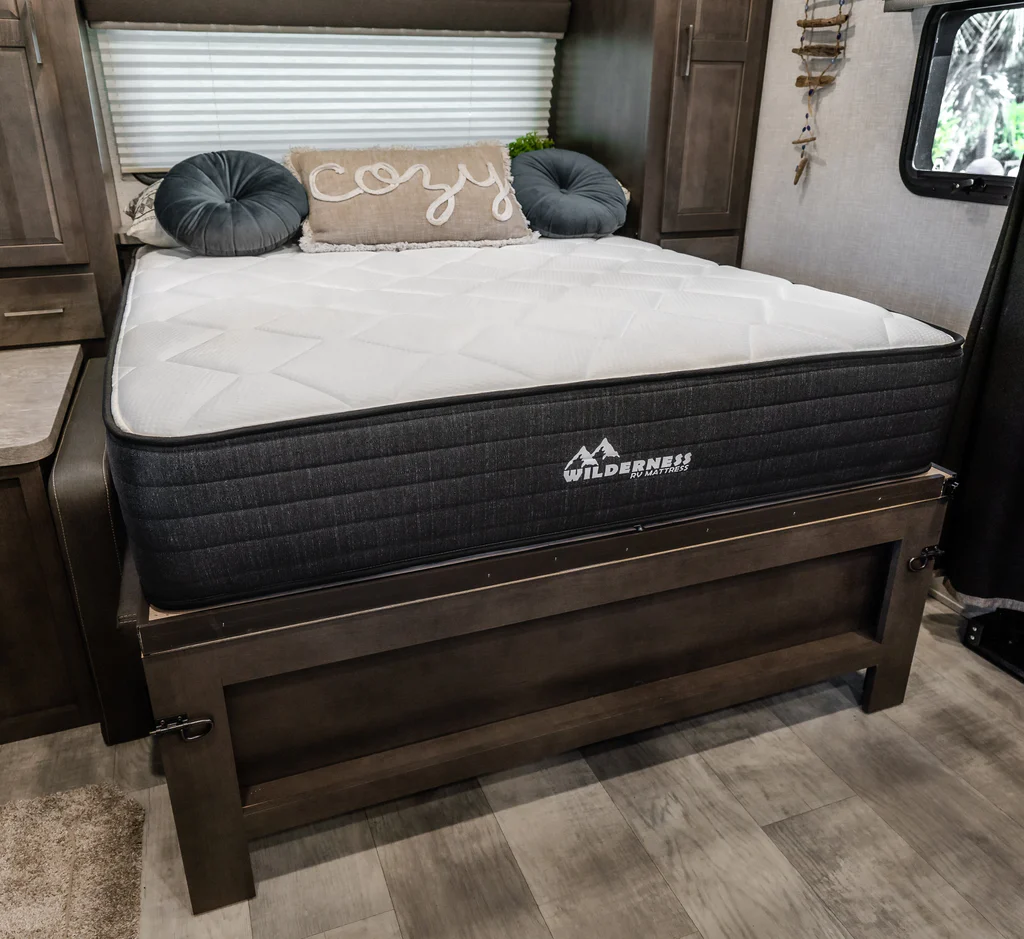 This RV mattress is meticulously crafted using top-notch materials, ensuring a high-quality product. We appreciate that The Montana is available in three distinct comfort levels – Firm, Plush, and Soft pillow top – allowing you to select the option that best fits your preferences. Like GhostBed, they provide a 100-night sleep trial, giving you the opportunity to experience the comfort of the Montana Hybrid firsthand.
The firm mattress, with a 10-inch thickness, is ideal for back sleepers.
The plush option, also 10 inches thick, is the most versatile mattress and works well for all sleep positions.
The soft pillowtop, featuring an 11-inch thickness, is perfect for side sleepers.
Features
1″ PREMIUM QUILTED TOP WITH COOLING COVER:
The deluxe quilted top is engineered to prevent body impressions while ensuring maximum breathability. The innovative cooling cover aids in regulating your body heat, leading to a more comfortable slumber. By maintaining an optimal body temperature, you'll enjoy a sounder sleep and awaken feeling rejuvenated and invigorated. Additionally, the cooling cover is machine-washable, making it easy to maintain.
1″ FAST RESPONSE MEMORY FOAM:
Featuring a 1″ layer of patented, highly elastic memory foam, this mattress incorporates instant response technology that adapts to your body with every movement, eliminating that uncomfortable sinking feeling.
Offering unparalleled comfort and support, this mattress is perfect for side sleepers, back sleepers, and stomach sleepers alike. Furthermore, the foams used in this mattress are Oeko-Tex certified, ensuring they're free from harmful chemicals and safe for both you and your family.
Warranty
The Montana Hybrid comes with a non-pro-rated 10-year warranty.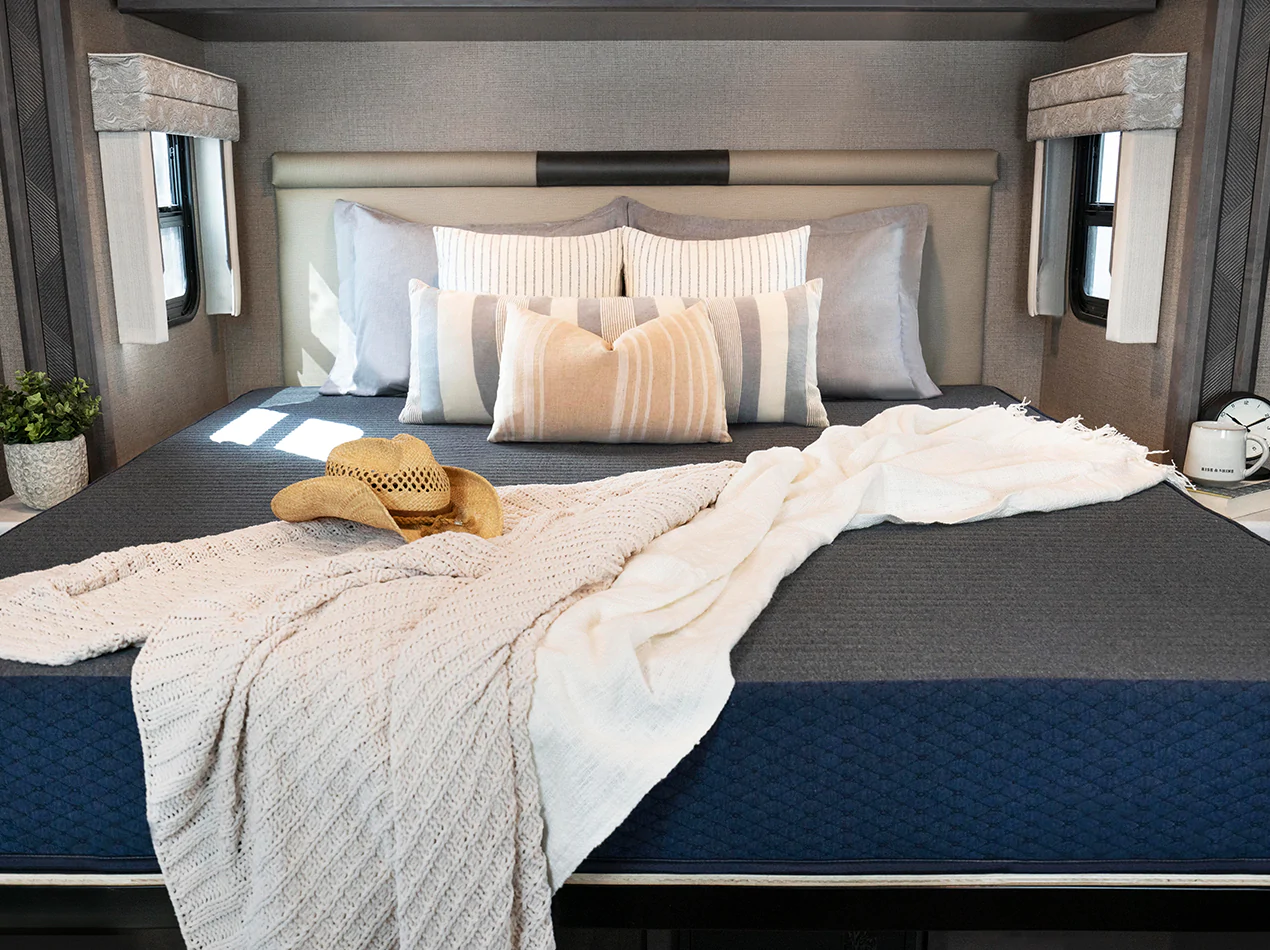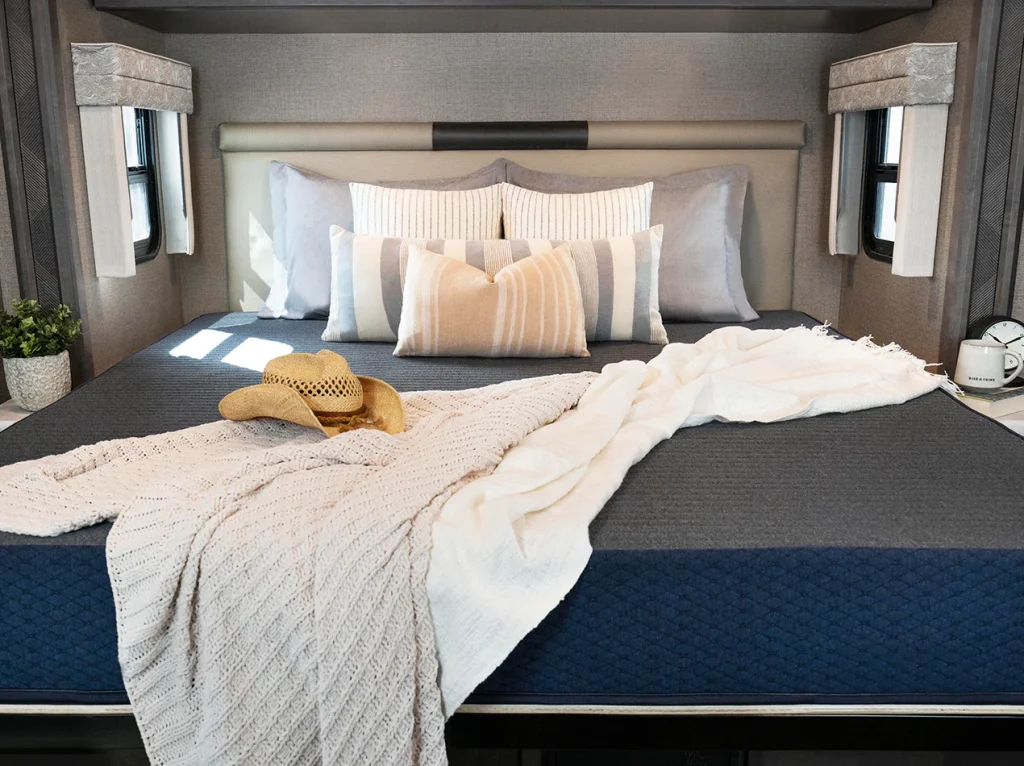 The Brooklyn Bedding Wanderlust RV Mattress ranked 3rd for best overall RV Mattress. The Brooklyn Bedding Wanderlust is an all-foam mattress available in five profiles and a broad range of thicknesses and sizes, including RV king, RV queen, and RV bunk beds. This ensures a perfect fit for any RV bed frame dimensions.
One of the reasons the Brooklyn Bedding Wanderlust stands out as a top RV mattress is its ability to alleviate pressure and isolate motion – two common challenges when sleeping in an RV.
The mattress achieves this by featuring a layer of gel memory foam that cradles your body for improved alignment and cooling, along with a high-density base foam that offers support and minimizes sinkage.
This memory foam RV mattress also includes a machine-washable bamboo blend cover for easy maintenance. Its multiple foam layers ensure comfort, support, and pressure point relief.
The plush top layer of gel-infused memory foam dissipates body heat, promoting a cool night's sleep, while the high-density polyfoam base layer provides support. However, side sleepers may find this mattress too firm for their liking.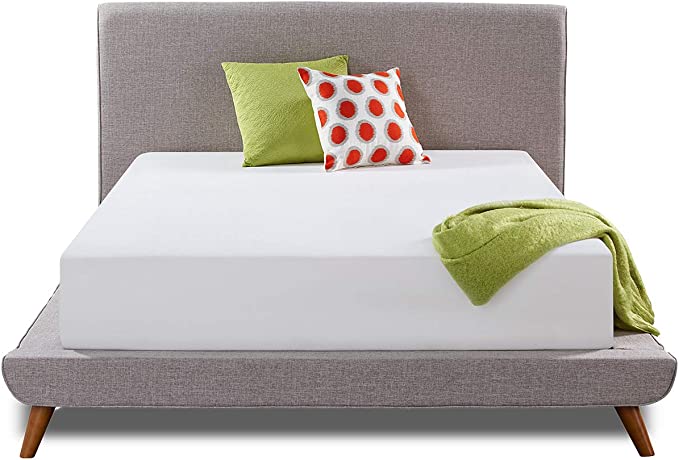 The Live and Sleep Resort Classic RV mattress ranked 4th on our list of best RV mattresses. Live and Sleep designs mattresses for both home beds and RV sleeping spaces.
The Resort Classic is one of their top offerings for short queen beds, featuring a medium-firm construction made from breathable, plush, and high-quality materials.
This 10-inch thick mattress consists of 2.5 inches of air-infused memory foam atop an extra-thick, high-density firm base for enhanced support. Its body-conforming and pressure-relieving properties ensure a relaxing and restful night's sleep.
Plus, if your partner tends to move around during the night, the Resort Classic effectively minimizes motion transfer. The cover is soft and breathable, providing a cool sleeping experience on warm nights.
Furthermore, the company employs smart packaging to reduce its carbon footprint. By folding, roll-packing, and shipping the mattress at one-third of its regular size, they minimize environmental impact without compromising quality – the mattress expands once removed from the box. Additionally, you'll appreciate the accompanying 20-year warranty and memory foam pillow.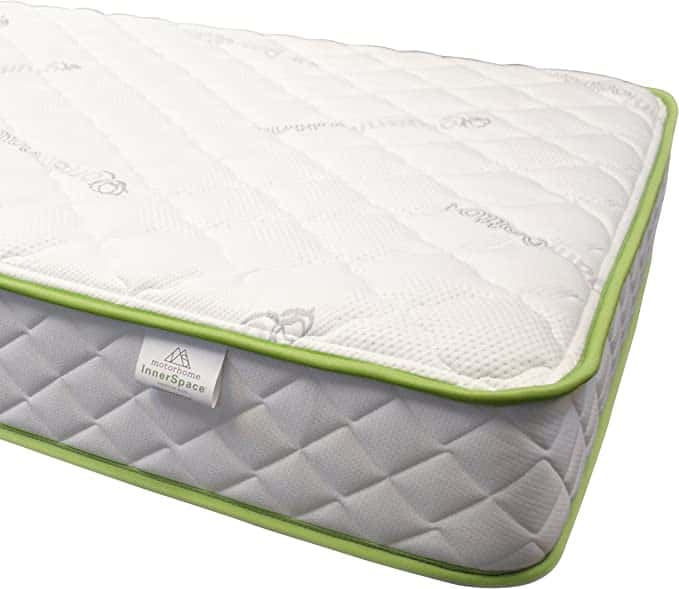 The InnerSpace RV Luxury Deluxe Reversible 8″ mattress ranked 5th on our list of best RV mattresses. The InnerSpace RV Luxury Deluxe Reversible 8″ provides an ideal blend of comfort and support, ensuring a well-deserved rest after a long day of driving and adventuring. It maintains your body in an ergonomic position throughout the night.
This mattress excels at minimizing motion transfer between sleeping partners. As movement occurs, it adapts to keep your body in a stable and natural alignment. The mattress comes with a soft, removable organic cotton cover.
Internally, it features a 3″ memory foam layer for cushioning and a 5″ high-density polyurethane foam layer for support.
Certified by CertiPUR-US to be free of heavy metals and chemicals, the InnerSpace mattress allows you to sleep peacefully without compromising your health. Additionally, it's backed by an impressive 20-year warranty.
What are the Different Types of RV Mattresses?
There are a few different types of RV mattresses. The best type of mattress for you depends on your sleep position, body type, and preferences. Some popular types of RV mattresses include memory foam, latex, and coil mattresses.
Memory Foam Mattresses
Memory foam mattresses are popular among RVers because they offer a comfortable and supportive surface. They are made of dense foam that conforms to the contours of your body, providing pressure relief and support for your aching joints. They are also known to reduce motion transfer, meaning you won't feel as much movement from your partner if they get in and out of bed.
Latex Mattresses
Latex mattresses are another popular option for RVers because they offer a firm and supportive surface. They are made of natural latex, which is known for its durability and support. They also have a bouncy feel, which can be beneficial for people who suffer from back pain.
Coil Mattresses
Coil mattresses are a type of mattress that offers a firm and supportive surface. They are made of coils, which are designed to provide support and reduce motion transfer. They are also known for their durability, making them a good option for people who need a long-lasting mattress.
Memory foam mattresses are a popular choice for RVers because they contour to your body and offer excellent pressure relief. latex mattresses are also a good option for those who want a bouncy, supportive mattress. Coil mattresses are another popular choice for RVers because they offer good support and durability.
Innerspring Mattress
Innerspring mattresses are a type of mattress that is made of coils. These coils are designed to provide support and reduce motion transfer, making them a good option for people who need a durable mattress. Innerspring mattresses are also known to be cooler than other types of mattresses, making them a good choice for people who sleep
What is a Short Queen RV Mattress?
A short queen RV mattress is a type of mattress that is specifically designed to fit in recreational vehicles. It is shorter in length than a traditional queen-sized mattress, making it a good option for people who have limited space in their RV. Short queen RV mattresses are also typically narrower than traditional queen-sized mattresses, making them a good option for people who need a narrower mattress.
Why Replace Your RV Mattress?
There are a few reasons why you might want to replace your RV mattress. One reason is if your current mattress is uncomfortable or doesn't offer the support you need. Another reason is if your mattress is old and worn out and isn't providing the comfort or support you need anymore. Replacing your RV mattress can help improve your sleep quality and make your RV more comfortable.
How Often Should You Replace Your RV Mattress?
The best answer to this question is: it depends. Some mattresses, such as memory foam mattresses, may last for up to 10 years. Other mattresses, such as coil mattresses, may only last for 3-5 years. Ultimately, it depends on how often you use your RV and how well your mattress is maintained. There are plenty of RV mattress reviews where people give real-life examples of how long their mattress lasted.
What Are The Best Places To Buy An RV Mattress?
There are a few different places you can buy an RV mattress. One option is to buy direct from a manufacturer. Another option is to buy from an online retailer like Amazon or Overstock. You can also find RV mattresses at some department stores like Walmart or Target. The best option is to buy from the links in our blog!
How Much Does an RV Mattress Cost?
The cost of an RV mattress varies depending on the size, type, and brand. A basic memory foam mattress can cost around $200, while a higher-quality mattress can cost around $1,000.
Improve Your Quality of Sleep With a Comfortable RV Mattress
There are plenty of creature comforts that RVers can do without, but a comfortable RV mattress shouldn't be one of them. Upgrading your RV mattress will instantly elevate your camping experience, helping you have restful shut-eye after long drives or strenuous outdoor activities.
And thanks to innovative materials and technologies, you can now find RV mattresses that match your body type, sleeping position, and temperature regulation needs. If you're wondering where to begin your search, any of the RV mattresses above will bring relief to your road-weary body while supporting a full night's rest.
Conclusion
If you're in the market for a new RV mattress, be sure to read our comprehensive guide of the best RV mattresses first. We've ranked and reviewed the best options on the market, so you can find the perfect RV mattress for your needs. Plus, we've provided information on how often you should replace your RV mattress and where to buy them at the best prices. So what are you waiting for? Get shopping for the perfect RV mattress today!