If you're looking for the best kids snow pants, you've come to the right place. Having four kids, and living in the midwest, we like to think that we are giving some expert advice!  We've been through them all…multiple times over!  We'll tell you everything you need to know about finding and buying kids snow pants, so your little ones can stay warm and dry all winter long, without breaking the bank.
How To Choose The Best Kids Snow Pants
Kids snow pants come in all shapes, sizes, and colors. But with so many options on the market, it can be tough to decide which pair is right for your child. Here are a few things to keep in mind when you're shopping for snow pants.
First, consider the climate you live in. If you live in an area with very cold winters, you'll want to find snow pants that are well-insulated. If you live in a milder winter climate, you may be able to get away with less insulation.
Another thing to consider is the type of activities your little ones will be doing while wearing their snow pants. If they'll be doing a lot of running and playing, you'll want to make sure the pants are comfortable and not too restrictive. If they'll be mostly sitting or standing, you can go for a thicker, more insulated pair of pants or snow bibs.
Finally, think about the style of the snow pants. There are many different styles available, from traditional kid ski pants and kids snowboard pants to cute and trendy snow bibs. Choose a pair that your child will be happy to wear all season long.
Now that you know what to look for, check out our list of the best kids snow pants below.
We are reader supported and as such may make a small commission at no cost to you if you purchase through our links
What Are The Best Kids Snow Pants?
First Place: Arctix Unisex Insulated Snow Bib Overalls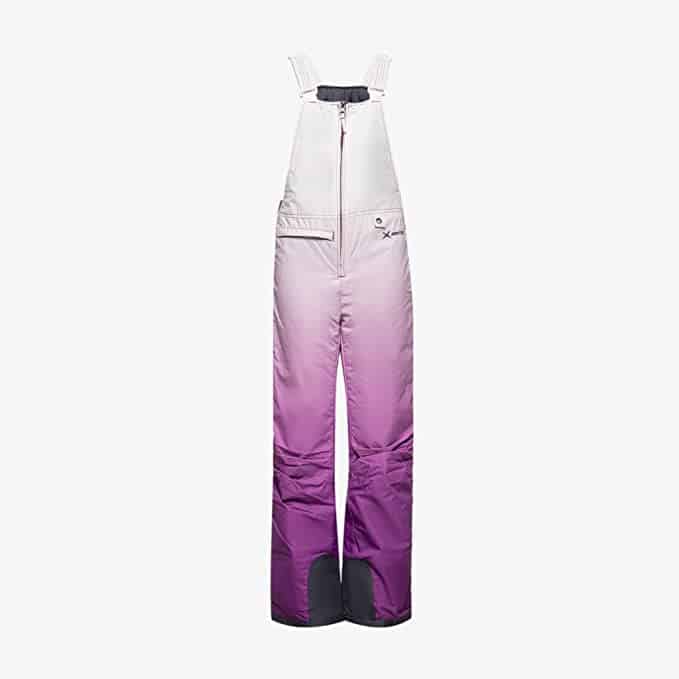 Why are the Arctix Unisex Insulated Snow Bibs the number 1 rated of all kids snow pants??? Here's why! You have 40 color options!! That's right 40! And not only that but there are 10 different sizes to choose from for these pants. The kids will be super excited about getting to pick out their own color, and you will love how bright they are so you can easily spot them on the slopes. 
But not only are these snow pants stylish, but they are also functional.
These pants are also extremely affordable with pricing from $23-$45 and they are as good as any top brands out there!
What we love about the snow bibs for our kids is they truly keep them dry and warm all day long.  They are water and wind resistant.  And with the bibs, there won't be any snow falling down the legs of those pants.  Plus, they are cold weather rated, keeping you cozy from –20 up to 35 degrees!!
Machine washable, adjustable suspenders, and a zipper up the front to ease getting on and off!!
If you're amazon prime member, you can get these as fast as today!! I'd shop early season because as soon as winter actually hits, shipping and colors will be less and less available and we know our kids love their color scheme outfits.  See why they have over 20,000 reviews with a 4.7 star rating!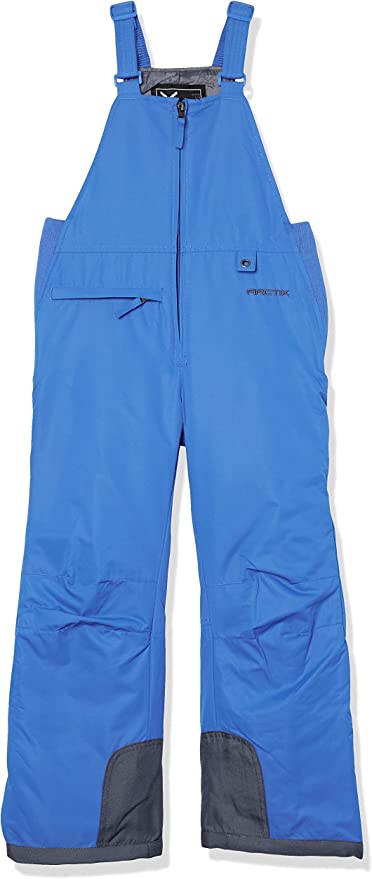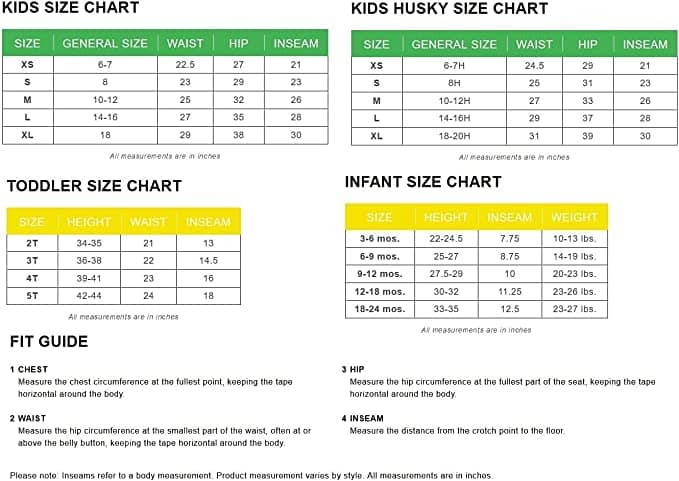 Second Place: Arctix Unisex w/ Reinforced Knees & Seat

As a very close runner up, this pair of Arctix Unisex with Reinforced Knees and Seat are also highly rated by almost 10,000 reviewers with a 4.6 star rating. Just like the first pair, Arctix keeps its cost down at a fantastic price of $28, with included overnight shipping if you're an amazon prime member. 
I know I am reviewing "kids" snow pants, but I just have to say, all of our kids (age range 12-18) + my wife own these snowpants and they are extremely flattering, have an adjustable waist, are highly durable and weatherproof for all day out in the snow! They withstand the cold negative days, making them a great choice to keep you warm all day long. 
The pants have reinforced material at the knees and your butt, so whether you are rolling around in the winter snow making castles, snowball fights, or falling down learning to ski or snowboard, these pants will withstand the beating. Can't get much better! 
With 17 different color options, any boy or girl will certainly find a pair to suit their color scheme. Size range is XS – XL w/ "husky" size options also available(10 Sizes!). If you're not a bib type of person, these are certainly the pants for you!
Also machine washable and plenty of pockets to hold your belongings.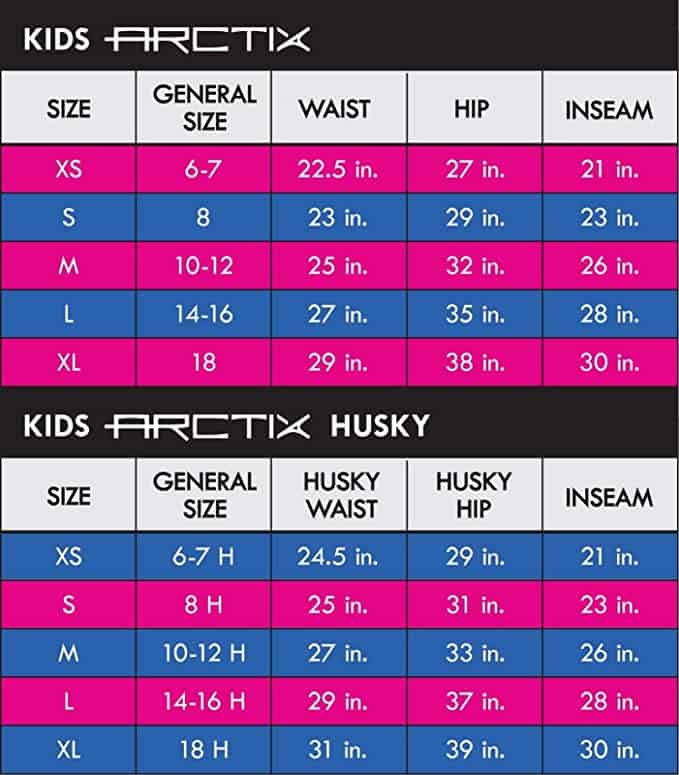 Third Place: Amazon Essentials Girls and Toddlers/Boys & Toddlers Water Resistant Snow Bibs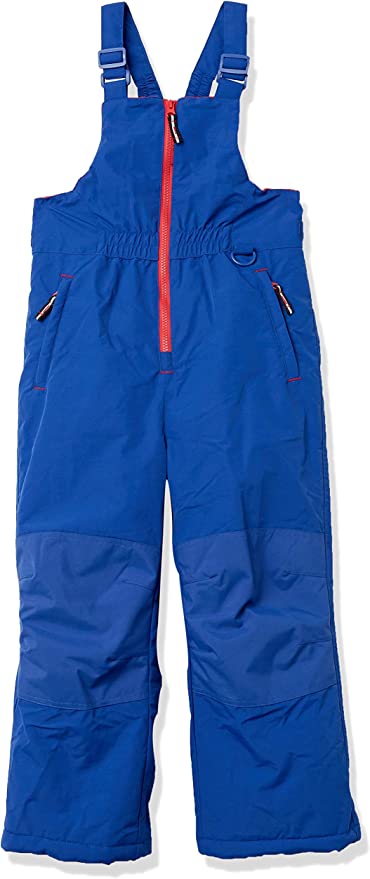 Over 2,000  4.8 Star Reviews! Both of these pants come in at a solid third place on our list!
They both are priced at an affordable $34.30.  They are essentially the same pair of snow bibs, but one is specifically fitted for girls while the other is for boys.
Both offer 5 color options, machine washable, and sizing to fit 2T up to XXL (XXL fits 17 yrs old – commented in a question for what age this size fits).  They are not temperature-rated, but many reviewers have said they have held up in multiple climate situations, along with keeping their children dry and warm during the winter. Sounds like this pair is a win situation.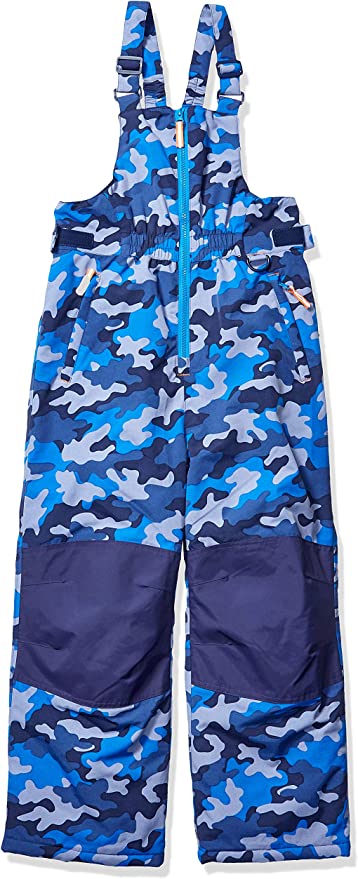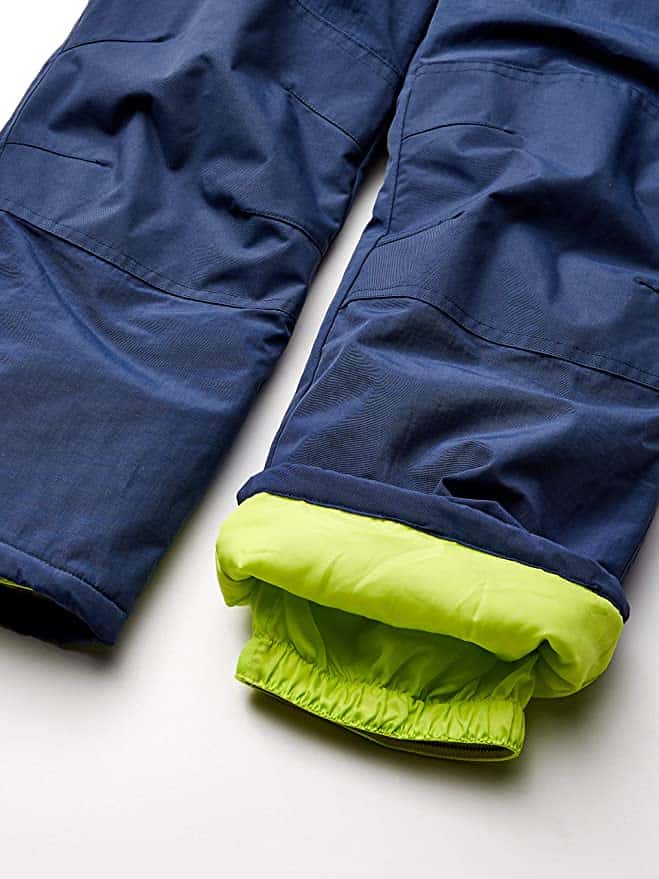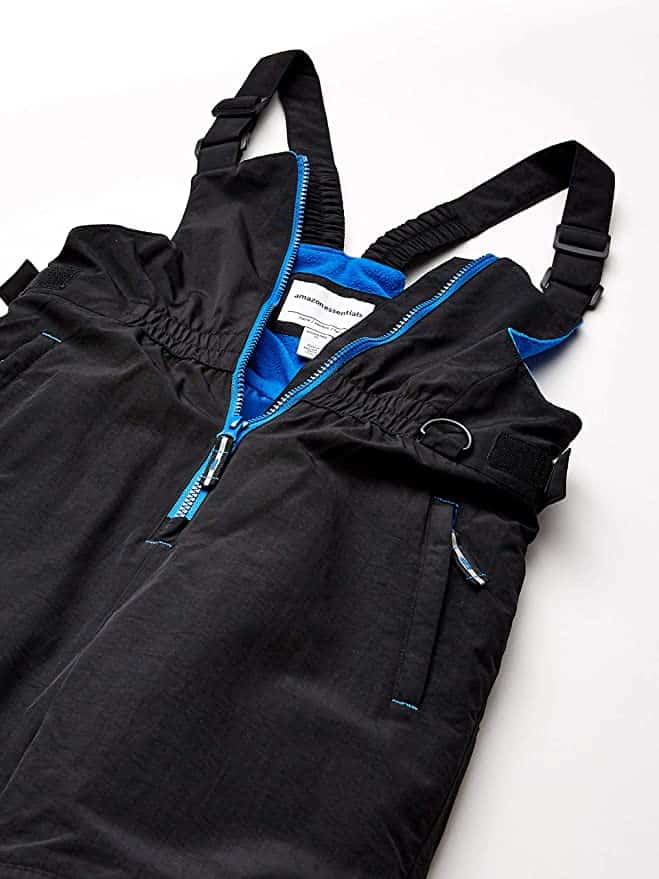 Fourth Place: London Fog Classic Snow Bib Ski SnowSuit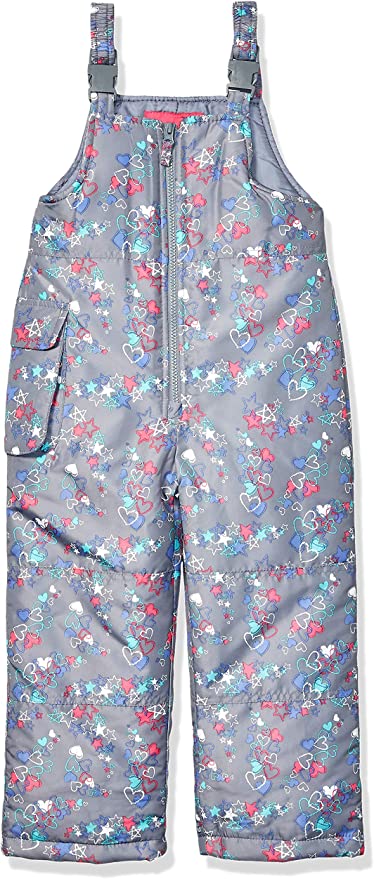 The London Fog Classic Snow Pant Bib SnowSuit, just like the Amazon Essentials, offer a separate line for girls and boys. With over 2,500 5 star reviews, these snow bibs wrap up our official list of the best snow pants for kids!
London Fog as a company has been around since 1923, so their reputation precedes them! These bibs have 15 different color options and sizing from 2T to 14/16! That's a big range and looks like you can buy a pair for 1 or all your children.
Pricing is on par with the other brands as well at $34. These bibs offer adjustable straps for growth and a cargo pocket on the pants, and also machine washable! If you want to go with a brand you know and trust, these are the ones for you.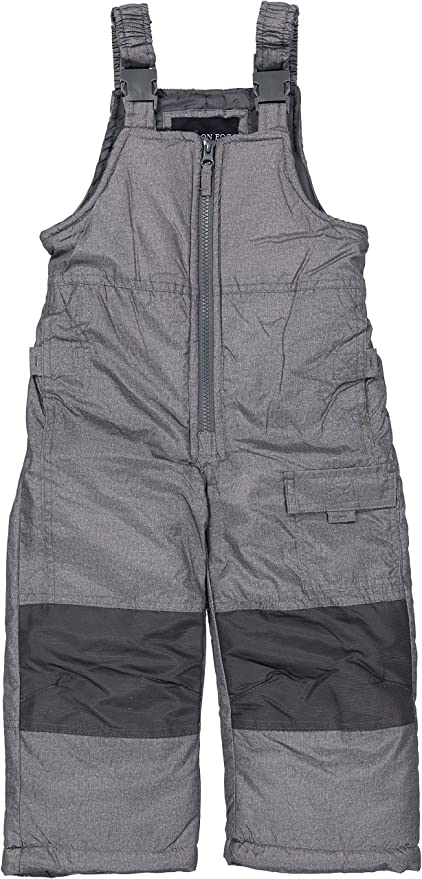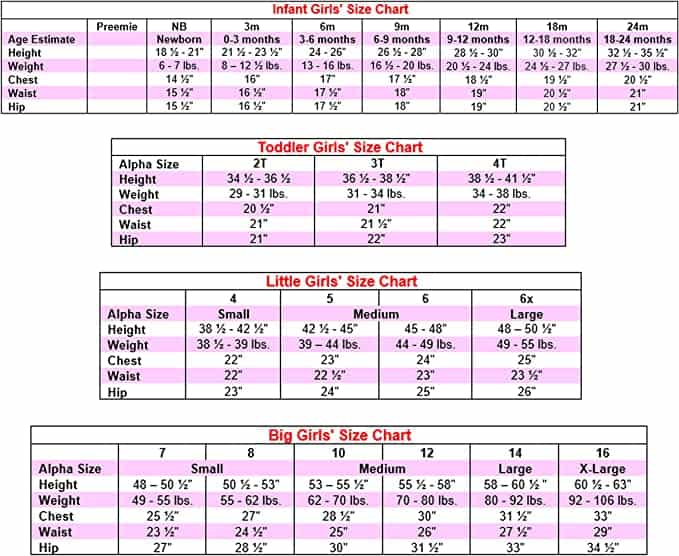 Summary
Kids snow pants can be a great investment for keeping kids warm and dry while playing in the snow. In this blog post, we recommend three different brands of snow pants, all of which have received high ratings from Amazon customers.
The first brand is Arctix kids snow pants, which are highly durable and weatherproof, with adjustable waistbands and a wide range of sizes.
The second brand is the Amazon Essentials kids snow pants, which are also water-resistant and machine washable.
The London Fog Classic Snow Bib Ski SnowSuit is the final option, with over 2500 five-star reviews on Amazon.
All of these pants are priced at around $35 and come in a variety of colors and sizes. Ultimately, the best kids snow pants for you will depend on your budget and preferences. However, all three of these brands offer high-quality products that will keep your kids warm and dry all winter long.
Conclusion
Kids snow pants are a necessary purchase for kids who want to enjoy playing in the snow. Whether you are skiing, snowboarding, or just playing, you want to make sure you have the right gear for warmth no matter what.
All three of the brands we recommend offer high-quality, durable, and affordable options. With a variety of colors and sizes available, you're sure to find the perfect pair of kids snow pants for your family.
All of the options we've recommended come with high ratings from Amazon customers and are priced at around $35. They vary in color, size, and design, but all will keep kids warm and dry while playing in the snow. So, what are you waiting for? Get out there and enjoy the snow!
Ready to get yourself a pair?  Check out out post on Arctix Snow Pants, The Best Bang for Your Buck!
We also have a great review on Spy Ski Goggles too!
Peter's passion is the great outdoors. From hiking through the mountains, climbing up tall peaks, skiing down pristine slopes, camping in serene forests, and fishing in tranquil rivers – he's done it all! Nowadays, his mission is to share his passion for the great outdoors with everyone he meets. Click the links to the left to follow him and all our updates on social media!