With winter weather setting in, it's time to start thinking about keeping those little ones warm and dry. From snow forts to sledding, every year brings its own unique set of challenges when it comes to finding the best kids snow boots. We have four kids so we know! They have to look great, be practical, well-made yet affordable, and most importantly keep tiny toes warm and dry all season long.
Thankfully, we've got your back! We've sifted through the options out there and selected our top picks for the best kids snow boots this winter.
So pour yourself a pumpkin spice latte and let us do the hard work in finding the perfect pair of winter shoes for your child. Your search is over – you've come to the right place!
We are reader supported and as such may make a small commission at no cost to you if you purchase through our links.
What Are Our Top 3 Picks for the Best Kids Snow Boots?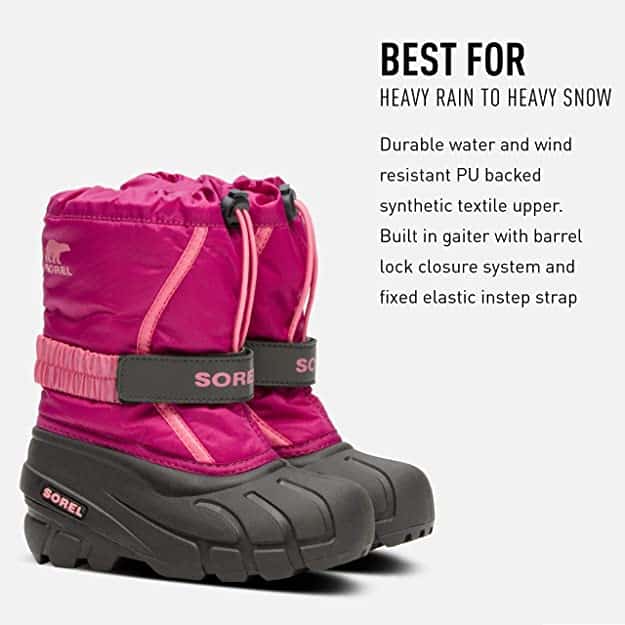 It's no surprise that Sorel snow boots come out on Top as our #1 Choice for kids best winter boots. We all know the brand, the reputation, the quality, the comfort, and the list goes on as it relates to Sorel snow boots and why they have some of the best winter snow boots on the market.
Heck, my entire family has at least a pair or two of Sorel's and never a complaint. We know, love, and trust them!
These kids winter snow boots are offered at an average cost of $69.99. A little pricey, but this snow boot is going to keep your kids outside playing in the rain, wind, and snow all day and you won't have to worry about their feet. The cost is second to the security of knowing these winter snow boots are built to withstand it all.
The kids boot has a thick, grippy, thermal outer construction with a removable and washable inner felt that keeps our kids feet warm, dry, and comfortable.
Sorel has 12 color options for these winter boots, a huge array of sizes for kids of all ages, and an easy slip-on slip-off style to keep it simple for our children.
Look no further if you want an American-made, well-constructed, quality snow boots!
Order today, and arrive tomorrow from Amazon! AND free returns should you accidentally order the wrong size. Beat the rush of winter boot buyers and get yours today!
Features
Made in the USA
A Brand you know and trust
12 color options
Size range from 5 toddler to 7 Big Kid
2.5 mm Frost felt plug
Rated all the way from light rain to heavy snow
Removable 6 mm felt for washing and warmth
Waterproof and windproof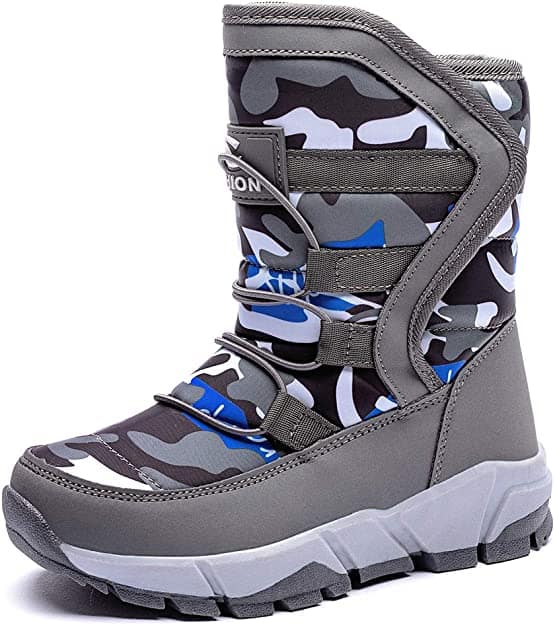 Well, it's no wonder everyone is buying these boots!!
With over 18K reviews, the Gubarun Winter Snow Boots are the next top pick!
Currently offered at a 10% discount as well, I wouldn't hesitate to buy these for my kids. If cost is a factor in your decision-making, these winter boots should be perfect! Waterproof, warm, and in colors of all kind, you're sure to find a pair for everyone's liking.
We are always worried about our kid's feet getting cold in the winter while playing around in the snow all day, but based on all the reviews of these snow boots, looks like we don't need to worry any longer! From toddler snow boots to teen snow boots, our children's feet are staying high and dry!
Let's not forget about the under $50 price point that helps us make a financially smart decision with these winter boots!! That's nearly half the cost of some top-name brand winter boots!
Look no further, Gubarun snow boots are here for all of you! Consumers are loving them! Get your children a pair before the winter rush comes in full effect and delivery takes weeks and colors are sold out!
Features
16 color options
sizes range from 5 toddler snow boots to 7 Big Kid
Faux Fur lined for warmth and comfort
Waterproof
Hook & loop for easy on and off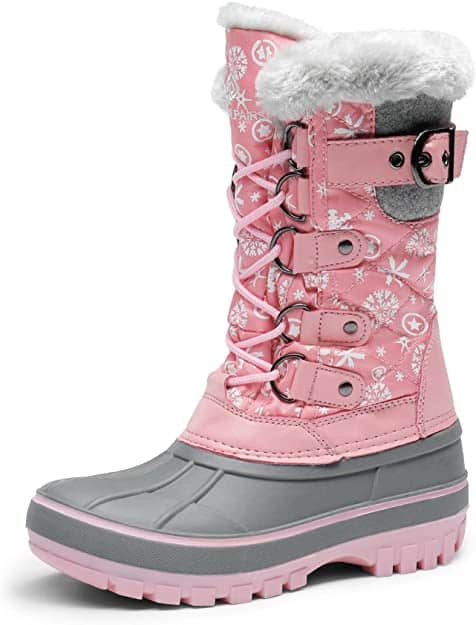 The Dream Pairs winter snow boots are super cute! 12 colors for both boys and girls, I'd say this is the most attractive-looking snow boot I've seen for kids.
Fur-lined with a bungee pull system, your feet are sure to stay warm and dry. Dream Pairs price is an affordable $37 with free shipping and is available in a multitude of sizes for our kids of all ages making them the best inexpensive snow boots for kids
The snow boots are quality made, durable, anti-slip, and multifunctional for winter sports and leisure. You can't really go wrong with trying this boot out.
Only downfall I really noticed was that depending on the size, you may not get free returns, and it's not a household name we know and have come to trust.
But, If your kids want to look super cute, and have affordable snow boots that keep them warm and dry, this is the one for you! Strike while the deal is Hot!
Features
13 color options
9 toddler to 6 big kid
200g thermolite insulation rated to –25 degrees F
Faux fur lined for warmth and comfort
One pull bungee lacing system
Rubber sole and rubber upper to keep foot waterproof and dry
Just above mid-calf
How To Keep Your Feet Warm
There are a few ways to help keep your feet warm in cold weather, even if you are wearing the best kids snow boots.
Wear Two Pairs of Socks:
This may seem like an obvious one, but you'd be surprised how many people don't do it. By wearing two pairs of socks, you are creating an extra layer of insulation between your foot and the boot. The second pair of socks doesn't have to be thick, even a lightweight pair of socks will do the trick.
Use Hand/Feet Warmers:
Hand warmers are great because you can put them in your pocket and they will last for hours. Just make sure you don't put them directly on your skin, as they can cause burns.
Wear Proper Clothing:
Wearing proper clothing is important because if your body is warm, your feet will be too. Make sure you are wearing a hat, scarf, and gloves to help keep your whole body warm.
Stay Active:
It may seem counterintuitive, but staying active will actually help keep your feet warm. When you are active, your blood circulation increases and this will help keep your feet warm. So, if you are outside in the cold, try to walk around as much as possible.
What to Do When Your Boots Are Wet?
If you find yourself with some wet boots after playing in the snow or some winter hiking, waste no time in drying them off! A cozy spot near a fireplace can help, but be sure not to get too close. If a hair dryer is available, that's even better! Finally, stuffing the wet boots with newspapers may also absorb some of the moisture.
How Should Kids Snow Boots Fit?
Kids' snow boots should fit snugly on the foot and ankle to ensure adequate support and protection from cold and wet weather. To ensure a proper fit, look for boots that have adjustable straps or lace-ups. Make sure your child has enough room to easily wiggle their toes, and that their heel doesn't slip out of the boot when they walk. Additionally, it's best to avoid buying boots that are too tight or too loose; if a pair of snow boots feel uncomfortable at first glance, take the time to find another pair that fits better!
How Often Should Kids Snow Boots Be Replaced?
Snow boots may seem like an item that can last for years, but it's important to update them regularly. If your children are in the midst of a growth spurt, you should consider getting larger sizes as soon as possible. Furthermore, areas with harsh winters will require replacing boots more frequently due to their improper protection and warmth against the elements. A good rule of thumb is to check if your kids' boots have become worn or damaged before each season starts – if so, make sure to get new ones!
How To Clean Kids Snow Boots
Winter boots can get dirty. And when they do, it's important to clean them properly to extend their life and keep your child's feet comfortable and dry. Here are some tips on how to clean kids snow boots:
Start by removing the laces and brushing off any loose dirt or debris.
If there is any caked-on mud, use a soft brush to remove it.
Next, dampen a cloth with warm water and mild soap and wipe down the boots.
Rinse the boots with clean water and dry them thoroughly with a towel.
Finally, apply a waterproofing spray or cream to help protect the boots from future stains and water damage.
Following these simple steps will help keep your child's snow boots clean and in good condition for many winters to come.
What To Look For in Kids Boots
When searching for winter boots for kids, it's essential to consider the waterproof-proof qualities of your chosen pair. While the boots featured in this article all provide excellent water resistance, not all will offer the same level of protection. Additionally, keeping your little one's feet warm and comfy is another key factor when choosing a shoe style; these fur-lined boots are an ideal choice, but other styles may not offer quite as much insulation. Last but not least, price should also be taken into account — we've highlighted several pairs here that are all under $50!
Summary
Online shoppers have gone with three of the best kids snow boots out there| The Sorel kids boot offers outstanding quality construction and American-made craftsmanship, while the GUBARUN Snow Boots are budget friendly and come in many colors and sizes. Lastly, Dream Pairs Kids Insulated Waterproof Snow Boots provide great value with their abundance of color and size options. Every one of these boots is designed to keep your feet warm and dry, as evidenced by their overwhelmingly positive reviews from consumers alike.
Conclusion
Winter may be cold and wet, but there's no need to compromise on your child's warmth and comfort. The Sorel Kids Boot has been chosen for its American-made status and excellent construction, while GUBARUN provides an affordable price point with a wide array of colors and sizes. Dream Pairs Kids Insulated Waterproof Snow Boots add even more colors to the selection with their great value proposition. All three boots are waterproof, giving your little one the best weather protection around and bringing smiles to shoppers all over the world. Whether you're looking for style or savings, these three boots have you covered!
Looking for more kids snow gear? Check out our post of the Best Snow Pants for Kids.