It's that time of year again. The leaves are changing color, the air is getting crisp, and the mornings are chilly. Fall is in full swing, and that means it's time to start thinking about layering up.
But what if there was a way to enjoy the great outdoors without having to sacrifice your comfort? Enter the heated vest.
A heated vest offers a unique combination of warmth and versatility that make them ideal for fall and winter weather. These battery-powered wonder garments are quickly becoming the must-have item for anyone who loves spending time outside in the colder months. But why are they so popular? And does a heated vest really work? Read on to find out more about the heated vest.
We are reader supported and as such may make a small commission at no cost to you if you purchase through our links
The Benefits of Heated Vests
There are a number of reasons why heated vests and heated jackets have become so popular in recent years.
First and foremost, they actually work. Most heated vests are powered by lithium-ion batteries and use thin, flexible heating elements to generate heat. This means that you can enjoy hours of comfortable warmth without having to worry about bulky layers or overheating.  You can even throw on a pair of heated gloves to take the chill out of your hands if needed.
Heated vests are also very versatile. They can be worn over or under your clothes, making them perfect for a day on the slopes or a hike in the woods. And because they're so lightweight and compact, they're easy to pack away when you don't need them. And with the rechargeable batteries, you can be ready to go again the next day.
Finally, heated vests warm you with targeted heat. A heated vest only warms the areas that you need it to. This makes them very efficient and means that you'll stay comfortable even in the coldest temperatures.
Lightweight and Comfortable
Heated vests are typically made from lightweight materials such as nylon or polyester. This makes them very comfortable to wear, even for extended periods of time.
Targeted Warmth
A heated vest can provide targeted warmth to the core of your body, which is essential for maintaining your body temperature in cold weather. The heat is generated by battery-powered heating elements that are located in the chest and back areas of the vest. This allows you to stay warm without feeling bulky or constricted.
Versatile and Easy to Layer
Heated vests are very versatile and can be worn over any type of clothing. This makes them ideal for layering, which is essential for staying warm in cold weather. You can wear them over a sweater, or even under a coat. And because they're so easy to layer, you can adjust your level of warmth to suit your needs.
How to Choose a Heated Vest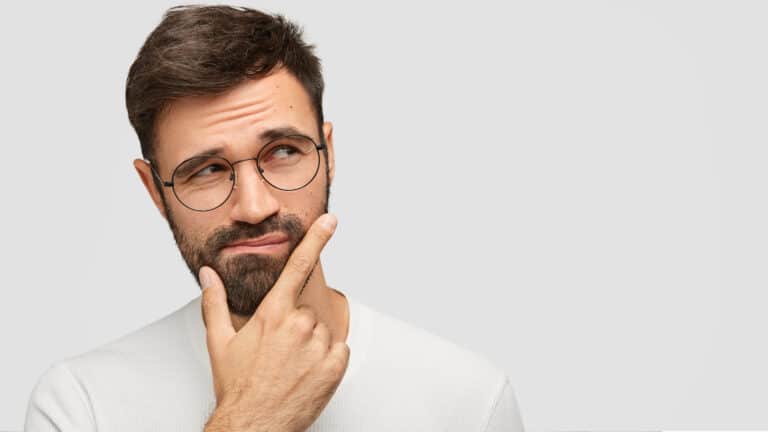 With so many different heated vests on the market, it can be tough to know which one is right for you. Here are a few things to keep in mind when shopping for a heated vest:
First, consider the size and fit. Heated vests come in a variety of sizes and styles, so it's important to choose one that will fit you well. If you plan on wearing the vest over your clothes, make sure to select a size that will allow you to do so comfortably.
Next, think about the type of heating elements. There are two main types of heating elements: infrared and carbon fiber. Infrared heating elements emit heat that penetrates deep into the tissue, providing long-lasting warmth. Carbon fiber heating elements generate heat that is more superficial, making them ideal for use in cold weather.
Finally, consider the battery life. Most heated vests will provide between 4 and 8 hours of heat on a single charge depending on the level you set it to. If you plan on using the vest for extended periods of time, make sure to choose one with a long battery life.
Does a Heated Vest Really Work?
But do they really work? The short answer is yes!
Heated vests use lightweight, flexible heating elements that evenly distribute heat throughout the vest. Most models also come with multiple temperature settings, so you can adjust the amount of warmth you receive depending on the temperature outside.
And because they're so lightweight and comfortable to wear, you'll barely even notice you're wearing one—except for the fact that you'll be nice and toasty warm, of course!
How Does a Heated Vest work?
Heated vests work by using battery-powered heating elements that are located in the chest and back areas of the vest. These heating elements generate heat that helps to maintain your body temperature in cold weather. Heated vests are also lightweight and comfortable to wear, making them a great choice for people who want to stay warm without sacrificing comfort.
What is the Best Heated Vest?
The Tidewe Heated Vest is our top pick on our list of best heated vests for some great reasons.
First of all, the look. It looks just like a regular vest. But don't let that fool you. This thing is packed with features to keep you warm all day long.
It has four carbon fiber heating settings, so you can adjust the amount of warmth you receive depending on the temperature outside. Our favorite of them is the one on the collar! Zip that baby up and that heat goes right on the back of your neck. The others are located across the mid back as well as underneath the two front pockets for hand and core warmth. The heating elements heat up super quick to give you that needed heat.
It has 3 heat settings that are color-coordinated to let you know what setting you are on. Blue for low, white for medium, and red for high. This is a nice touch to let you easily know what setting you have on.
It also has a USB port so you can charge your phone or other devices while you're on the go. This is super cool. But, if you charge your phone you will not get the heating benefits as long as it will use up some of the battery. It is still a great feature.
If you run the battery on low, it can last up to 10 hours. A very solid amount of time. On high, it will last 3 hours. The medium should give you about 5.5 hours.
The battery pack can be fully charged in 3-4 hours and also has a quick charge of 2 hours.
The Tidewe has nice storage pockets for your gear and the battery pack and has a nice reinforced design to help prevent rips and tears in the vest. It is water resistant. The heated vest is also machine washable.
This vest comes in small to 3XL for men's and women's sizes.
Tidewe also has a great heated clothing line and a men's and women's line up as well.
Features
Stay warm all winter long

3 heat settings for max comfort

10 hours of battery life on low

2 USB ports for charging other devices

Quick charge in just 2 hours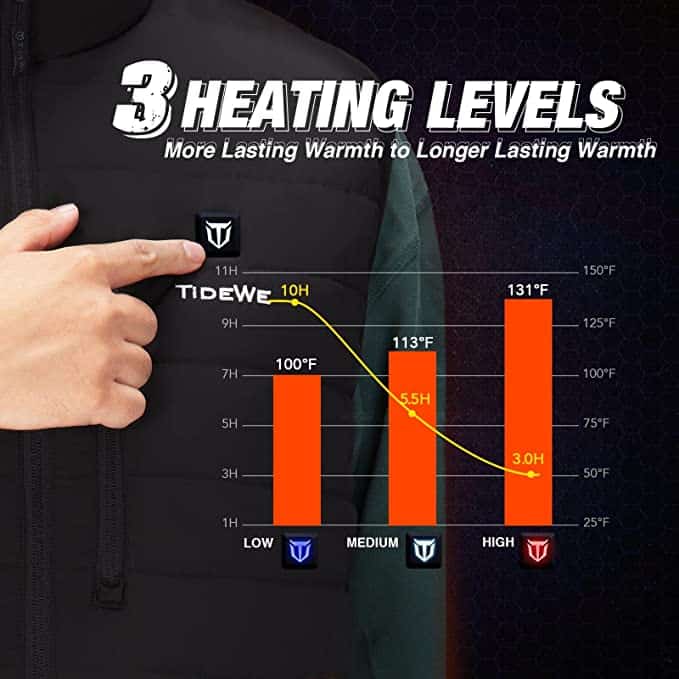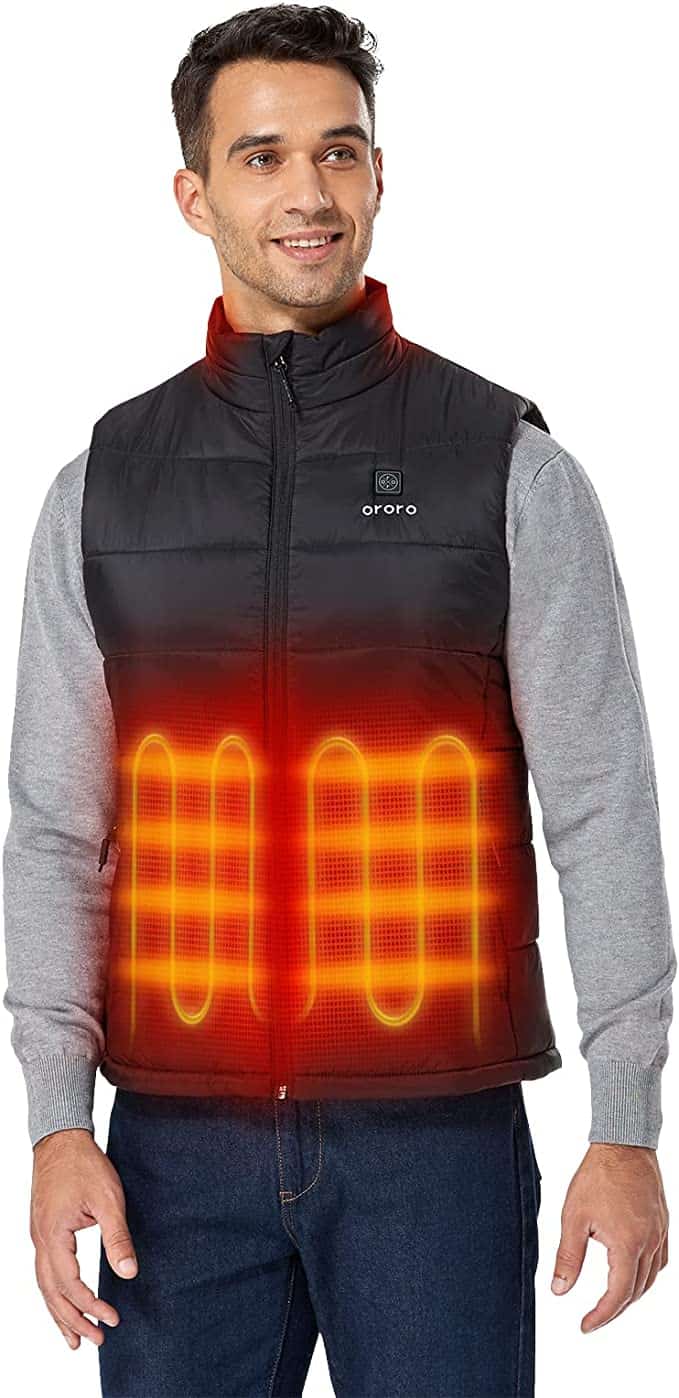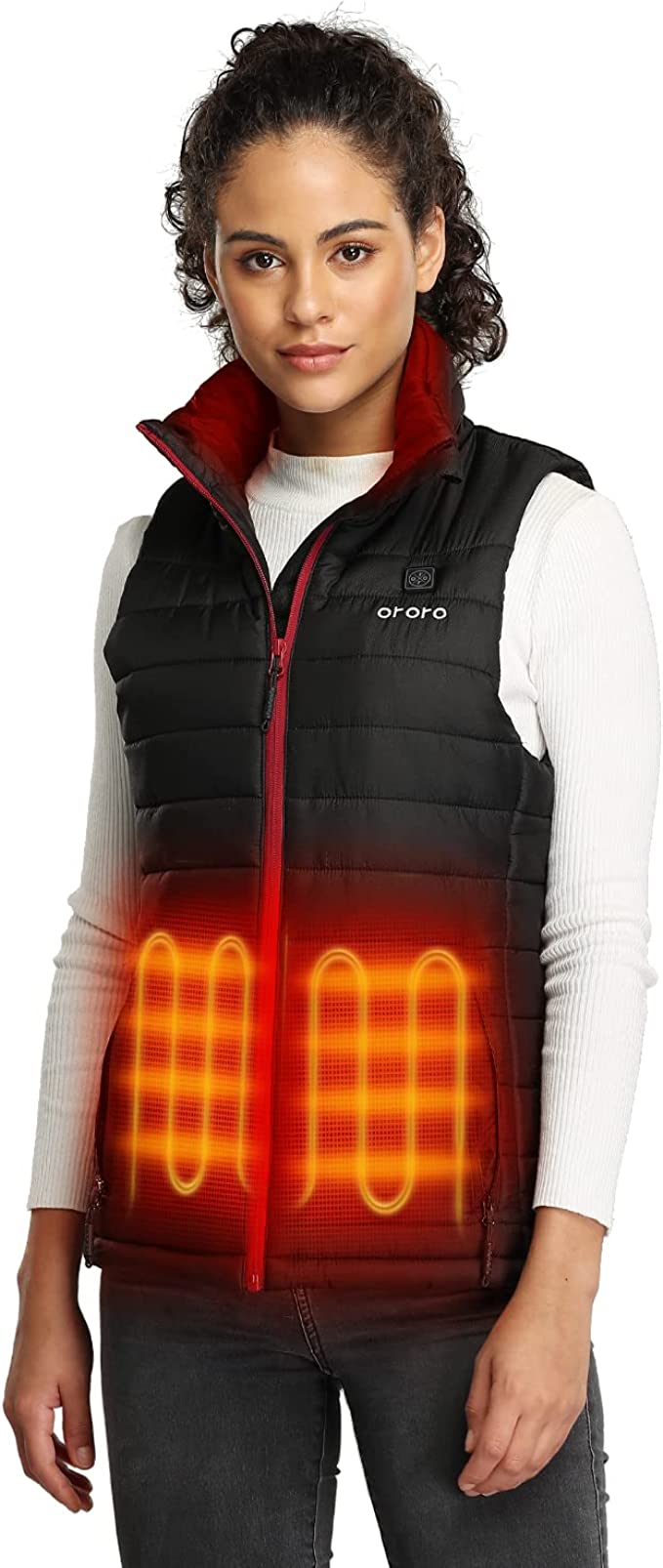 The Ororo Heated Vest comes in at a very very close second.
This vest is very similar to the TideWe and has a lot of the same features we really like. The Ororo has 4 heating zones as well, similarly placed…mid back, around the collar, and lower front underneath the pockets.  It also has 3 different temperature settings; low, medium, and high. 
The battery is also equally as strong with a runtime on low up to 10 hours. Medium has a reported run time of 6 hours and high comes in at 3 hours. The battery pack also has two USB ports for charging your phone or other items that you may have with you on your outdoor adventure. Again, using the battery pack to charge your phone will reduce the length of time your vest will heat. 
The three temperature levels give you varying amounts of heat. On low, the vest can warm to 100 degrees. On medium, you can see temperatures of 120 degrees. and on high, it can get as warm as a nice toasty 130 degrees.
This vest is also machine washable in case you need to freshen it up after some use with your winter sports.
We really like the Ororo. It is great as a stand-alone vest because of its good looks but also works extremely well for layering. It is lightweight, as well as water and wind-resistant. This vest is also TSA-compliant for you travelers out there.
We also like that there are many sizing options ranging from small up to 3XL for men and XS up to 2XL for women.
Ororo has many other heated clothing options such as jackets, gloves, and even cushions. Plus, they have a version with a detachable hood which is pretty cool.
They have a full men's and women's line up which makes them a great choice for both men and women!
Features
Four carbon fiber heating settings for just the right amount of warmth

USB port to charge your phone

Can last up to 10 hours on low or 3 hours on high

Lightweight, water and wind-resistant, and TSA compliant

Lightweight and water and wind-resistant design makes it perfect for colder weather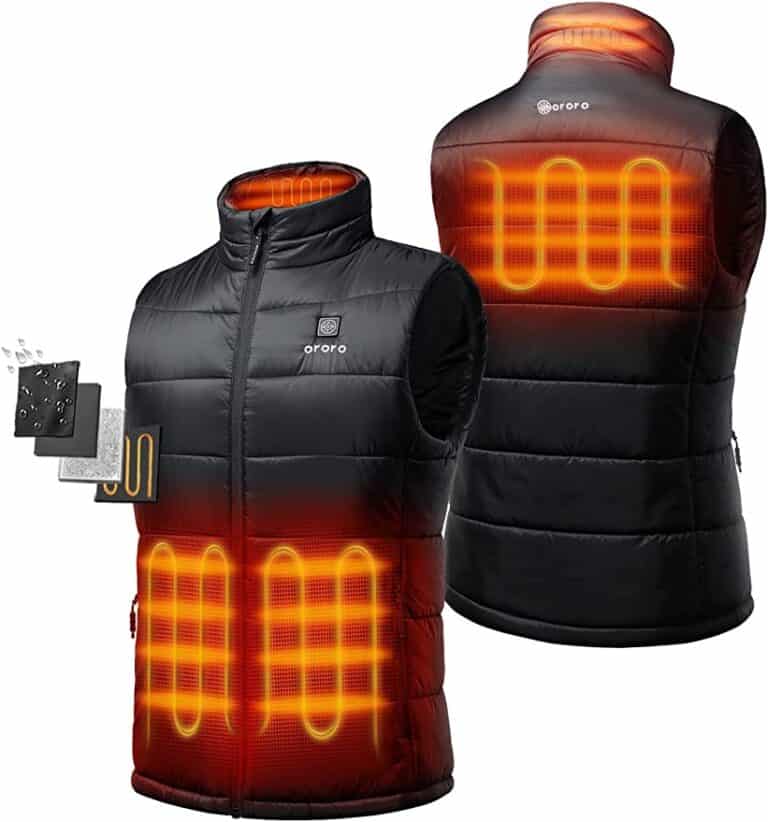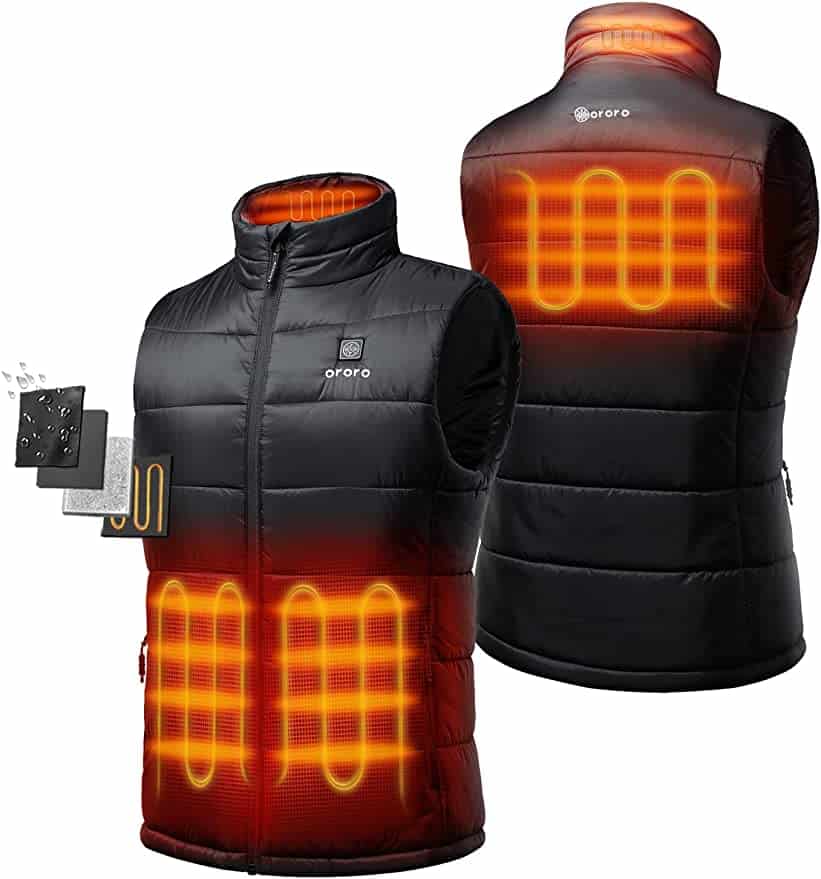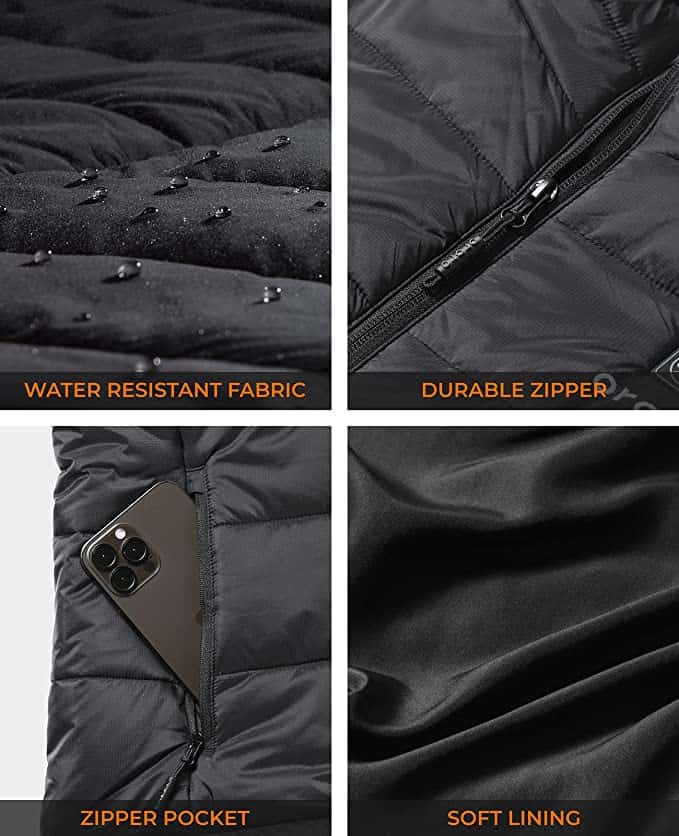 Third Place: Arris Heated Vest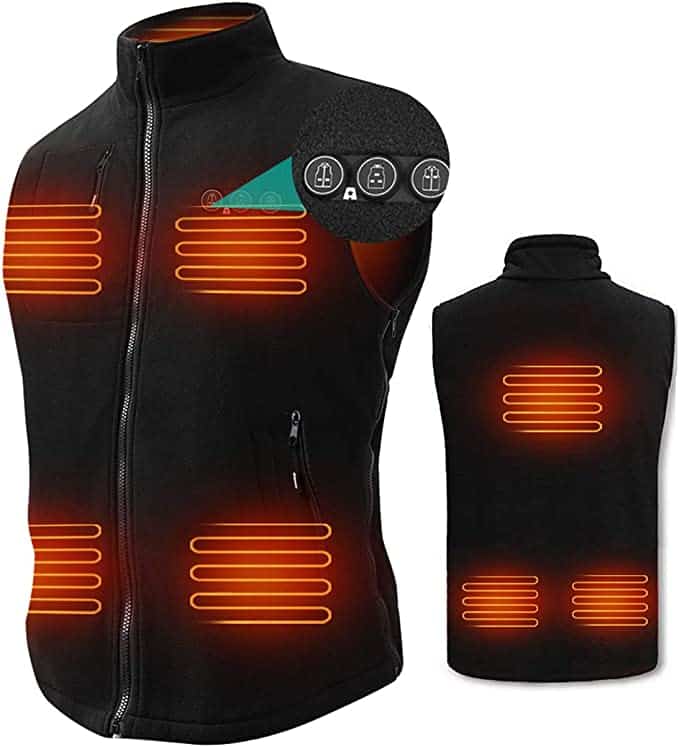 The Arris Heated Vest is a solid heated vest.
They have 8 heating panels on this heated vest. 3 on your back, 2 on the chest area, 2 on the abdomen area, and one on the collar. This is some solid coverage all over.
A nice feature to this heated vest is that is can have different heating areas. They are also controlled with 5 different heating levels ranging from pre heat, low, medium, high and very high.
The battery can also last up to 10 hours on low and also has a USB port like the others. It takes about 4-5 hours for a full charge.
This vest can also be machine-washed.
So what holds us back on this one? Honestly, the looks and the fit. It looks more like a "heated vest" rather than a regular vest. Plus, it is unisex sizing that utilizes adjustable and/or additional panels. While maybe this provides more custom sizing options, to me, it just complicates things.
Overall, it's a solid heated vest with some nice features. If you like having more heating panels that can be specified, then this is a nice option for you. But for a similarly priced vest, we would choose the Ororo.
Features
• 8 heating panels for maximum coverage
• 5 different heating levels to choose from
• Battery lasts up to 10 hours on low
• USB port for charging on the go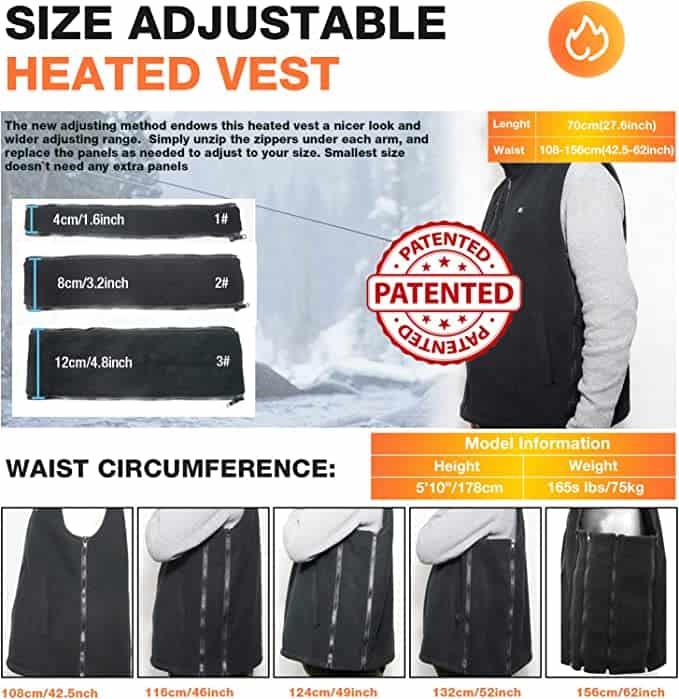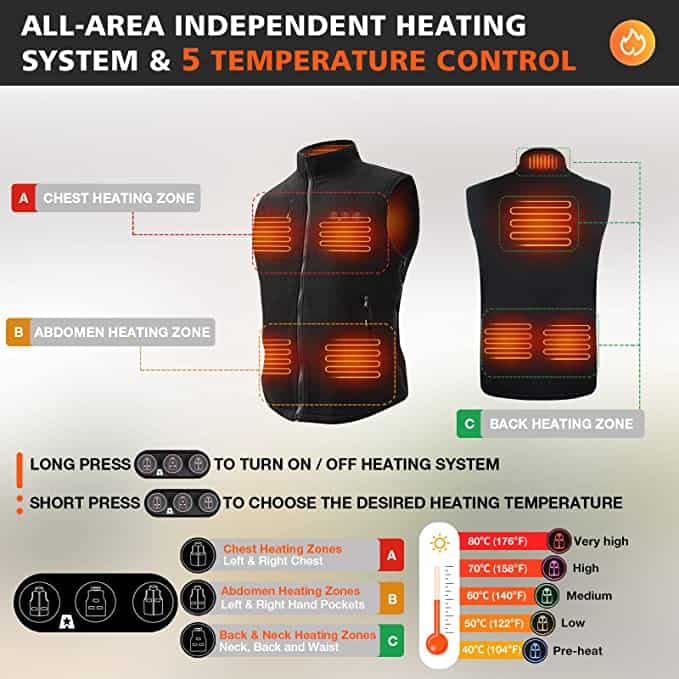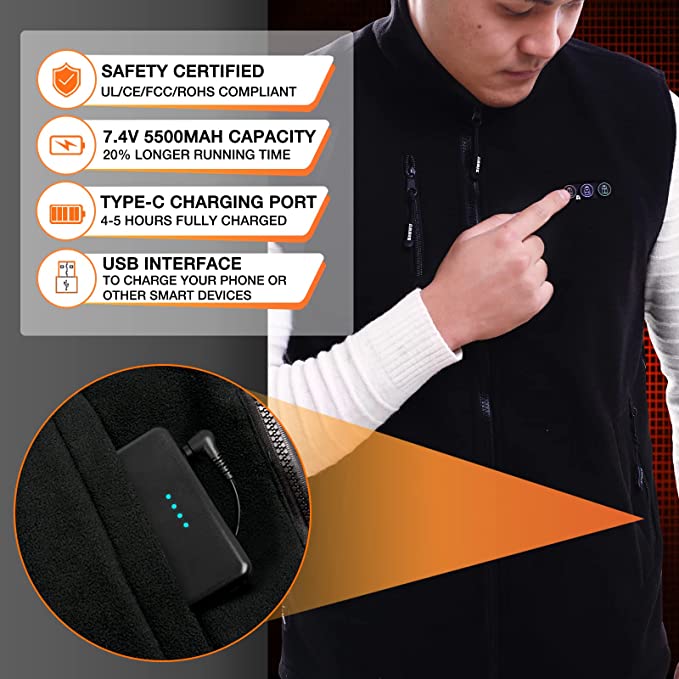 Are Heated Vests Safe?
Yes, a heated vest is considered safe. They use lithium ion battery powered heating elements to provide warmth and are commonly made from breathable materials like cotton or polyester to ensure comfort. Additionally, many heated vests come with safety features like automatic shut-offs and overheat protection to keep you safe while wearing them.
Summary
A heated vest is a great way to keep warm while enjoying outdoor activities in the colder months. The Ororo heated vest is our top choice for both men and women, as it offers a stylish look, a variety of sizing options, and a range of heating levels. Additionally, the battery pack is able to charge devices like phones, and the vest is machine-washable.
The Tidewe heated vest also offers many features that are similar to the Ororo, such as 8 heating panels, water and wind resistance, and a machine-washable design.
The Arris heated vest is another good option for those looking for a range of heating levels and adjustable sizing. However, the vest's appearance is more bulky than the Ororo and Tidewe, and it is not as stylish. Ultimately, all three vests are good choices for staying warm outdoors, but the Ororo is our top pick.
Conclusion
If you love spending time outdoors but hate being cold, then a heated vest is a must-have piece of gear for you. Not only are they extremely comfortable and lightweight, but they also provide targeted warmth to your core, which is crucial for maintaining your body temperature in cold weather. So what are you waiting for? Give a heated vest a try today and see for yourself how awesome they are!
Peter's passion is the great outdoors. From hiking through the mountains, climbing up tall peaks, skiing down pristine slopes, camping in serene forests, and fishing in tranquil rivers – he's done it all! Nowadays, his mission is to share his passion for the great outdoors with everyone he meets. Click the links to the left to follow him and all our updates on social media!