It's that time of year again. The leaves are changing color, the air is getting crisp, and the mornings are chilly. Fall is in full swing, and that means it's time to start thinking about layering up.
But what if there was a way to enjoy the great outdoors without having to sacrifice your comfort?
Enter the heated vest.
Heated vests offer a unique combination of warmth and versatility that make them ideal for fall and winter weather. These battery-powered wonder garments are quickly becoming the must-have item for anyone who loves spending time outside in the colder months.
But why are they so popular? And does a battery operated vest really work?In this blog post, we rank and review the best heated vests for men and women on the market today to help you decide which one is right for you. Once you have one of these, you will love it just like we do!
We are reader supported and as such may make a small commission at no cost to you if you purchase through our links
Best overall
Ororo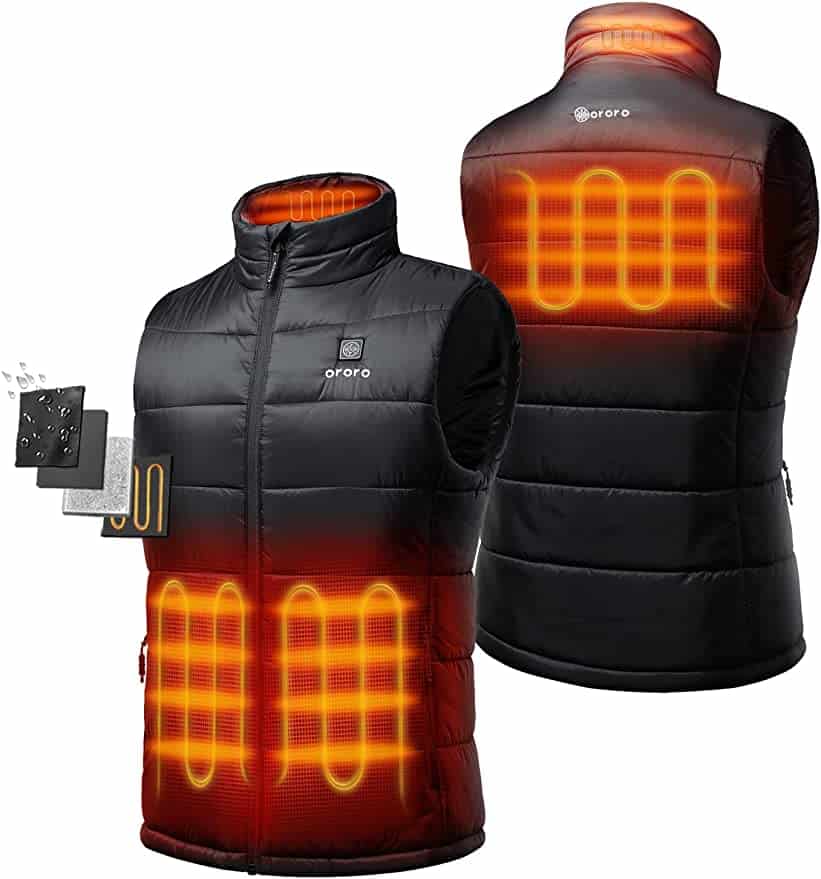 Ororo is a leader is heated clothing. This is an awesome vest and has all the features you want.
runner up
TideWe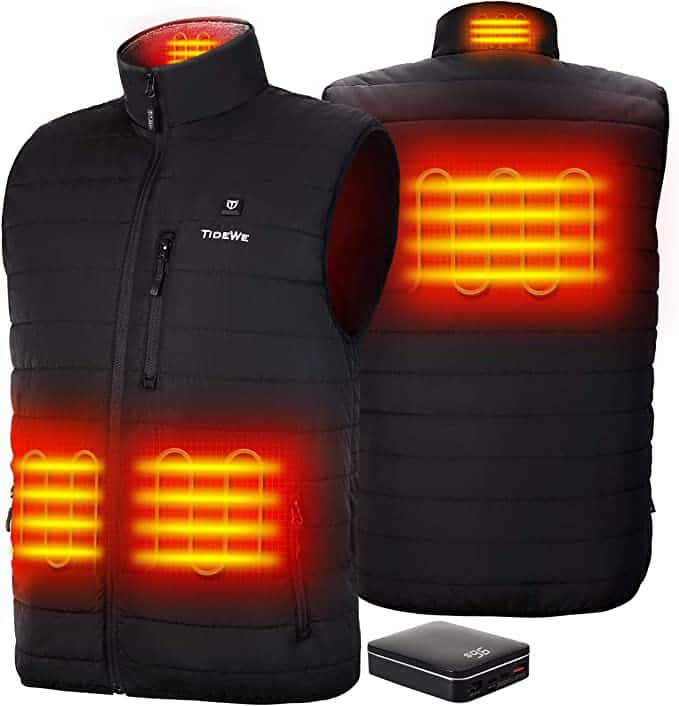 This one has it all and is a close runner up. Looks, features, warmth. And the Price is right!
Third place
Venustas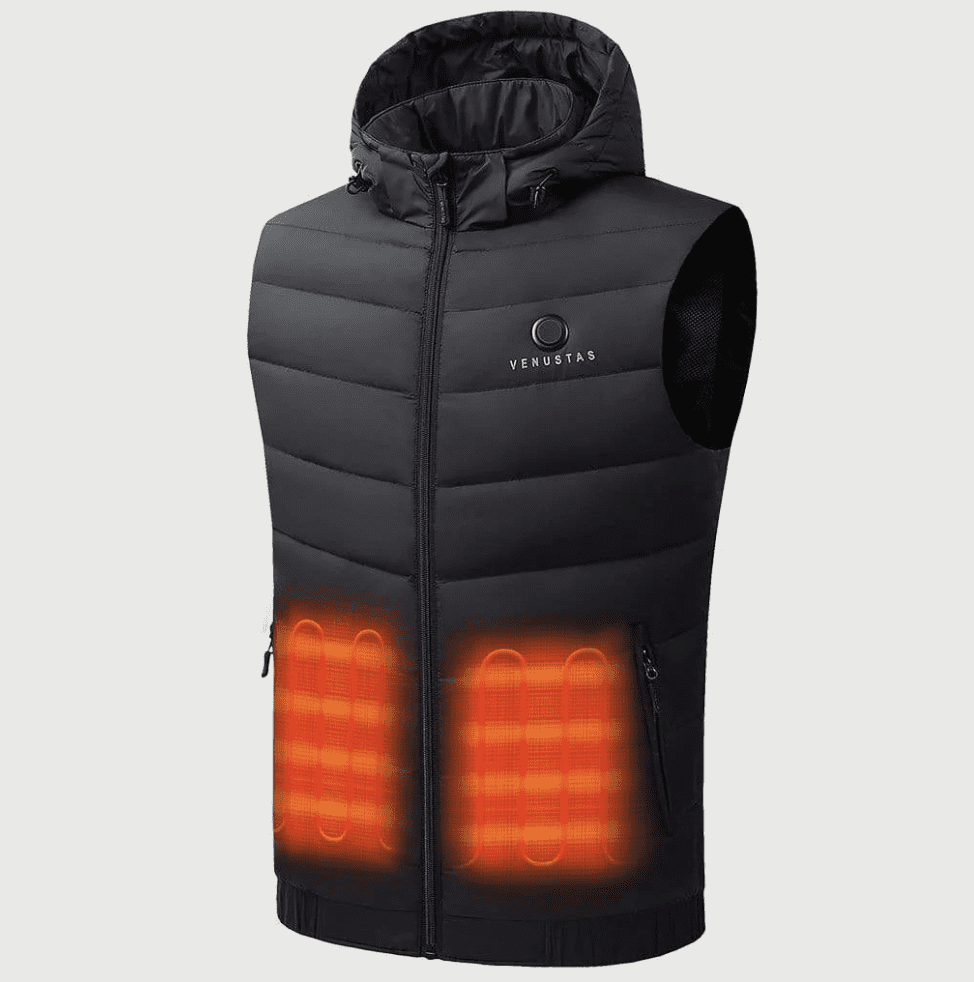 Up and coming Venustas brings you a great vest with a detachable hood.
fourth place
Arris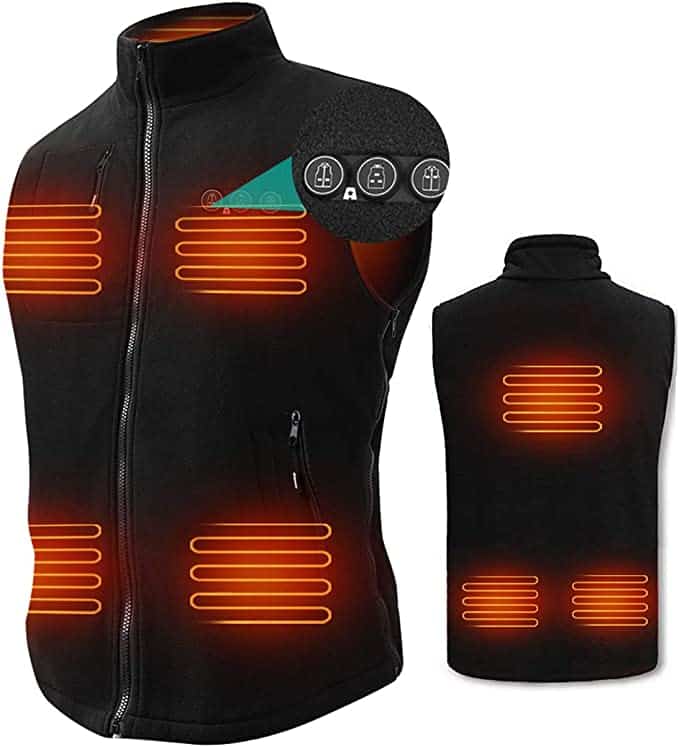 Hard to believe it is in the 4th spot with all its quality and features. Can't go wrong.
What Is The Best Heated Vest?
The TideWe Heated Vest is our top pick on our list of best heated vests for some great reasons.
First of all, the look. This is a sharp looking vest and it looks just like a regular vest. But don't let that fool you. This thing is packed with features to keep you warm all day long.
It has four carbon fiber heating elements. Our favorite of them is the one on the collar! Zip that baby up and that heat goes right on the back of your neck.
The others are located across the mid back as well as underneath the two front pockets for hand and core warmth. The heating elements heat up super quick to give you that needed heat.
The battery life is very as strong with a runtime on low up to 10 hours. Medium has a reported run time of 6 hours and high comes in at 3 hours. The battery pack has two USB ports for charging your phone or other items that you may have with you as well as an LED display showing how much power remains in your battery.
It has 3 heat settings that are color-coordinated to let you know what setting you are on with an easy to use power button. Blue for low, white for medium, and red for high.
It also has a USB port so you can charge your phone or other devices while you're on the go. This is super cool. But, if you charge your phone you will not get the heating benefits as long as it will use up some of the battery. It is still a great feature.

The battery pack can be fully charged in 3-4 hours and also has a quick charge of 2 hours.
The Tidewe heated vest has nice storage pockets for your gear and the battery pack and has a nice reinforced design to help prevent rips and tears in the vest. It is also water resistant and machine washable.
This vest comes in small to 3XL for men's and women's sizes. This vest fits great and is very comfortable. I'm typically a medium in clothing and this medium fit me perfectly.
Tidewe also has a great heated apparel line that features many products for men and women.
Features of the TideWe
3 heat settings for max comfort
10 hours of battery life on low
2 USB ports for charging other devices
Quick charge in just 2 hours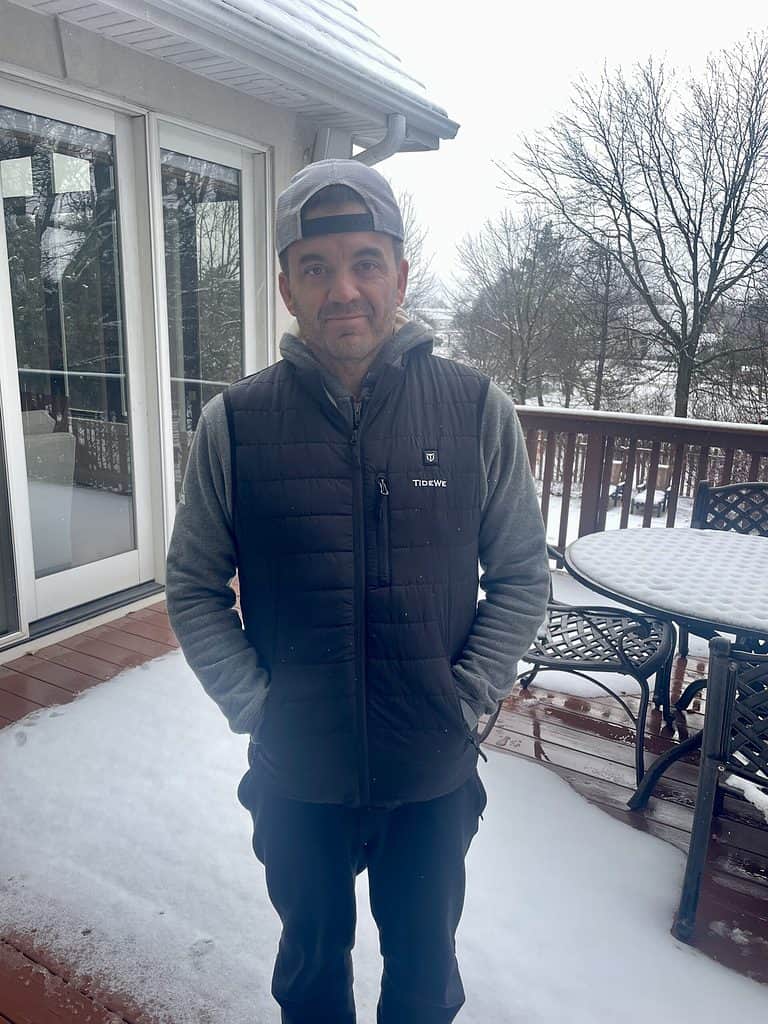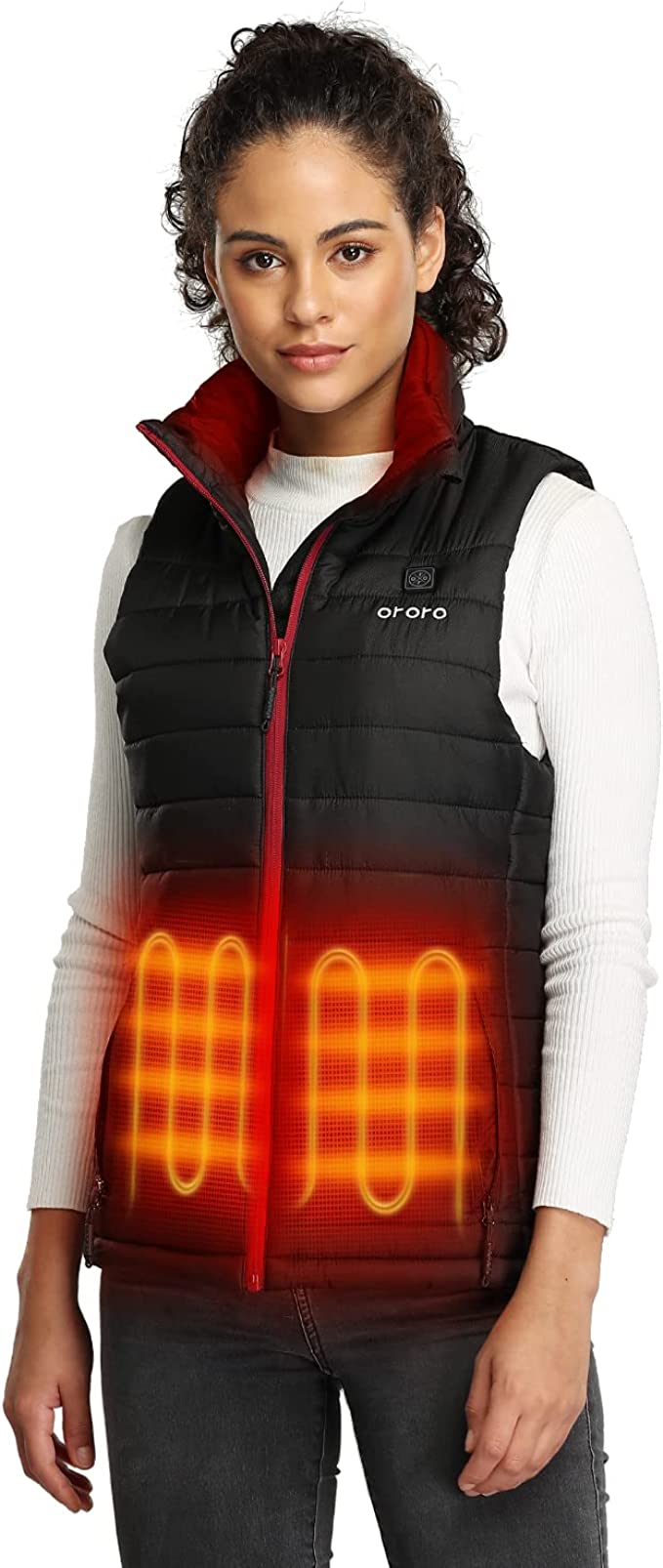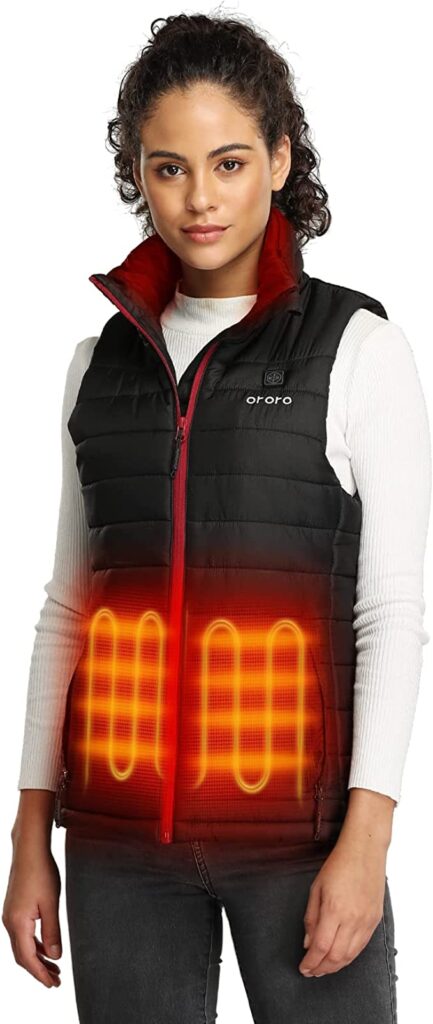 The Ororo Heated Vest is very similar to the TideWe and has a lot of the same features we really like. The Ororo has 4 heating zones as well, similarly placed…mid back, around the collar, and lower front underneath the pockets to keep you and your hands warm. It also has 3 different temperature settings; low, medium, and high.
The three temperature levels give you varying amounts of heat. On low, the vest can warm to 100 degrees. On medium, you can see temperatures of 120 degrees. And on high, it can get as warm as a nice toasty 130 degrees.
The higher the heat your run the shorter the battery life. We would suggest having a spare battery as it is easy to carry and nice to have.
This lightweight heated vest is also machine washable on the delicate cycle in case you need to freshen it up after some use with your winter sports.
We really like the Ororo. It is great as a stand-alone vest because of its good looks but also works extremely well for layering. It is lightweight, as well as water and wind-resistant. This vest is also TSA-compliant for you travelers out there.
We also like that there are many sizing options ranging from small up to 3XL for men and XS up to 2XL for women.
Ororo has many other heated apparel options such as a heated jacket, heated gloves, and even heated cushions. Plus, they have a heated vest version with a removable hood which is pretty cool.
They have a full men's and women's line up which makes them a great choice for all!
Features of the Ororo
Four carbon fiber heating zones for just the right amount of warmth
USB port to charge your phone
Battery life can be up to 10 hours on low or 3 hours on high
Lightweight heated vest thats water and wind-resistant, and TSA compliant
Lightweight and water and wind-resistant design makes it perfect for colder weather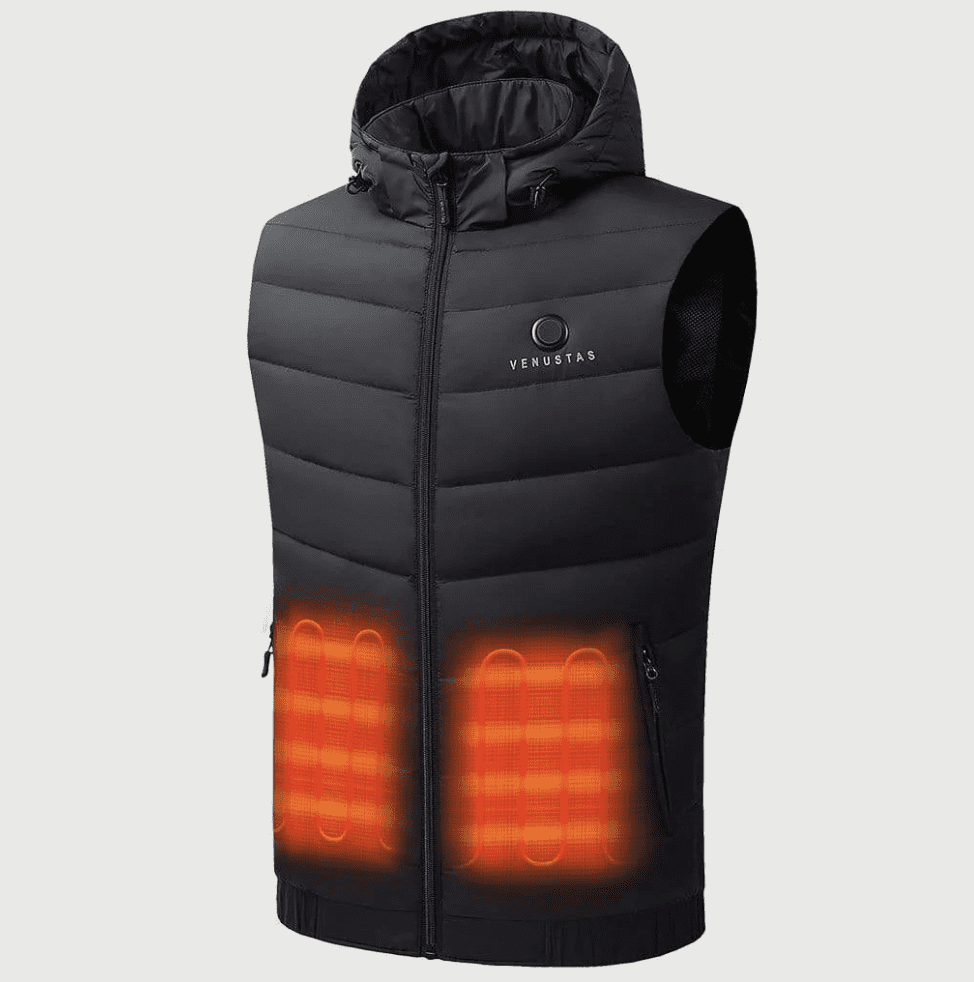 The Venustas Heated Down Filled Vest with detachable hood is a really cool vest. It has 4 Graphene Heating Elements give you temperature control that is adjustable in three settings (low, medium and high).
Made from graphene – the strongest, thinnest and most flexible material known to man – the heating element works with a battery that's incredibly lightweight at 198-200g so you won't feel weighed down. Keep it charged up with dual USB ports, or check its status with the LED display.
Comfortable both inside and out, this lightweight heated vest is filled with 90% light white duck down that forms an air insulation layer to keep your torso warm long-term with no sacrificing on weight or bulkiness. A down filled vest that is heated?? Mmmmm 🙂
Plus, the detachable hood provides added protection against wind chill while keeping things stylish. And don't worry about rain – it's water resistant!
Venustas backs up their product with a year-long limited warranty on battery, 2 year limited warranty on heating elements and a 30 day refund/60 day exchange policy.
Features of the Venustas
Stay warm while looking stylish with the Venustas Heated Vest
3 heating levels (low, medium, high) to choose from
Weighs only 198-200g, making it lightweight and easy to carry around
1 year limited warranty on battery and 2 year limited warranty on heating elements
Lithium Ion Battery life lasts for up to 10 hours on low heat
4 Graphene heating elements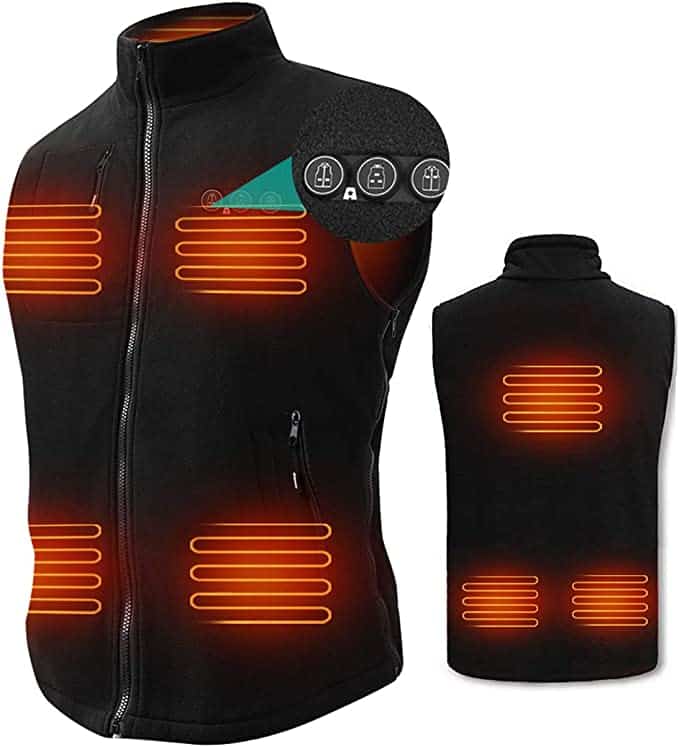 The Arris Heated Vest is a solid one.
They have 8 heating panels on this vest. 3 on your back, 2 on the chest area, 2 on the abdomen area, and one on the collar. This is some solid coverage all over.
A nice feature to this vest is that it can have different heating areas. They are also controlled with 5 different heating levels ranging from pre heat, low, medium, high and very high.
The lithium ion battery can also last up to 10 hours on low and also has a USB port like the others. It takes about 4-5 hours for a full charge.
This vest can also be machine-washed.
So what holds us back on this one?
Honestly, the looks and the fit. It looks more like a "heated vest" rather than a regular vest.
Plus, it is unisex sizing that utilizes adjustable and/or additional panels just seems more confusing than it should be. While maybe this provides more custom sizing options, to me, it just complicates things.
Overall, it's a solid heated vest with some nice features. If you like having more heating panels that can be specified, then this is a nice option for you.
Features of the Arris Heated Vest
8 heating panels for maximum coverage
5 different heating levels to choose from
Battery life lasts up to 10 hours on low
USB port for charging on the go
What Are The Benefits of Heated Vests
One of the biggest benefits of a heated vest is obviously the warmth. Heated apparel is an ideal winter accessory that can help keep you warm in cold weather conditions.
Other benefits of wearing a heated vest include improved circulation, reduced muscle pain and stiffness, and faster recovery time after workouts or strenuous activity. In addition, most heated vests are lightweight and portable so you can easily take them with you wherever you go.
They Are Lightweight and Comfortable
And because most heated vests are so lightweight and compact, they're easy to layer up other clothing when you don't want to wear the full on heated jacket. And with the rechargeable lithium ion battery packs, you can be ready to go for your winter sports or whatever you want the next day.
They Provide Targeted Warmth
Battery powered heated vests warm your core which is essential for maintaining your body temperature in cold weather. Most have three heat settings to allow for the appropriate amount of heat. This allows you to stay warm without feeling bulky or constricted.
They Are Versatile and Easy to Layer
Heated vests are also very versatile. A lightweight heated vest can be worn over your clothes, making them perfect for not only winter sports, but also a game of pickleball, a round of golf or a hike in the woods.
How to Choose A Heated Vest?
Are you looking to stay warm this winter? A heated vest can be a great choice! But which one should you buy? Here are some tips to help you choose the right heated vest for you:
Consider your needs – think about how often and where you'll be wearing the heated vest. If you want something lightweight and breathable, look for a softshell or polyester option with heating elements placed strategically around the core.
Know your budget – Heated vests can range from relatively inexpensive models to high-end versions with multiple temperature settings and rechargeable batteries. Decide on an amount that works best for your budget, then compare different models within that price range. You can find an affordable vest that meets your needs!
Check the vest features – Different brands and models of heated vests come with various features, so make sure to read through product descriptions before making a purchase. Look at things like adjustable temperature settings, battery life, and sizes available when choosing the right one for you.
Read reviews – Shopping online can be tricky since it's hard to judge quality and functionality without trying the product first-hand. That's why it's important to read user reviews from people who have actually used the heated vest before buying it!
Pros and Cons of a Heated Vest
Let's take a look at the pros and cons of heated vests to help you decide.
Pros:
Keeps your core temperature consistent, even when the temperature outside fluctuates.
Can provide up to 10 hours of continuous heat with just one charge.
Easy to wear and remove, making it ideal for outdoor activities such as camping or hunting trips.
Not bulky or heavy, making it suitable for everyday wear.
Cons:
The initial investment can be costly, depending on the brand and type of vest you choose.
Some vests may not fit properly, which can reduce its heating efficiency.
They don't provide much insulation against strong winds or extreme temperatures.
Can cause skin irritation if not used properly.
How Does a Heated Vest work?
Rechargeable heated vests are designed with lightweight and comfortable materials, and contain battery-powered heating elements located on the chest and back areas of the vest. These heating elements generate heat to keep your body temperature regulated in colder temperatures – perfect for anyone who wants to stay warm without having to sacrifice comfort.
Are Heated Vests Safe?
Yes, a battery heated vest is considered safe. They use lithium ion battery powered heating elements to provide warmth and are commonly made from breathable materials like cotton or polyester to ensure comfort. Additionally, many heated vests come with safety features like automatic shut-offs and overheat protection to keep you safe while wearing them.
Summary
Keep cozy while spending time outside in the cooler months with a heated vest! The TideWe is our best rated and most stylish choice, offering adjustable sizing options, multiple heating levels, and a battery pack that can double as a phone charger. Plus, it's machine-washable for easy cleaning.
The Ororo heated vest is also an excellent option for those wanting to stay toasty outdoors. With 8 heating panels, water and wind resistance, and a machine-washable design, it's neck-in-neck with the TideWe. We strongly recommend investing in an extra battery pack!
For something a bit bulkier but still effective in keeping you warm, the Arris heated vest is another viable choice; although it lacks the same level of style as the two previous vests. All three are good winter clothing accessories that will help keep you warm during outdoor activities this season.
Recommended Articles:
Conclusion
Is it time to give a lightweight heated vest a try? I think so. If you do, you won't be disappointed! Not only do these ingenious pieces of gear provide targeted warmth to your core, but they're also comfortable and extremely lightweight. Enjoying the outdoors no longer has to mean shivering in cold temperatures – equip yourself with a heated vest and experience comfortable warmth every time you venture outside. So why wait any longer? Get your own heated vest today and see just how great they are!