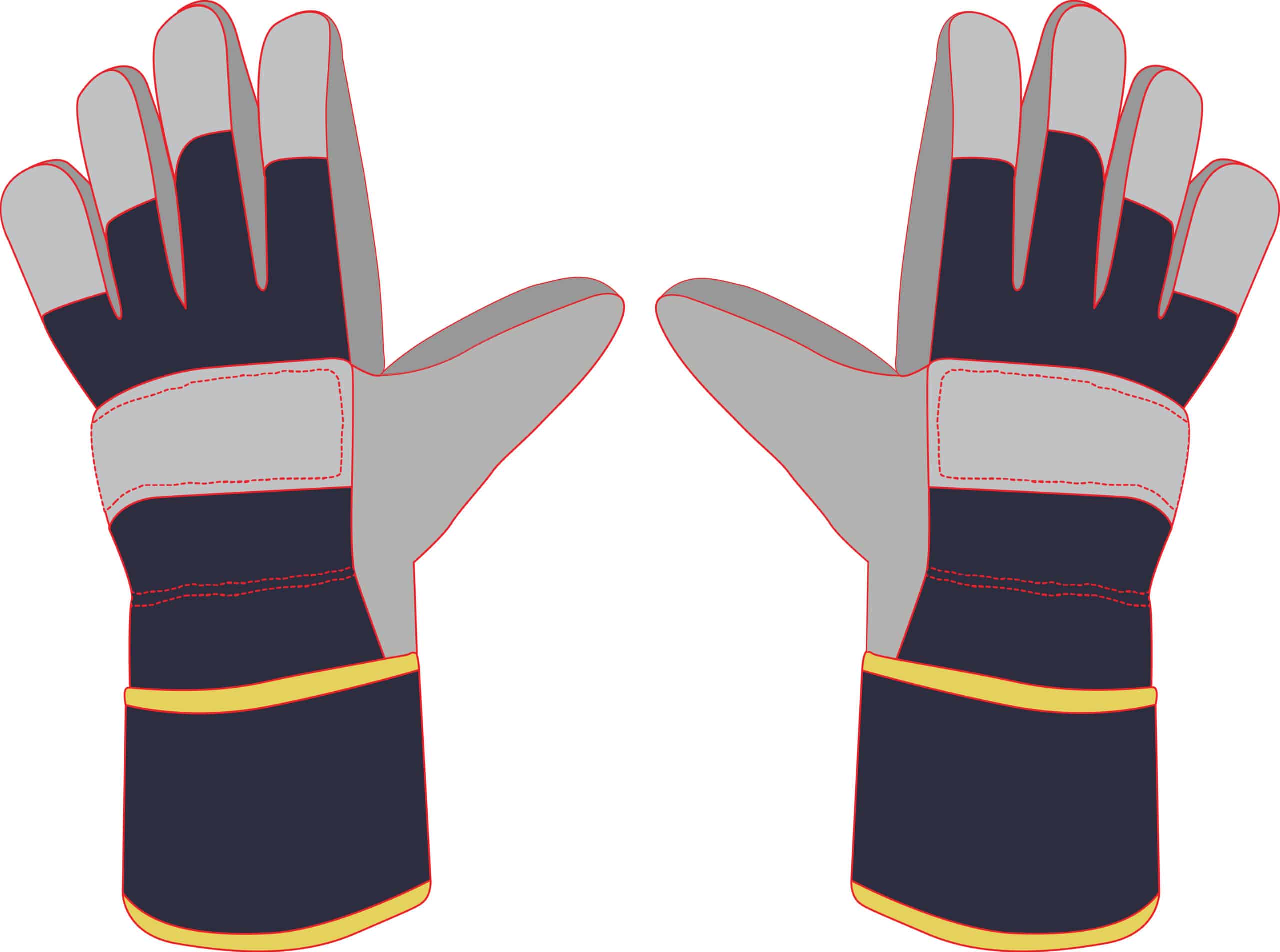 Beat the cold when winter weather sets in and keep your fingers toasty warm with the best heated gloves.
Whether you're heading down the slopes, up the street, or anywhere in-between, you can rely on heated gloves to keep your hands comfy and cozy. There are a variety of styles and sizes — from heated ski gloves to heated dress gloves—that offer adjustable temperature settings so you can find that perfect heat level for any activity.
Enjoy lightweight and comfortable designs so your hands don't get cold! With these top-rated heated gloves, there is no need to let the colder temperatures stop you from enjoying all that winter has to offer!
We've broken down our top heated gloves listing the pros and cons of each to help you decide which heated gloves are best for you.
We are reader supported and as such, we may receive a small commission at no expense to you by purchasing thru our links.
What are the Best Heated Gloves?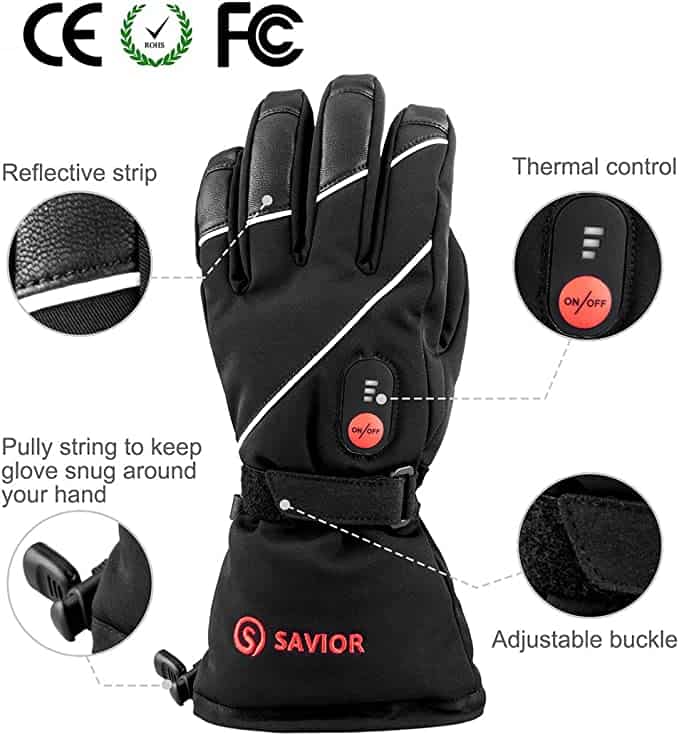 Main Features
3 variations of black: black lambskin & polyester, black sheepskin leather, a combination of both
Sizes XS – 3XL
Machine washable
Breathable, waterproof, and wind resistant
2 rechargeable battery packs
3 heat settings
One simple button control
All-day warmth, up to 7 hours
Max temp of 150 degrees and can feel warmth in as little as 30 seconds
A wide heating area covers the back of the hand and all fingers
1-year quality assurance
Adjustable wrist buckle
Savior Heated Gloves is our #1 Choice for the best heated gloves. It's no wonder that these are crushing it on Amazon and globally.
Priced at $139.99, they are on the higher end in our review, but worth it in our opinion. With over 2,700 reviews, consumers are loving these gloves!
Savior Heat is a company that has been around since 2008 and has a great reputation for all their heated products. The gloves offer 3 black color variations/combinations (polyester cotton, leather), along with an entire suite of sizes so they are perfect for almost everyone. All varieties are machine washable and touchscreen compatible so no need to take off your gloves to answer a call or return a message.
The gloves provide 7-hour, all-day warmth, and consumers have said there is no need for a liner. Savior Heat states that "the heated elements infrared ray can stimulate your blood circulation, especially good for Raynaud's, Arthritis, Bad Circulation, Stiff Joints People." That's a huge bonus for anyone truly worried about losing circulation in cold weather and getting that bone-chilling feeling we all know so well.
Take advantage of these great gloves and make these your perfect, thoughtful, holiday gift this season!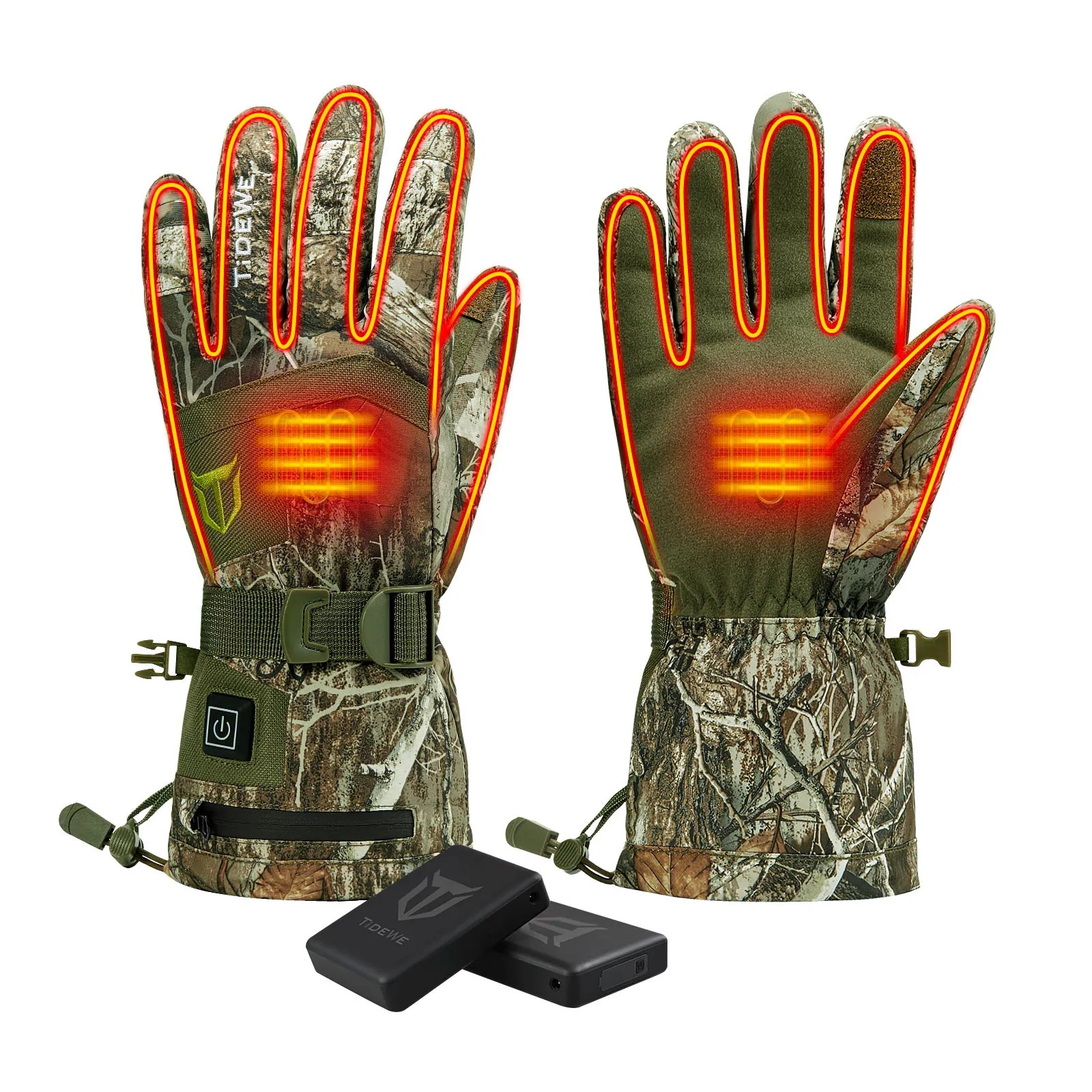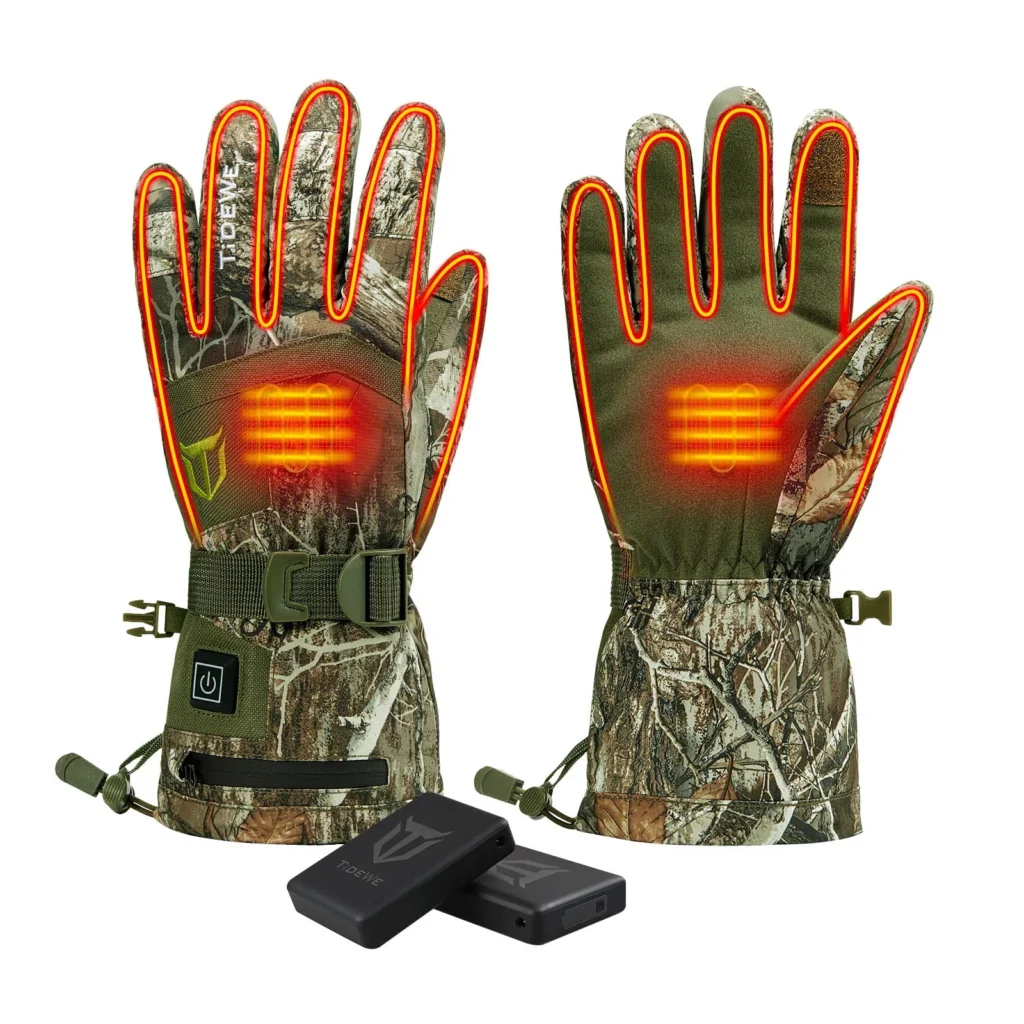 Features
2 color combinations: black and real tree edge
Comes with 2 rechargeable battery packs
3 heating levels: low, medium, high
Up to 6 hours of heat
Soft Fleece lining with insulated cotton to keep fingers warm
Sizes M – XXL
Max temp of 131 degrees
Easy button to control temperature setting
Rechargeable in 3-4 hours or quick charging in 2
Waterproof gloves that are breathable
Screen Touch tips on Index Fingers
Adjustable buckle wrist strap
2 and our very close Runner Up! "TideWe is an outdoor brand dedicated to equipping outdoor enthusiasts with quality products that you can trust to get the job done no matter where your adventure takes you." Just like in my review of the best heated vests, TideWe makes my list again with their heated gloves. They have some great heated clothing! I think what I love most is they are continuously striving to be an affordable, quality brand, that lives up to its reliability.
You can buy these heated gloves today at $69.99, that's our least expensive model, but don't worry, you aren't sacrificing anything and that's truly what keeps them ranking high on our lists each and every time.
TIDEWE Heated gloves are best for ALL outdoor sports and can be used in any cold weather environment with a quick charge and up to 6 hours of heat. They have an ergonomic, comfortable design, and just like all the other gloves I've reviewed, they are also touchscreen compatible.
If you are looking for an all-around rechargeable heated glove that doesn't break the bank, these are the ones for you! With over 400 happy consumers, I believe TideWe is a deserving brand to invest your comfort and warmth in!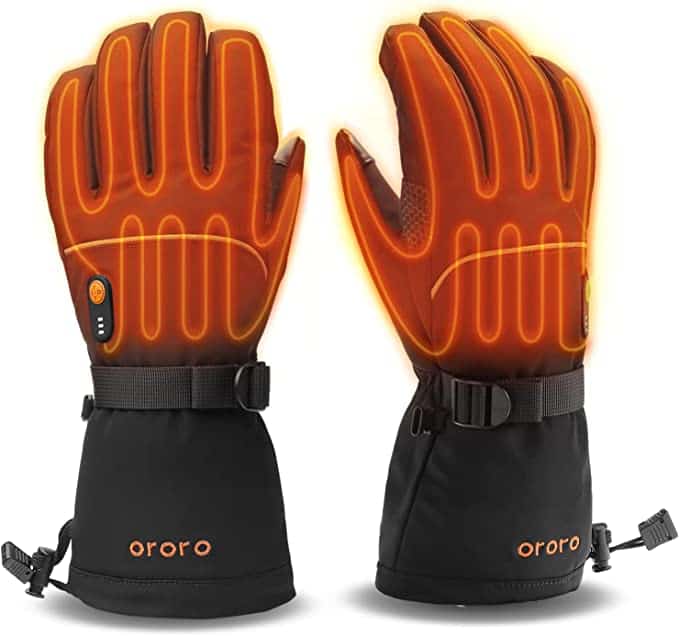 Features
Black Color only
Small – XL
2 rechargeable battery packs
3 heat settings
All-day warmth, up to 7 hours of heat
Simple one-button control
Max temp of 140 degrees
Touch screen compatible
All-around warmth: water-resistant shell with soft fleece lining
These gloves are the perfect choice for people with Raynaud's disease, arthritis, bad circulation, stiff joints, or just frequently cold hands
Comes with a carry case, 2 batteries, a charging cord, gloves
The Ororo heated gloves come in 3rd on our list. If you've seen my other post on the best heated vests, we all know one thing, Ororo makes a great product! They started in 2015 and have earned their reputation of being one of the most trusted direct-to-consumer heated apparel brand.
Priced at $119.99, they are affordable and functional! This pair of gloves heat in just a few seconds, up to a max temp of 140 degrees and will keep you warm all day long with their 7 hour battery.
These are gloves for all occasions and will keep you outside longer. Just like our #1 choice, Ororo also are a perfect choice for people with Raynaud's disease, arthritis, bad circulation, stiff joints, or just people with a track record of getting frequently cold hands!
Ororo packaged these heated gloves in a compact carry case, along with its 2 batteries, and charging cord. These gloves should be on your holiday list this season!!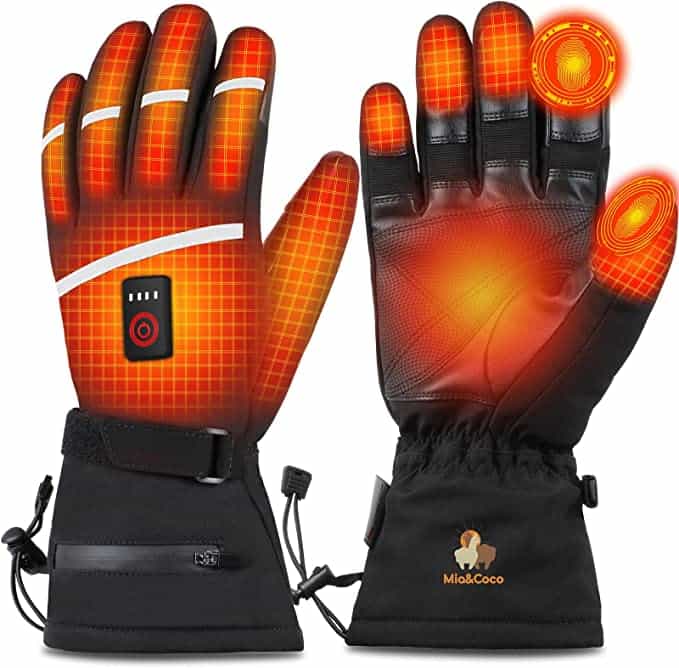 Features
1 color option: black
Size M & L
3-second fast heating and up to 140 degree max temperature
3 heating settings, low, medium, and high
Comes with 2 rechargeable batteries, a charging cable, user manual
Gloves have an easy temperature control button along with a battery life gauge
Heat covers the entire back of your hand and fingers to your fingertips
Up to 6 hours of warmth
Made with polyester fiber and cotton blend, they are waterproof, windproof for that cold wind, breathable, and antiskid
Thumb and forefinger are made of touch-screen-compatible materials
One Year warranty
Mia & Coco have come up with top-quality rechargeable heated gloves at an affordable price. Right now, they are $89.99! That's solid.
These heated gloves are thick, yet flexible and soft so you can do a wide variety of activities such as: skiing, hunting, camping, cycling, and many other cold weather outdoor sports! They are also touch-screen compatible on both your index fingers and thumbs, so you never have to worry or go thru the hassle of taking your gloves on and off!
With up to six hours of heating time, your hands are sure to stay warm almost all day long. Mia & Coco have offered a one-year warranty on their gloves because they stand by what they are capable of!
Don't wait to scoop up this incredible price for heated gloves! They are a perfect holiday gift for the men and women in your life!
Summary
Whether you're braving the snow-capped mountains, trekking through a frozen forest, or simply exploring your local park, heated gloves are the perfect companion for anyone who loves the outdoors.
Offering protection and warmth no matter the conditions, brands like TideWe, Mia & Coco, and more provide modern designs that are rechargeable and waterproof.
With battery life of up to 6 hours and even a one year warranty on some models, you can stay safe in comfort as you experience all of nature's delights. So if you know someone who loves being out in nature in even the harshest weathers – give them this special gift! With heated gloves, warmth, comfort and safety will never be compromised.
How to Pick The Best Heated Gloves?
When looking for the perfect heated gloves, there is no one-size-fits-all solution. You need to find a pair that work best for you and match your needs. Here are some things to consider when making your choice.
What will you be using your heated gloves for? Heated gloves come in different styles and sizes depending on the activity, from ski gloves for outdoor winter sports to dress gloves for everyday use.
What is your budget? There are heated gloves available at a variety of price points, so decide what you can invest before starting your search.
What temperature do you need? Many heated gloves have adjustable settings or built-in thermostats to give you the ideal warmth to suit any occasion.
When selecting heated gloves, pay attention to their construction materials such as leather, fleece, neoprene and spandex; as well as the heating technology used which could range from battery operated to electrically powered devices with varying battery life cycles. Heated gloves offer convenience and comfort during cold weather without compromising on style or quality. Now that you know what's important when choosing the ideal pair of heated gloves for yourself, it's time to look into our selection of the best-heated gloves!
How Do Heated Gloves Work?
With up to 6 hours of warmth and adjustable temperature settings, these practical items will keep your hands cozy and fingers warm no matter what the weather is like outside! And with waterproof and windproof fabric, as well as touch-screen compatibility on both the index fingers and thumbs, it's easy to stay connected without having to take off your gloves. What's more, many heated gloves come with a rechargeable battery so you can use them again and again – plus they often come with a one-year warranty for added peace of mind. So don't delay – get heated gloves today for the winter adventure lover in your life!
Conclusion
Heated gloves make the perfect gift for any outdoor enthusiast! With up to 6 hours of adjustable, heated warmth, waterproof and windproof materials, a rechargeable battery, and touch-screen compatibility, these gloves will keep your hands comfortable no matter what the weather. Plus, many heated gloves come with a one-year warranty so you can be sure they will last! So if you have someone in your life who loves spending time outdoors even when temperatures drop, get them heated gloves today – they are sure to love them!