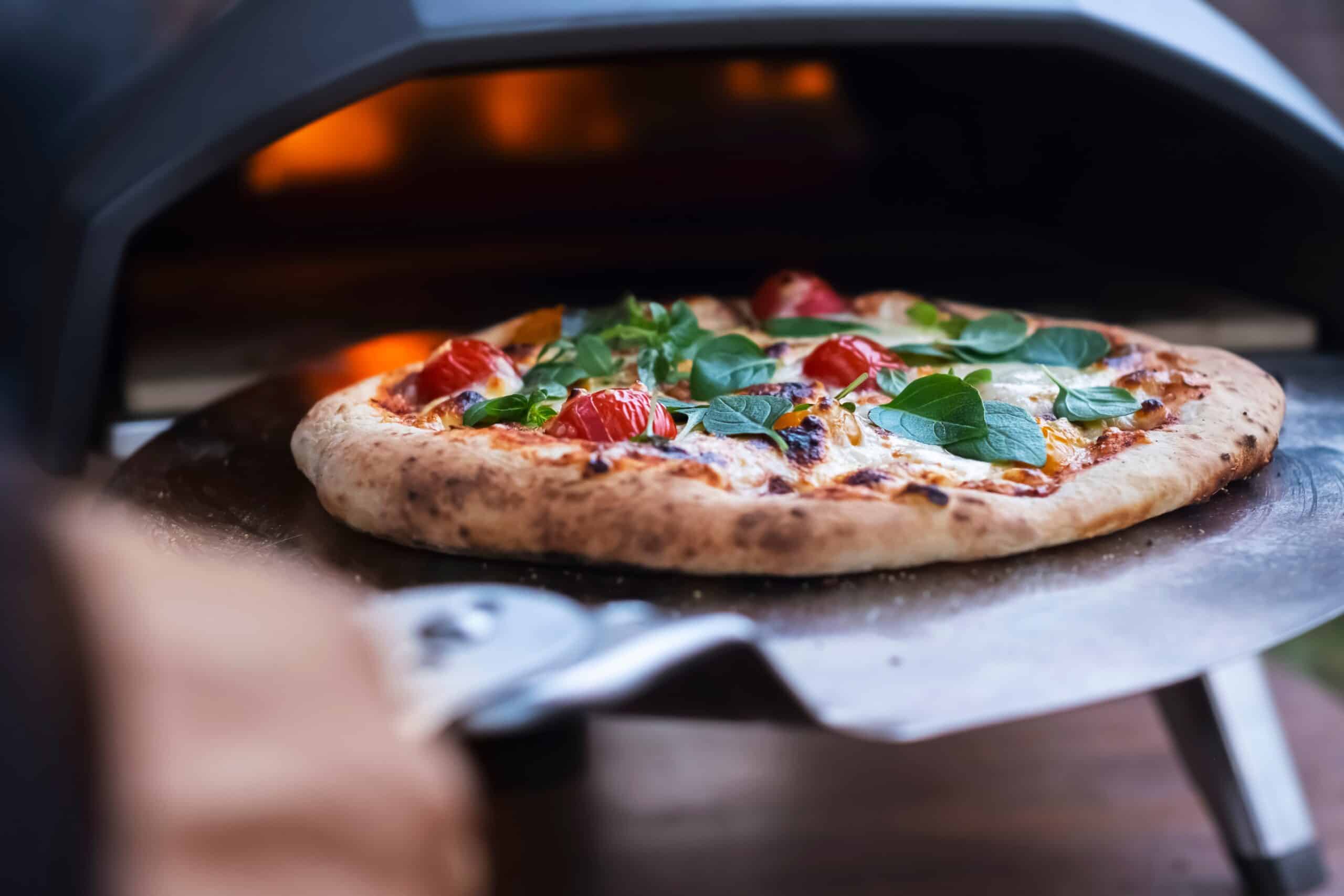 Outdoor pizza ovens are taking outdoor kitchens by storm. The Bertello Pizza Oven (as seen on Shark Tank) is popping up everywhere and with good reason!
The Bertello Outdoor Pizza Oven is a wood-fired and gas-fired pizza oven that is designed for outdoor use.
The Bertello Pizza Oven is a true game-changer when it comes to cooking delicious meals with ease. With the ability to reach temperatures of up to 900 degrees Fahrenheit in no time, this pizza oven is perfect for baking pizzas, breads, meats, and veggies to perfection.
Not only does the Bertello Pizza Oven offer unprecedented temperature control and speed, but it's also incredibly user-friendly. Simply light the oven and place your food inside – the rest is taken care of.
While you could certainly make do with a regular grill or conventional oven, there's something truly special about using a dedicated pizza oven that takes your culinary creations to new heights of flavor and texture.
After doing our review of the best outdoor countertop pizza ovens overall, we wanted to take a deeper look at the Bertello Outdoor Pizza oven since we were so impressed with it.
If you are looking for a high-quality pizza oven that is easy to use and can cook your pizza quickly and evenly, then the Bertello Outdoor Pizza Oven is a great option for you.
So what makes the Bertello Pizza oven so special?
Let's take a closer look at our complete Bertello Pizza oven review below.
We are reader supported and as such, we may receive a small commission at no expense to you by purchasing thru our links.
Bertello Pizza Oven Review
Bertello currently offers two designs:
The Bertello
The Bertello Grande
The only difference is the size, as one can imagine.
The Bertello
The Bertello is the most compact of the two varieties offered. It's also the most portable pizza oven with a 12"x 13.5" cooking surface.
The Bertello is multifuel, as are both Bertello models, which means you can cook your food using a variety of fuel sources: use it as a gas outdoor pizza oven, a wood fired oven, or a combination to get the charcoal and wood burn. Wood pellets are great too for their ease and still get that wood fire flavor. However, you do need to purchase the gas attachment as an additional purchase.
People have mentioned taking this portable pizza oven on vacation with them or taking it camping. Remember, Bertello gets up to over 900 degrees and can cook a pizza in under 2 minutes!
You can buy this oven as a bundle, and that will include virtually everything you need to have a successful night of outdoor pizza making!
Features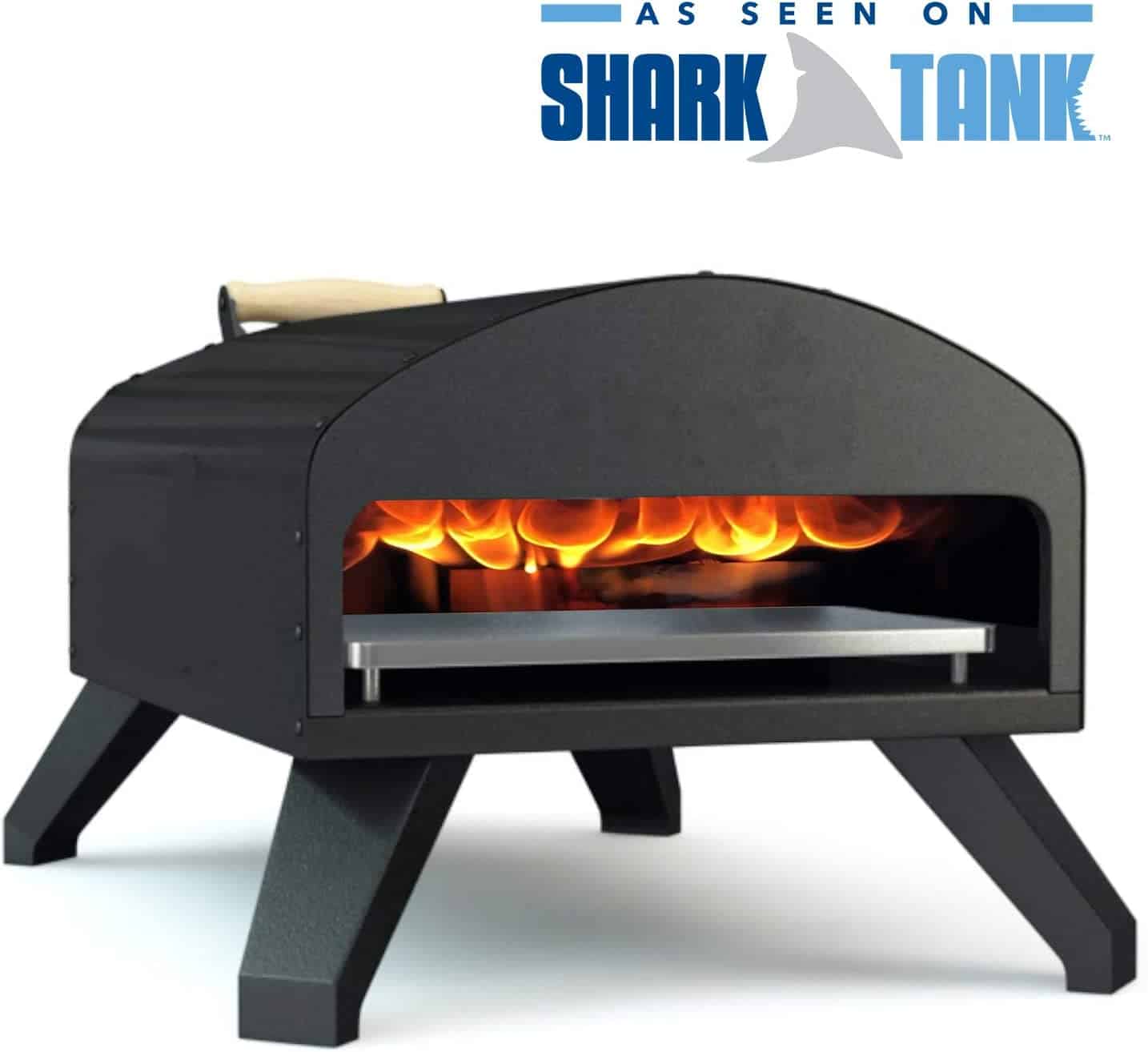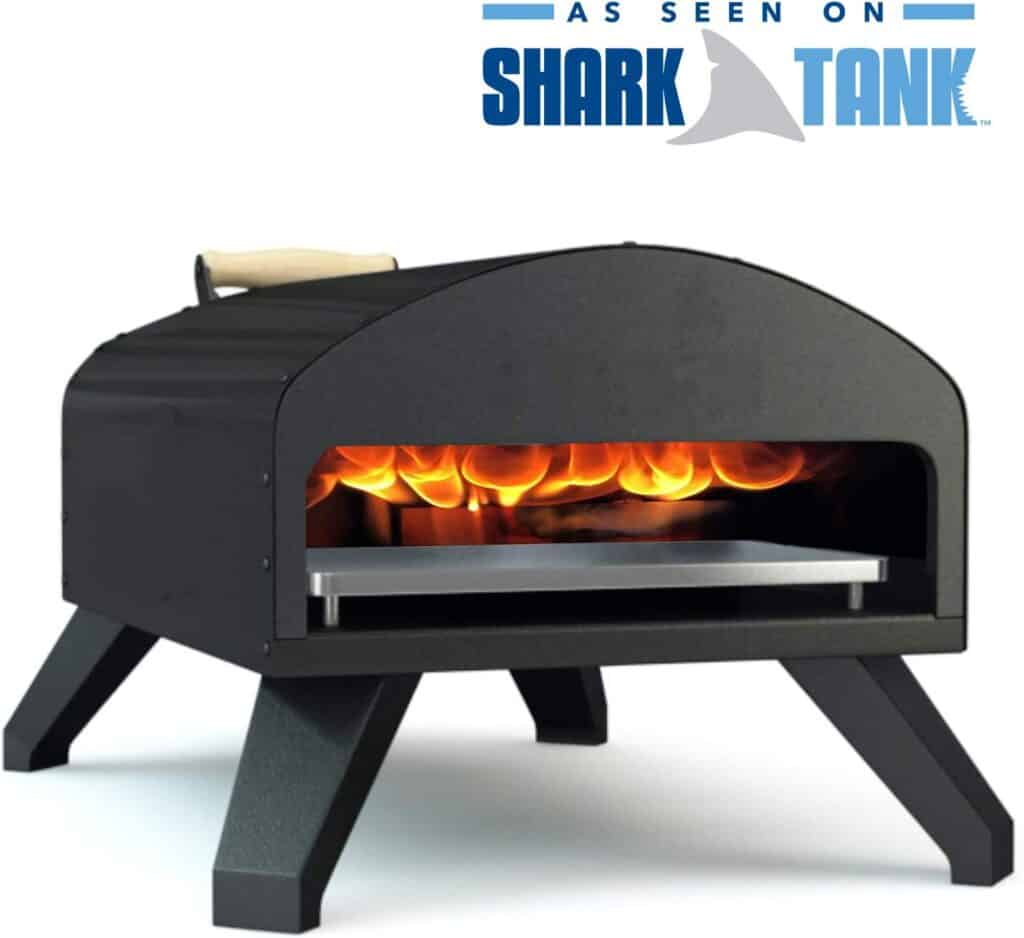 Bertello Grande
The Bertello Grande is just that, Grande! The largest of the two models and also their newest, you get a larger cooking surface area which allows you to cook multiple items at the same time or a nice size family pizza!
This model comes regularly with the Gas Burner, cordierite pizza stone and wood tray. You can use this oven year-round and in sub-zero temperatures if you're that committed to your outdoor pizza!
Bertello's patent-pending design allows the pizza stone to reach over 900 degrees quickly and keeps the stone hot in between cooking pizzas.
A bit heavier than The Bertello, weighing in at 62.9 lbs, it's still portable, just need to use a little muscle to pick that baby up. I'd suggest buying the weatherproof cover for it because chances are, you're not going to be moving its position too often.
Features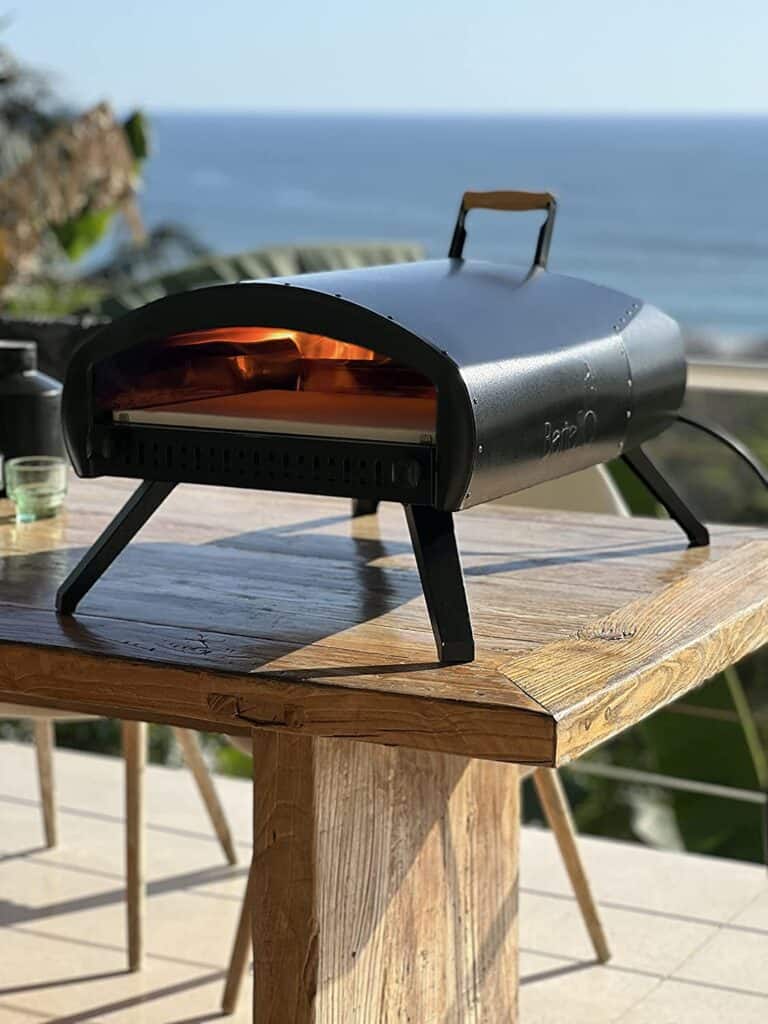 History of The Bertello Pizza Oven?
Founders and Brothers, Eric and Andy Bert, first made a public debut in 2011, on the very well-known tv series, "Shark Tank".
It was there that they really created a name for themselves in the pizza oven market, but the Bert brothers had been working hard to create that perfect Bertello outdoor pizza oven even before then.
With a lot of money, research and time put into their product, the Bert's, dressed head to toe as Italian Chefs, won over all the Sharks. They ultimately made a deal with Mr. Wonderful, Kevin O'Leary.
The Bertello Outdoor Pizza Oven is a patent pending, American-made product right in Minnesota. They are high quality AND affordable.
This is a wonderful portable hybrid pizza oven. You can cook a multitude of foods, not just pizza, and totally change your outdoor cooking experience.
Bertello has a variety of bundle options such as wood pellets, charcoal, gas, or a combination. Bertello ovens get to over 900 degrees to achieve that authentic Neapolitan Style wood-fired oven pizza.
Furthermore, Bertello stands behind every product they sell. You can return any item used or unused within an entire year of purchase. That's how confident they are in their products!
The Bertello Pizza Oven company has now grown to be one of the most beloved outdoor pizza oven manufacturers on the market.
Key Features of the Bertello Pizza Oven
Ease Of Use
One of the best things about the Bertello outdoor pizza oven is that it's super easy to use.
There is not much to it. You just need to make sure it is hot. That's how these wood fired pizzas need to cook. Slide in your pizza and keep an eye on it! This is different than your conventional oven in your home. They cook in like 2 minutes.
Cooking Performance
Of course, the most important thing to consider when purchasing a pizza oven is how well it actually cooks pizzas and other food. And we're happy to report that the Bertello oven does not disappoint!
You get the nice char on the crust like a traditional wood fired pizza. The cheese gets to a golden brown quickly and still keeps the crust moist. It is the perfect pizza!
The cordierite pizza stone also helps to evenly distribute heat, so you never have to worry about under or overcooked pizzas. You get a crispy crust and a fluffy center just like they should be.
Portability
The Bertello outdoor pizza oven is a super portable pizza oven. It's lightweight and comes with a carrying case, so you can take it with you wherever you go. And after you use this a few times, you will want to take it with you to show it off to your friends and family.
Value For Money
The Bertello is definitely a nice appliance but when you consider all of the features it offers, we think it's well worth the price tag. Most outdoor pizza ovens cost way more. If you do the bundle it is almost $500. But like I said, there are some pizza ovens that cost more than $2,000!
If you're serious about your pizza, and you should be, the Bertello is a great investment.
What Can You Cook In It?
Obviously, pizzas are the main event when it comes to the Bertello. But that's not all this pizza oven can do. You can also use it to cook meats, vegetables, breads, and pretty much anything else you can think of.
What Else Does Bertello Offer?
Bertello has a great website. On there, you can register your oven, find recipes, videos, accessories, and even order pizza dough! Check it out for yourself.
Summary
The demand for outdoor pizza ovens is on the rise, and Bertello has successfully tapped into this market by offering high-quality ovens at an affordable price point.
We were thrilled to review the Bertello Pizza Oven, which boasts a lightweight and stylish design that's perfect for outdoor cooking. With two different sizes to choose from, this oven is ready to go and will surely meet all your culinary needs.
Overall, I'd say Bertello is the answer you've been looking for when trying to figure out which of the outdoor pizza ovens to ultimately have in your home!
Personally, I'd go with the Bertello Grande because I'd love to share this amazing outdoor pizza-making experience with others than with just my family…which is still 6 people!!
You can get recipes and videos on their website to help guide you to perfecting your authentic outdoor pizza-making skills and shop all of the accessories you may need as well to cook pizzas just right.
If Bertello is the one for you, click on the links and order today as we greatly appreciate it!
Be sure to check out our guide to the Perfect Wood Fired Pizza!